10 reasons to have your honeymoon in Fiji
Fiji has among the best beaches in the world, but there is more to the archipelago than just the beaches.
Congratulations on your marriage! Your wedding was amazing, and now you're ready for Part Two of your union — The Honeymoon.
You must pick the perfect location to celebrate this momentous occasion. Where should you go?
The answer is Fiji.
Fiji is synonymous with romance. The white sandy beaches, clear cyan waters, and gorgeous leis — everything just screams, "Romantic!"
Still not convinced? Keep reading. Here are 10 reasons why you should have your honeymoon in Fiji.
The gorgeous beaches
Think Fiji, think beach holiday. Fiji is known for its gorgeous coastlines. Imagine the sun setting on the horizon, palm trees swaying in the wind, birds chirping in the distance, and your toes sinking slightly into the fine sand — is there a more perfect place to celebrate your love?
For starters, here are a few popular beaches in Fiji:
Natadola Beach, Viti Levu
Malamala Island, Mamanuca Islands
Blue Lagoon, Nanuya Lailai


Private time on a secluded shore
We've established that the beaches of Fiji are to die for. Having said that, what about frolicking on a stunning beach alone with your partner, with nobody else in sight? In Fiji, that is very possible. 
To enjoy your own private beach, you could book a private resort. Alternatively, go on an adventure. Hire a boat and explore the islands, where you just might stumble upon a gem in the form of a beautiful remote beach. 
Do not forget to stop by Vatalutu Island, where it feels like being on a deserted island. Start your hike at a beach, then follow a trail through a rainforest to end up at an untouched beach where you and your partner can enjoy some alone time.
There is plenty to see and do in Fiji
The beaches are amazing, but there is more to Fiji than just the beaches. There is a whole range of water and cultural activities to partake in. From snorkelling, diving, surfing, and other water sports to participating in a traditional kava ceremony, there is so much to do but so little time!
Live on Fiji time
There is a concept in Fiji that is understood as "Fiji time". The idea can be roughly translated to become "Don't worry, be happy. If you can't do it today, there's always tomorrow". What a wonderful way to spend your honeymoon, don't you think?


The pleasant weather
The temperature in Fiji is usually within the range of 26-31 degrees celsius, not too hot yet warm enough for the perfect beach vacation. The wet season typically lasts from November to April due to the southerly movements of the South Pacific Convergence Zone. Ironically, this is the best time to surf as tropical storms mean superb waves and shorter swells.


So many islands to choose from
The archipelago of Fiji has 333 islands, although only 110 are inhabited. Of these islands, there are a couple that is popular among tourists: 
Matangi Private Island Resort (a popular wedding and honeymoon destination)
So many options for accommodation, not to mention places to explore when island hopping.


Luxurious honeymoon resorts
Fiji has some of the best honeymoon resorts in the world. There's something for the different types of honeymooners. No matter if you are privacy seekers, adventurous, spa lovers, non-planners, or eco-conscious, there is something for you. 
Likewise, whether you are looking for an overwater bungalow, a beach resort, or a rainforest resort, you are sure to find somewhere that satisfies your needs. You could also experience living in a bure, a Fijian-style Bungalow commonly found on the beach with an outdoor shower.


The warm hospitality of the Fijians
The people of Fiji are known to be hospitable people. They are warm and kind-hearted and will ensure that you receive the welcome that you deserve. In other words, exactly the kind of atmosphere you want for your once-in-a-lifetime honeymoon.
Delicious food
What is a honeymoon without good food? Fiji is a melting pot of different cultures, a reality that is reflected in its cuisine. Among their many delectable fares are:
Fiji lovo. Meat, vegetables, and other edibles are wrapped in banana leaves, then buried underground with hot coals and soil for hours to cook.
Kokoda. An entree dish of raw fish marinated in lime, served with coconut milk, chilies, onions, tomatoes, and more, then presented in a coconut shell.
Grilled mahi-mahi. Mahi-mahi is a type of fish that can be found in the deep waters around Fiji. It is delicious when grilled, and served with vegetables on the side.
Babakau. Also known as Fijian fried bread, babakau is enjoyed with jam, butter, fruits, icing sugar, or cinnamon.


The lush forests
Fiji has rich vegetation, born from the fertile land that the volcanic activity in the area entails. The windward sides of Viti Levu and Vanua Levu, Fiji's two largest islands, are covered in tropical moist forests. In fact, much of the country is home to lush vegetation. 
The best way to enjoy the greenery is to go for a leisure hike. Here are some trails that will give you a taste of Fiji's vast vegetation:
Koroyanitu National Heritage Park, Viti Levu. From the park, you can trek up to Mount Batilamu, one of the highest peaks in Fiji. It's one of the best ways to appreciate the vegetation of the region.
Bouma National Heritage Park, Taveuni. In this park, you will find the Tagimaucia, a rare flower that blooms between October and December.
Nausori Highlands, Viti Levu. This trail is a fun mixture of rolling hills, river valleys, and volcanic peaks. Every December to April during the wet season, the hills turn from brown valleys to luxuriant stretches of green. 
Have you heard the saying? Couples who hike together, stay together.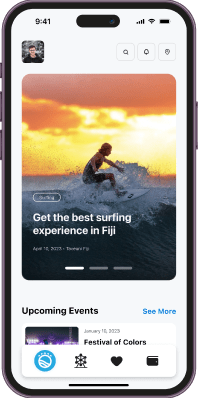 The only super app
you need in Fiji.