Most popular scuba diving spots in Fiji

Fiji's scuba diving scene is best known for its colourful soft corals, which offer an unmatched wide spectrum of colours, great variations of healthy hard corals, dramatic topography, typically clear water and a great variety of reef fish. Fiji is also home to some of the world's best shark dives.
Famous ocean explorer Jacques Cousteau named fiji the "Soft Coral Capital of the World." This name has stuck and given Fiji much of its diving identity.
Beqa Lagoon
Beqa Lagoon is undoubtedly one of the best diving spots on Fiji's largest island Viti Levu, Pacific Harbour. The resort offers its guests the best diving facilities, including shark sightseeing. The lagoon is surrounded by over 190 miles of spectacular coral reefs, and its diving sites start as shallow as 15ft(5m) to nearly 100ft(30m), giving divers an opportunity to explore the underwater world with their preferred depth. Diving into the Beqa Lagoon gives you a chance to be up close and personal with nine different shark species. Creatures like turtles, manta rays and eagle rays can be spotted at various times throughout the year.
Bligh Water
Bligh water, also known as the Vatu- I- Ra Passage, is a stretched ocean separating Fiji's two largest islands, Viti Levu and Vanua Levu. Bligh waters is famous amongst divers as they are home to some of the most spectacular coral reefs diving in Fiji. The passage is famous for its diverse marine life. Expect to see anemone fish, turtles, colourful soft corals and reef sharks. The site is easily accessible from resorts on the Suncoast.
The Great Astrolabe Reef
The Great Astrolabe Reef is the jewel in the Kadavu diving crown and is a reef now well known among divers throughout the world. The French explorer, Dumont d'Urville named it after his boat, the Astrolabe in 1827. The Astrolabe Reef is around 100 km (63 miles) in length, and the reef and water create one of the world's most biologically diverse marine areas. This amazing spot in Kadavu offers divers a mesmerizing experience. The dive sites here exhibit a tremendous variety with several passages, submerged pinnacles and manta ray cleaning stations.
Malolo Barrier Reef
One of the most beautiful areas for diving in Fiji is without a doubt, the stunning Malolo Barrier Reef in the Mamanuca Islands. Located just off the coast of Viti Levu, the Mamanucas are a group of 20 islands that have long been established as some of the country's most popular, with plenty of great resorts to suit every taste. Malolo Island offers divers an amazing, memorable and fun opportunity to explore the stunning turquoise water, beautiful soft and hard corals and colourful varieties of reef fish. The Supermarket is one of the most well-known sites to get up and personal with a shark.
Namena Marine Reserve
The Namena Marine Protected Area (MPA) is located between the 2 main islands of Fiji, Viti Levu and Vanua Levu, to the southeast of Savusavu and the northwest of Koro Island. The area is home to some of Fiji's most pristine reefs and exceptional dive sites such as Chimneys and North Save a Tack. You'll get to experience swimming with bottlenose, spinner dolphins, and hammerhead sharks. You are also likely to find several different types of barracuda in enormous schools and impressive numbers of jacks, red snappers, grey reef sharks, and three different types of sea snakes. Watch the sharks, barracuda and travails swim unconcerned free from predators.
Kuata Island
Remote, yet easy to travel to, Kuata is an island of extraordinary natural beauty and spectacular panoramic views. Renowned as one of the best diving locations across the globe – Barefoot Kuata is a must visit for adventure seekers. Join The Awakening Shark Dive – arguably the most famous shark dive of all, where you can enjoy up-close encounters with the elusive Bull Shark. The island is also home to other shark species, such as the white tip reef sharks, black tip reef sharks, tawny nurse sharks, lemon sharks, silvertip sharks, bull sharks and tiger sharks. Truly a paradise for shark lovers.
Vawa Island
Vawa Island is an islet in Fiji, situated near the Nabukeru village. Lekima's Ledge, off the island of Vawa, is a perfect diving spot with rugged topography, where you'll find a series of ridges and ledges running down to depths of 20-metres, along with large schools of convict tangs and other surgeonfish. It's definitely an excellent diving option where novice divers can explore an amazing underwater cliff.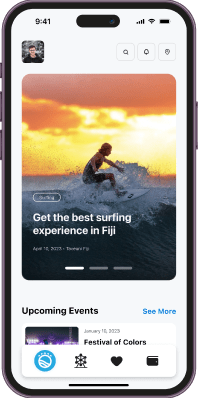 The only super app
you need in Fiji.