Staying in a Bure in Fiji: a unique and authentic experience
Fiji is a tropical paradise, renowned for its stunning beaches, turquoise waters, and lush vegetation. Visitors to this South Pacific nation have a wide range of accommodation options to choose from, but one of the most unique and authentic experiences is staying in a Bure. A Bure is a traditional Fijian house, made of local materials such as thatched roofing and woven walls, and offers a glimpse into the country's rich cultural heritage.
Where are bures located?
Bures are typically located in resort settings, either directly on the beach or surrounded by lush tropical gardens. They vary in size and design, with some offering simple and rustic accommodations, while others are more luxurious and modern. Regardless of the level of comfort, staying in a Bure offers visitors a chance to immerse themselves in the authentic Fijian lifestyle and culture.
One of the most appealing aspects of staying in a Bure is the sense of privacy and seclusion it offers. Bures are often spaced apart from one another, providing guests with their own private oasis. They often have outdoor living spaces, such as verandas or patios, where guests can relax and enjoy the peaceful surroundings.
Interiors of Bures in Fiji
The interiors of Bures are equally as charming and comfortable, with simple yet elegant furnishings and decor. Many Bures feature comfortable bedding, air conditioning, and other modern amenities, while still retaining the traditional aesthetic. The thatched roofs and woven walls provide a cool and comfortable environment, and help to create an atmosphere of peace and tranquility.
In addition to the private and peaceful surroundings, staying in a Bure also offers a unique opportunity to connect with the local culture. Fijians are known for their warm hospitality and friendly nature, and guests staying in Bures will often have the opportunity to interact with resort staff and local villagers. This can provide a deeper understanding of Fijian life and customs, and help guests to fully immerse themselves in the local culture.
For those seeking adventure and excitement, Fiji has a wealth of activities to offer, from snorkeling and diving to hiking and kayaking. Staying in a Bure provides easy access to these activities, and many resorts offer guided tours and excursions for guests. Whether exploring the lush tropical forests, or discovering the vibrant coral reefs and marine life, visitors to Fiji are sure to find plenty of opportunities for adventure and excitement.
Another benefit of staying in a Bure is the close proximity to some of Fiji's most famous landmarks and attractions. The Mamanuca Islands, for example, are just a short ferry ride from the mainland, and offer some of the most stunning beaches and crystal-clear waters in the world. Guests staying in a Bure on one of these islands can enjoy breathtaking sunsets, pristine beaches, and an abundance of marine life.
Food is an integral part of the Fijian culture, and visitors staying in a Bure will have the opportunity to sample the country's delicious cuisine. Whether dining at the resort's restaurant or in the privacy of their own Bure, guests will have access to a range of delicious dishes, made with fresh, local ingredients. From seafood and curries to traditional Fijian dishes such as taro and cassava, visitors are sure to find something to satisfy their taste buds.
Staying in a Bure in Fiji is an experience unlike any other. With its unique and authentic atmosphere, peaceful surroundings, and close proximity to a wealth of activities and attractions, a Bure provides visitors with a truly unforgettable experience. Whether seeking adventure, relaxation, or cultural immersion, a Bure offers something for everyone, making it an ideal accommodation choice in Fiji.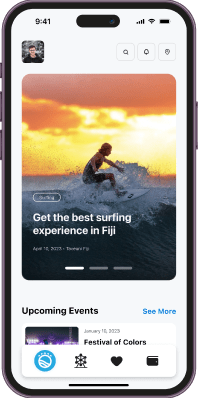 The only super app
you need in Fiji.