Food in Fijian culture and hospitality
Food is a necessity in human life, contributing to human growth with such instances of spice trade during the silk road era and the age of discovery. In the same way, it has always been a special part of Fijian culture. This article articulates the rich food history that indigenous Fijians have by navigating some of its well-known food customs and relations. The dialogue of indigenous cuisine perceives food to be a vital part of the demonstration of indigenous rituals and customs, what will be explained afterwards might disturb some and intrigue others', and it starts with Fiji in the pre-contact era, reader discretion is advised.
The evolution of indigenous food consumption and its rituals
Cannibalism in Fiji in the pre-contact era is common knowledge. In fact, it was what made European sailors, traders, and missionaries avoid Fiji for quite some time. Contact with Fiji was only possible through Tonga, who'd already had various contacts of trade and war with Fiji.
Cannibalism in Fiji, as is known amongst locals and acclaimed by Basil Thomson in his book, The Fijians: A Study of the Decay of Custom, in the early days was more ritualistic than hunger-inspired. Human flesh was only consumed after it had been offered to the gods. After offerings and sacrifice, human flesh is consumed with the assumption that the flesh now possesses divine and infinite blessings. To consume slain enemies was also believed to inherit their strength. The ceremonial feasting of sacrificed food and human flesh was called 'magiti'. Cooking of these sacrificial food is done in an open pit earth oven called a lovo. Food was still consumed as it was an initial need but more ritualistic when it was god and battle-influenced.
Through Christianity, these ceremonial feasts and earth oven practices have been reformed to incorporate a more modest practice of sharing meals. For example, tali-vunau, is the offering of food or money (today's preference) to preacher's after their time in church, a practice previously accustomed to priests only. Magiti and lovo, without the consumption of human flesh, still exist today and have become a constant Fijian delicacy. The i-sevu (first harvest), usually done during the start of Balolo (Palola viridis) season around February, is offered to chiefs/priests for blessings. The start of this indicates the coming of rain, and now with the custom evolving, first harvests are being blessed in churches instead.
Indigenous food representations in different parts of Fiji
Every province, district and village in Fiji vary distinctly in culture, customs and tradition, including its food. Pork and fish have distinctive representations for native Fijians; coastal regions and island people rely on seafood and fish for food sustenance, while animal meat is of the inland regions.
Pork and seafood consumption
The geographical location of Colo (bush/inland/interior) of the Naitasiri province and areas of the Navosa, Ba, Ra and Vanua Levu highlands, is far from the sea so food foraging is limited to hunting wild boars and fishing aquatic life such as eels, freshwater mussels, prawns and Malea (Nile tilapia) in inland rivers.
These food customs are still being practised today, with beef, pork or any animal meat being the magiti of Colo people and fish and other seafood belonging to the islands and coastal regions of Fiji's two main islands.
The Lau group (Fiji's eastern islands) also considers pork as one of its ceremonial food dishes and it is because of Tonga's earlier influence in the area. Lovo, is also not a familiarity with the Colo people of Naitasiri, suggesting that the origins of Lovo are of foreign influence.
The complex food customs of the Kubuna confederacy
The Kubuna confederacy, most notable for its Cakobau allegiance, practises a complex food custom within its numerous provinces and districts. The confederacy is known for its intricate relations and food customs; an instance of this is called the "veibatiki". There are many indigenous folktales that explain this food custom well enough for each province and village, and one originates from the village of Vanuaso on the island of Gau in the Lomaiviti province.
The tale goes that a man of chiefly status from Lovoni, Ovalau, in danger, sought refuge in Vanuaso and stayed there till the threat had subsided. In departure, he then stated to his compatriot and protector, the Tui Vanuaso (chief of Vanuaso), that his food (venison: wild boar meat) was now his protector's and his protector's food (fish) was now his. One familiar with the Ovalau map would note that Lovoni is located in the heartland of Ovalau, far from the coast. Hence, if a Vanuaso person is in the presence of Lovoni people, they cannot eat fish and reciprocally for Lovoni people also, they cannot eat venison or pork (today's food preference) in the presence of Vanuaso people.
There are also variances where people of Kubuna-i-wai (island and coastal parts of Kubuna) do not eat fish in the presence of people from Kubuna-i-vanua (parts of mainland Kubuna -Viti Levu), and likewise the latter cannot consume pork too. Bati's (warrior clans), are protectors to the chief and sometimes his clan are considered the strongest. Foods like fish and vakalolo (Fijian pudding) are often reserved for them only.
Food in Fijian hospitality
Fiji being a socially hegemonic society, has always relied on gestures to communicate its actions or needs. Indigenous cultural tools like Kava, Tabua and food have their own social connotations. Expectantly, this article has firmly clarified the social importance of food in indigenous culture. Food has always been a socialising tool, in which when offered, is to offer kindness, fragility and warm reception. When food is refused, great offence is taken by the host, and assertions of bad food or poor cooking skills are then fabricated.
However, food customs aren't fixed to all provinces and districts, and to know this, one must inquire within the individual villages they enter. The reason being is that; some villages or districts do not consider themselves part of the vei-wekani (relations) at district or provincial level. Often identifying with another relation instead, these villages also have different folktales that tell of how their ancestors formed relations with another village or district.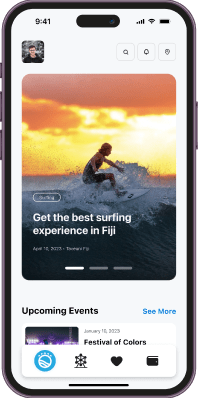 The only super app
you need in Fiji.