Top things to do in Viti Levu
Viti Levu is known as the 'Great Fiji' for Fijians. The reason is simple – Viti Levu has it all. The region epitomises Fiji, from friendly, beautiful and smiling people, to vibrant nightlife, rich culture, food and amazing scenery. 
Viti Levu is the largest and longest inhabited island in the Republic of Fiji. Suva is the capital city of Viti Levu and is home to approximately 740,000 Fijians. When in Fiji, take your time and tour the island. You'll be amazed to learn new things from the different communities as you travel to different parts of the island. 
The most popular areas of interest in Viti Levu are Suva, Nadi, Lautoka and Sigatoka. 
Climate in Viti Levu
The climate change in Fiji varies. The western part (Lautoka) of Viti Levu is usually dry and humid, while the central region (Suva) experiences a lot of rainfall and dry and humid temperatures. 
Regardless of weather, there are still plenty of things to do in Viti Levu.
Nausori 
The delta town, or as the locals call it, Suri, is located 19 km outside Suva. This town in Fiji is very famous for its iconic Rewa Bridge. Legend also has it that Nausori was historically the first to establish a sugar mill in 1881. Nausori is the home of the second international airport, Nausori International Airport, in Fiji. The climate here in Nausori is very warm, humid and rainy all year long. Do visit Nausori for an off-the-beaten-path experience in Fiji. 
What does Nausori has to offer?
Nausori market is one of the best markets in Fiji. You will find fresh local produce; vegetables, seafood and seasonal fruits. Be sure to check out the seafood from the cooked seafood section inside the market. They sell Fijian desserts such as Vakalolo and the delicious Fijians delicacy 'Kovu Kaikoso' and fish lolo. They are a must-try on Saturday. 
Thrift shopping is a must-visit in Nausori. Many second-hand shops in Nausori sell fashionable clothing, accessories, shoes, bags and an extensive collection of Knick Knacks. Thrift shopping is very popular amongst the teens as they are pocket friendly. 
If you have some time to spare, visit a popular temple in Raralevu Nausori. The Naag Baba Kuti is a peaceful and fulfilling temple in Nausori. Beautiful 108 stairs, statues of Hindu Goddess and rich culture signify human life.
Nausori is a foodie paradise. You'll find delicious curry, traditional Fijian dishes and not forgetting snacks which you can enjoy on the go from the iconic bean carts that are located at the Nausori Bus terminals. Experience all the flavoursome eateries in Nausori that are cheap and delicious. 
When in Nausori, try out the water taxi experience in Fiji's widest river, Rewa River. The water taxi located in Nasali landing will take you on a beautiful journey of sightseeing villages and many more. Be sure to have a picnic in Nausori at the Kuiva Beach, one of the most relaxing places in Nausori. 
Suva
Suva, the capital city, is a 3 hours drive away from the Nadi International Airport. Suva offers a bustling experience to the visitors; it is the busiest city, and no there is no beach relaxation in Suva. So why visit Suva? The answer to this is you get to experience what the modern life of the Fijians is like in Fiji. You'll learn about urban life in Fiji.
What to expect from Suva?
In the busiest city, you can expect to meet and greet very friendly and approachable people. Simply chat with them, and they will give you ideas about where you can dine, shop and relax. Visit the Suva Municipal Market for your cooking needs, or grab some of the Fijian delicacies on the go. Outside the market, you will find fresh kumquat juices to beat the Suva heat. Get your hands on the coloured/flavoured pineapple, which are sold right next to the juice stall. They are a crowd favourite, and a must-try to experience the twist Fijians take on the pineapple.
One of the most iconic places to visit in Suva is the Fiji Museum. At the museum, you can experience ancient artefacts and learn the history of Fiji.
While in Suva, grab your lunch by the sea at Nasese. Nasese is a great place for your morning or afternoon run, but more than that, it is a place to calm yourself, relax and enjoy cool breezes. My Suva Park is an ideal place for Sunday picnic day. There are also other lovely parks such as Albert Park, where your kids can enjoy a spacious area to play or watch the locals play rugby or soccer. Thurston Botanical Garden is another must-visit place to wander around with friends and family.
For nature lovers, visit Colo-I-Suva for a forest walk, waterfalls and swimming. Enjoy a peaceful atmosphere in the rainforest setting from the Eco Lodge. Hike up Mt Korobaba to get that perfect view of the city from the top. 
Suva is also the place to visit for all shoppaholics. It is the place for you to discover handmade arts and crafts and high-quality local products for your souvenirs to your loved ones. Check out the Suva Flea Market where the beautiful Fijian ladies hand-weave mats and sell them. 
Nadi
Aside from Nadi International Airport being the country's gateway, Nadi offers some fantastic attractions for visitors. Sri Siva Subramaniya Temple is a colourful and the biggest temple in the town. 
Nadi calls for an amazing and exciting experience at Sabeto Hot Spring and Mud Pool. Give yourself a treat of bathing in natural waters and cleansing yourself with mud. You're sure to remember your experience for a long time. 
Book a Nadi tour and Thermal Mud Pool experience on GoFiji app today!
Another recommended attraction is the Garden of the Sleeping Giant. Look out for the flora and fauna that have been growing beautifully in this garden. The locals usually hang out at the space, and many events happen around the area.
For the adventurous souls, you can snorkel, dive or sea-kayak around the Yasawa Islands. Take a ferry or seaplane to island-hop. Yasawa Islands is a perfect relaxation getaway. Sit back, and bask in some sun while enjoying your cocktail at the resort. 
Visit the Fiji culture Village, a great tour experience to learn more about the Fijian culture. Enjoy kava, fire dance and do not forget Fiji's famous food, Lovo.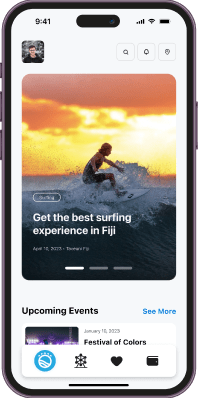 The only super app
you need in Fiji.