Explore the largest and oldest village in Fiji
Navala Village is an authentic traditional village in the Ba Highlands of the largest island of the Republic of Fiji, Viti Levu. Known most of the time as the last traditional Fijian village on the island nation, the atmosphere in Navala Village is unlike anywhere else. There are approximately 220 thatched bures (huts) in Fiji, and bures are traditionally built from bamboo and grass.
Navala Village is nestled in rugged, grassy mountains. There are actually three settlements which make up the entire village, and as every bures is the same in size, it means that people living in Navala are all equal, making it a quite unique and special place to be seen. The traditional thatched bures (huts) of this charming 200-year-old village make for one of the most photo-worthy scenery spots in Viti Levu.
About stunning Navala Village in Fiji
For a small entrance fee, you can wander around the village and enjoy the stunning nature surrounding the village. It's the best way to observe and immerse yourself in the Fijian culture. The livelihood of the people depends on subsistence farming, fishing and hunting.
The first thing to do when arriving at the village – any village, not just Navala – is to make yourself known and present your sevusevu (kava root offering) to the village chief. A sevusevu ceremony with the village chief is a long-held tradition. This will be followed by a welcome ceremony (mata karawa), which includes a bowl of kava for everyone. Please do not refuse the kava even if you do not enjoy the taste as it's deemed as an insult to the locals.
Etiquette for visiting Navala Village in Fiji
It's also advisable for you to dress modestly as a form of respect. Thereafter, you will tour the village, meet the friendly locals, take a dip in the cool waters of the Ba River, and learn about local life. You may see people constructing roofs or drying coconuts or bananas in the sun, or you might meet children at the primary school. End with a meal of taro, cassava, tropical fruit, and local Fijian dishes.
Exploring traditional Fijian villages will make for great memories of a trip to Fiji.
Check out the Fiji village etiquettes and 10 basic etiquettes that you need to know in Fiji.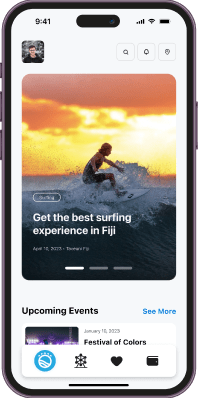 The only super app
you need in Fiji.