21 romantic things to do in Fiji for couples
Are you planning your dream honeymoon vacation to Fiji, or perhaps just an idyllic holiday getaway for you and your special someone?
Apart from the obvious like its soft white sand beaches lined with Coconut trees and waters so blue you have to pinch yourself to believe it's real, there are tons of other things to do and see around Fiji's 333 islands that are utterly romantic and will make you fall in love instantly.
1. Ever had a picnic in the middle of the ocean?!: Honeymoon Island
Aptly named, couples especially enjoy this activity – especially if you're surprised by it and have no idea where you're going.
Made up of 333 islands, many privately owned and can be reached by chartered seaplane. Here, enjoy the ride until you reach your final destination, a tiny deserted island with nothing around you except a dreamy picnic for two set up, with the endless ocean surrounding you.
2. Horseback ride along the beach at sunset: Horseback Rides
This is one of those activities most kids dream of doing at least once in a lifetime, and what could be more idyllic than trotting on the soft beachy sands along shallow crystal-blue waters?!
There are a few places around Coral Coast that offer horseback riding…Natadola Bay Horse Riding is located right next to the InterContinental Fiji Golf Resort & Spa, and Doubletree Hilton Sonaisali, Gecko's Resort and Mango Bay Resort all offer the activity too.
3. For the best views from above: Private Helicopter Island Tour, Heli-Tours Fiji
You'll notice that sea charters in Fiji are a common mode of transport, whether it be by plane or helicopter, but it's not just transfer services that they offer.
Instead of exploring Fiji's 333 islands on water, try something extraordinary instead, like a scenic heli-tour over the ocean and isles. Snap up incredible photos, and you can customise your tour to include the parts you'd like to fly over.
4. Totally private and made for couples: Adult-only Resorts
We get it, we've all been there…when planning a super romantic getaway, nothing can ruin the moment quite like loud screaming babies, or overtly loud teens – hey, we've all been young once.
To avoid any imperfections this holiday, especially if you're here on honeymoon, consider booking your stay at one of Fiji's many luxurious adult-only resorts, many of which are located on private islands. Tokoriki Island Resort is one of the world's top adult-only stays, and some other options include Likuliku Lagoon Resort and Tropica Island Resort.
5. Feeling fancy?: Private yacht charter
Day trips around the islands of Fiji are one of the most common activities to do and you'll find tons of tours everywhere. If the pair of you are not keen on joining a group of randoms for the day, opt for chartering your own private yacht for the day.
Although it will cost you slightly more, get to experience an intimate and luxurious sailing trip through the see-through tropical waters, with lunch included like lobster and sushi! Check out Big Blue Fiji for their 'bespoke sailing charters.
6. A once-in-a-lifetime experience: Dolphin Watching
For those that hail from countries where dolphin spotting isn't a common occurrence, get ready for a goosebump-inducing scene!
You may happen to spot the schools of these regal creatures swimming in the ocean randomly, but there are organised tours that can be done where they drive you to a location in Tailevu, Viti Levu where dolphins are sure to come out to play in Takalana Bay.
7. Enjoy lunch in a floating restaurant in the ocean: Seventh Heaven
The name for starters is a dead giveaway as to how dreamy the setup is and the floating restaurant is literally built in the sea and reachable by water or air transfer.
Consisting of two levels, chill on the deck on sunloungers whilst you wait for lunch to arrive, and speaking of, their speciality is wood-fired pizzas which are baked in the oven right there on the boat. The curries also look divine!
8. Ever dreamt of swimming inside a cenote?: Sawa-i-Lau Caves
Whilst this may not be an exact cenote swimming hole like the ones you'll find in Mexico, these caves located on Yasawa Island are super alluring.
Made from limestone, the caves have eroded and hollowed out by the ocean pushing through over the years, allowing travellers to kayak/swim through the caverns.
9. Go swimming with giant manta rays: Drawaqa Island
Surrounded by the most crystal clear blue waters you feel like you're in a swimming pool, and not the ocean, head on over to this island located in the untouched Yasawa Islands for this splendid opportunity!
The waters surrounding this island, in particular, are famous for spotting giant Manta Rays in the diving areas around here. Drawaqa is also often called Barefoot Manta Island and there is a resort with the same name here.
10. Go island hopping the colourful: Mamanuca Islands
Consisting of around 20 islands in total, the Mamanuca Islands are easy to access and can be found just off the coast of Denarau, Nadi.
Spend the day in the sunshine hopping around the stunning Mamanuca Islands loaded with many popular diving and snorkelling spots, nature parks and waterfalls. If staying on one of the isles, the accommodation options usually vary to suit all budgets. Some of the most popular include Mana Island, Treasure Island, Malolo and Monuriki Island.
11. Dine with a view on the beach and your feet in the sand
Most of the stays in Fiji are where you'll find a great restaurant, and because most are located right on the beachfront, the resorts and hotels in Fiji all have some sort of dining with a view experience
Tons of stays either have a restaurant on the beach or organise a romantic private dinner beach setup (like Navutu Stars Resort Fiji). If your stay doesn't, check out the other resorts and hotels' dining options instead.
12. Relax and unwind at award-winning Spas: Couple Beach Massage
The InterContinental Fiji Golf Resort and Spa sports incredible spa treatments with the option of having yours done in a beachside cabana just metres from the ocean.
(If you prefer to be indoors, the Orchid Room offers an incredible treatment centre, including steam showers, a plunge pool and a relaxation lounge.)
Apart from the spa at this hotel, there are other options around the islands and most of the spas and wellness centres are located inside the various resorts and hotels around Fiji. The Jean-Michel Cousteau Resort Fiji is another option.
13. Rent a Hobie Cat catamaran and have a picnic
If the two of you are ocean-lovers, this activity is quite spectacular and beats kayaking any day!
Basically, a Hobie Cat is a small catamaran that's made for two and are super easy to operate, sort of like a mini sailboat. Many of the resorts/hotels, like the Six Senses, have them available for guests to use, or you can rent one instead. Pack a lunch and picnic out of sea floating on the crystal blue ocean.
14. Do go chasing: Waterfalls
Filled with lush jungles and unending green landscapes, there are over ten waterfalls to go hunting down, some super easy to reach, some requiring a bit of trek, and others completely hidden.
Trek just under an hour to the two-tiered Biausevu Waterfall, or be blown away by the powerful Tavoro Waterfall. Don't forget to lather on the sunscreen, insect repellent and take tons of drinking water for the adventure.
15. Visit a local farm and buy some pearls!: Civa Fiji Pearls
Did you know that this farm is the only pearl farm in the whole of Fiji? Enjoy a 90-minute tour of the Pearl Farm located in Taveuni, where you'll learn about the farming methods. This is followed by a snorkelling session in the Wailoa Lagoon (where the pearls grow).
These Fijian pearls are renowned around the world for their special colours, in different shades of white, silver, gold, bronze and green, unlike any of their kind. Pearls are available to buy here too.
16. Calling all Chocoholics: KokoMana
Even if you're not a chocolate fiend, this is still a super cool experience! Head on over to Fiji's only cocoa-producing local farm in Savusavu, and get to witness the chocolate-making process from tree to bar.
Tour the farm where the Cocoa Trees grow, learn about the manufacturing process at the on-site Chocolate Factory, and even offer courses/classes. And of course, there's chocolate to try/buy to fill that craving!
17. 80kms of tropical coastline: Coral Coast
The idyllic Coral Coast of Fiji is a dream destination – whether it's for island-hopping or picking it as your permanent holiday location. Made up of soft white sand beaches, low tides and crystal waters, many of the resorts and hotels are found in this part of Fiji too.
Spend your days outdoors, whether it's among the lush jungles or along the pristine beaches snorkelling, diving, or surfing, day-trip around the islands, experience local living, and so much more.
18. Looking for something unique to try as a couple?: Hot Glass Fiji
If you've ever watched Netflix's Blown Away, you may feel immediately inspired and excited to try out this epic activity, but if not, it's something really unusual to get to try anyway.
Try your hand at glassblowing (guided by the in-house professionals) and get the opportunity to make your own masterpiece souvenir to take home with you. There are also beautiful creations for sale here.
19. Relax and unwind at sunset with yoga on the water
If you're used to taking your Saturday yoga classes together, you don't need to give up the ritual when you're in Fiji, as we know for many, yoga is a way to relax the body and mind.
Plus, can you imagine stretching out your body and rebalancing yourself in such as tranquil and surreal setting as Fiji?! Kokomo Private Island offers its guests yoga out on a floating platoon in the ocean at sunset hour…We couldn't think of a better setting!
20. For all the tropical deserted island feels: Yasawa Islands
Located in the northern part, the Yasawa Islands is like no other place in Fiji, and the archipelago is made up of 20 volcanic isles. Thanks to this unique feature, the terrain and landscapes you'll find are completely different, and life out here feels untouched and raw.
It's a famous area for diving (popular sites include Lekima's Ledge and all-around Barefoot Manta Island) and between May and October swim with Manta Rays.
21. One for the thrill-seekers: Hydro Sports Fiji
Whilst the idea of adrenaline-inducing sports may not be everyone's idea of a romantic activity, here you can participate in all sorts of different watersports which are not only tons of fun, but Fiji makes the ultimate backdrop.
Fear not, there are different options for couples that aren't hectic at all, such as couples parasailing and jet-skiing. You'll find these guys based at three famous resorts: InterContinental Fiji Golf Resort and Spa, Shangri-La's Fijian Resort and Spa, and Radisson Blu Resort.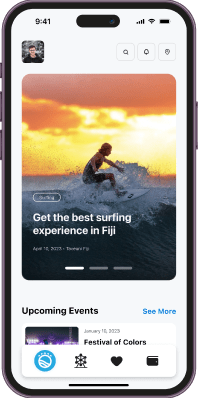 The only super app
you need in Fiji.