Best Adults Only Resorts in Fiji
When you are abroad, most of the time, you just want to unwind and relax. You'd want to escape to somewhere quiet and peaceful to get that well-deserved rest and retreat. Fiji got the memo really well when it comes to peaceful luxury escapades. There are many child-free and babies-free resorts in Fiji that cater to adults only. You no longer need to worry about whining babies or stomping kids. Rest assured that you'll get that much-needed recharge.

Other than these adults only resorts in Fiji, check out what are some of the best family resorts in Fiji.
1. Tokoriki Island Resort
Tokoriki Island Resort is Fiji's most awarded adults-only boutique luxury island resort. Among the accolades under its belt include Condé Nast Traveler's Top 15 Resorts 2021, TripAdvisor "Best of the Best" Top 25 Hotels, #1 Top 25 Hotel in the South Pacific and Most Outstanding Luxury Hotel 2021 by Luxelife. The relaxing island resort has 8 beachfront bures, 18 beachfront pool bures and 10 beachfront pool villas. It has unique tropical outdoor showers surrounded by lush landscaped gardens. Pamper your loved ones with unlimited 60-minute massages at the spa or simply lounge by the poolside, and the more adventurous ones can go diving, snorkelling, or tennis. You can get to Tokoriki Island Resort by helicopter (15-minutes), catamaran or speedboat will take an hour. 
2. LikuLiku Lagoon Resort
LikuLiku Lagoon Resort is an award-winning luxury resort situated on Malolo Island in the Mamanuca archipelago. There are forty-five spacious and elegant thatched bures (traditional Fijian bungalows) with rustic decor. Its interior design is a perfect blend of Fijian traditions and modern luxuries. If you are looking for an ideal honeymoon or romantic getaway, LikuLiku Lagoon Resort is the ultimate tropical paradise. Simply spend your days lazing by the stunning pool, go for a Fijian massage and watch the breathtaking sunset as you sip your cocktail at the bar. Located only 25km (16 miles) from Nadi International Airport, this unique luxury adults-only resort can be reached by fast catamaran, private speedboat, seaplane or helicopter.
3. Qamea Resort & Spa
Qamea Resort & Spa is an intimate boutique resort with only 17 luxurious air-conditioned Fiji bures. Nestled among swaying coconut palms and tropical gardens, Qamea Fiji Resort & Spa is a breathtakingly beautiful island of lush, green, rainforest-clad hills and pristine white sand beaches. A garden island in an azure sea, golden arcs of beach with spectacular coral gardens just offshore. Qamea's authentic design was built in traditional Fijian style, with soaring 20 foot ceilings and hand-polished local mahogany hardwood floors. A first class, casual private island-resort that guarantees the tranquility that you need. Located in Qamea Island, you'll be near the airport and within the vicinity of Matangi Dock and Matangi Beach.
Matamanoa Island Resort is an intimate and secluded Fijian Resort set in the beautiful Mamanuca Islands of Fiji approximately 30 kilometres west of the Nadi International Airport. Matamanoa, in Fijian means 'soft on the eyes' or 'peaceful and serene', a name which aptly describes this precious resort. With 10 villas, 24 bures, and 13 hotel rooms, this family-run, adults-only resort has plenty of facilities to keep you occupied during your stay. Its main island makes it easily accessible, despite its seclusion. The resort offers a true Fijian experience with its laid-back atmosphere and friendly hospitality.
Yasawa Island Resort and Spa is a luxury resort located in Fiji's Yasawa group of islands. Located on one of the most remote and unspoiled islands of Fiji, you can assure the privacy and tranquility that you seek. Just a 40-minute flight north of Nadi International Airport. Yasawa Island Resort and Spa is superbly fitted out in contemporary Fijian style featuring local timbers, traditional art, thatched roofs, overhead fans and plantation shutters. Breathtaking beaches, incredible ocean vistas, soft white sand and warmest hospitality in Fiji — you won't be surprised that Yasawa means 'heaven' in Fijian language. With 11 private beaches at your doorstep, Yasawa Island Resort and Spa is only accessible by its own private airstrip.
6. Lomani Island Resort
Nestled amongst the swaying palms and tropical gardens of Malolo Island, Lomani Island Resort fronts miles of white sand beaches and pristine lagoons. The crystal clear waters that lap onto the shores of Lomani's beach provide a haven for tropical marine life and vibrant corals. With just 24 rooms all enjoying spectacular ocean views and within 30 metres of the beachfront, Lomani offers a tranquil and romantic setting, ideal for those seeking total relaxation. After all, lomani is the Fijian word for love – so look no further for the perfect place to relax, reinvigorate, and reconnect.
Turtle Island is a family-operated private island eco-resort in the Yasawas. With just 14 bures, 500-acres of forests, and 12 private beaches, Turtle Island serves as an idyllic sanctuary for couples seeking connection, community, culture, and consciousness. Turtle Island is a truly all-inclusive experience from nourishing food and top-shelf drinks to tailor-made experiences, everything is taken care of. Named #1 Resort in the South Pacific by Travel+Leisure, Turtle Island is a fantastic getaway from hustle and bustle. Relax on the pristine white beaches or make use of complementary snorkelling gears, kayaks, paddle boards and windsurfers. You may even venture further on horseback or by mountain bike to explore the villages and the island's eco-sanctuary. 
Royal Davui Island Fiji is one of the best private Fiji resorts for adults. Located in the spectacular Beqa Lagoon, surrounded by white sand beaches and turquoise waters, Royal Davui Island is a secluded boutique island resort. Containing only 16 villas, this dreamy private island is a tropical paradise. Incorporating a blend of Fijian and Pacific architecture, modern Pacific décor and thatched roofs, every villa has an open plan design and all the luxury you would expect of a world-class resort. A 30-minute helicopter ride south-east of Nadi, the experience begins with a traditional shell necklace gift, and ends with a Fijian song of farewell. The real treat is the 50-plus staff who focus on providing you a royal experience in Fiji.
Matangi is a 240-acre island of pure beauty. Horseshoe-shaped with volcanic rock faces, snorkelling right around the island and crystal clear waters, Matangi is diverse and beautiful. Matangi Island's Horseshoe Bay, listed in '1000 Places to See Before You Die' by Patricia Schultz, is a haven for honeymooners and romantic couples. If you are looking for a getaway with maximum privacy and romance, Matangi Private Island Resort is for you. There are 12 bures — 3 of them unique tree houses — nestled under swaying coconut palms in the lush tropical gardens, each one handcrafted from locally sourced wood, bamboo and lava rock. The thatched bures feature elegant decor, high ceilings, large windows, and all mod cons. 
A tropical hideaway perched high on Fiji's second-largest island, Vanua Levu, Emaho Sekawa is surrounded by hundreds of acres of pristine tropical rainforest with breath-taking panoramic views of the Savusavu Bay coastline and the nearby mountain range. Emaho offers everything you need for your perfect Fijian getaway. The word "Emaho" is a Tibetan exclamation of joy, wonder and realization and "Sekawa" is the name of the beautiful area surrounding the resort. Emaho Sekawa will undoubtedly take your breath away. Wake up in the morning to the sounds of waves, whistling birds, and magical rainforest. This retreat set in one of the most pristine environments in the world is sure to rejuvenate your soul.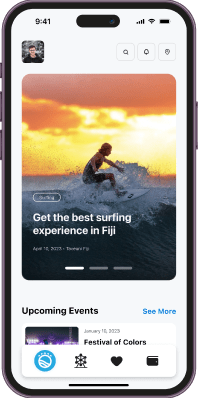 The only super app
you need in Fiji.