Top things to do in Mamanuca Islands
Mamanuca Islands in Fiji is renowned for its pristine soft white sand beaches, swaying coconut trees, and extraordinary resorts. It has also served as the filming location for popular TV shows like "Survivor" and the movie "Cast Away." Spending your holiday on Mamanuca Islands is an absolute delight, as it offers the freedom to do whatever you like.
The island's clear and inviting waters beckon you to dive in and explore the mesmerizing underwater world. From the moment you step foot on Mamanuca, you'll feel like you've entered a movie scene, surrounded by turquoise blue water and stunning scenery. The island's close proximity to Nadi International Airport allows for quick and convenient access, so you can find yourself walking barefoot on the beaches, sipping delicious cocktails, and simply wandering around, soaking in the beauty of Mamanuca Islands.
Mamanuca Islands provides an array of exciting activities and endless opportunities to explore and create unforgettable moments. Let's dive deeper into some of the amazing experiences you can engage in while holidaying in Mamanuca:
Surfing in Mamanuca Islands
Mamanuca Islands is a top choice for surfers visiting Fiji. The island boasts challenging waves and breaks that attract serious surf enthusiasts. If you love the thrill of catching the perfect wave and challenging yourself against Fiji's powerful breaks, be sure to be at the Cloudbreak, Wilkes, Desperations, Namotu Lefts and Tavarua Rights where you will enjoy the best waves of your life. Get ready to have an adrenaline-pumping experience as you ride the waves and feel the rush of excitement.
Scuba Diving in Mamanuca Islands
One of the best things about scuba diving in Mamanuca is that almost all resorts have access to associated diving centers. These centers are staffed by local diving experts who will guide you to 30 different diving sites teeming with vibrant coral reefs. It's truly a remarkable experience to witness the beauty of coral reefs up close in the clear waters of Mamanuca. For those seeking more adventure, diving deeper into the ocean allows you to swim alongside magnificent mantra rays and playful dolphins. The warm temperature and rich marine life make scuba diving in Mamanuca a perfect and rewarding activity. Do check out the Plantation Island Resort, VOMO Island Resort, Six Senses Fiji, Tokoriki Island Resort and Treasure Island Resort for their amazing scuba diving experience.
Visit a Traditional Village
Immerse yourself in Fijian culture and tradition by taking the time to visit a local Fijian village. This experience offers a peaceful and enlightening opportunity to discover the rich history and heritage of the local Fijians. Many resorts in Mamanuca Islands such offers a day village tour that you can definitely liaise with your accommodation desk. Village tour brings positive vibes and valuable insights as you interact with the friendly locals, observe their way of life, and see firsthand how they live life to the fullest, free from worries. If you are looking to make your village tour special by giving back to the community then do join VOMO Island Resorts Pack for a Purpose program where you can bring supplies for Fijian Village and Local Schools in need. The program supports two villages Yamata and Yalobi village. Your small contribution will make a huge impact on this villagers. Time seems to fly effortlessly in the village, and before you know it, you'll understand the influence of "Fiji time" and the relaxed lifestyle embraced by the villagers. Remember to show respect and dress appropriately as you embark on this cultural exploration.
Check out the Fijian village etiquette for a fruitful experience.
Dine on Cloud 9
Indulge in a day trip to Cloud 9, Fiji's first-ever floating dining experience. This unique venue features a bar that serves delicious wood-fired pizzas and a wide selection of local and international beverages. While at Cloud 9, take the opportunity to snorkel in the surrounding stunning location, floating above a vibrant coral reef. Cloud 9 is the perfect getaway for you and your loved ones, allowing you to relish breathtaking views that are truly picture-worthy. Additionally, the bar offers an array of water sports activities that add an extra element of fun and excitement to your visit.
Book your Cloud 9 experience on the GoFiji app today.
Pamper Yourself with a Spa Treatment
Treat yourself to a blissful spa treatment amidst the natural beauty of Mamanuca Islands. Pamper your body and mind with a relaxing massage that will rejuvenate and refresh you during your stay in Fiji. You truly deserve a day of self-care, and what makes Fiji's spa experiences even better is the use of traditional techniques and natural products. Allow your body to be calmed and enveloped in serenity, ensuring that you feel deeply relaxed and comfortable.
Spas in Mamanuca Islands that will make your money worth: Tokoriki Spa- Tokoriki Island Resort, Kui Spa- VOMO Island Resort, Tatadra Spa- Likuliku Lagoon Resort, Wai Silivia Spa- Tadrai Island Resort and Tropica Fiji Day Spa- Tropica Island Resort.
Enjoy Fijian Cultural Night
Immerse yourself in the traditions and culture of Fiji by enjoying a Fijian night entertainment event, often hosted by resorts. The highlight of this experience is the Fijian Kava Ceremony, where you'll have the opportunity to taste Fiji's national drink, Kava. The rest of the night will be filled with captivating traditional Meke dance performances and a mesmerizing Fire Ceremony. These cultural displays embody Fijian history and storytelling, offering a deeper understanding of the Fijian people and their vibrant heritage.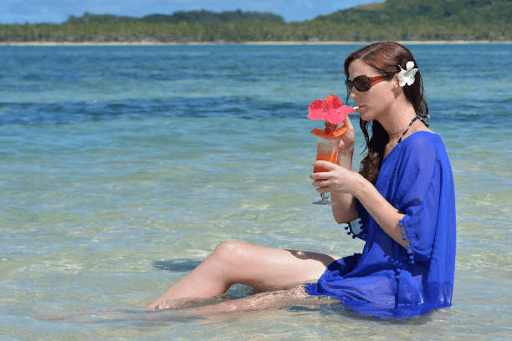 In Mamanuca Islands, you'll discover a paradise that combines natural beauty, thrilling adventures, cultural immersion, relaxation, and captivating entertainment. It's a destination that truly caters to all your desires and ensures a holiday filled with unforgettable moments and cherished memories.
Download the GoFiji app for other awesome activities in Fiji.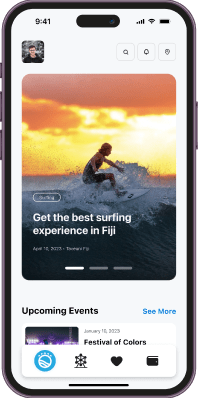 The only super app
you need in Fiji.