21 family-friendly activities in Coral Coast
The idyllic Coral Coast of Fiji is a dream holiday for families, made up of soft white sand beaches, low tides and crystal waters. Catering for such, there's a plethora of family-friendly resorts and hotels in this part of Fiji too, equipped with full-on family-friendly activities, kids clubs and required amenities.
Spend your days outdoors, whether it's among the lush jungles or along the pristine beaches, day-trip around the country and let your kids experience a totally different culture. If you're looking for an ideal beach holiday destination for the next family vaycay, there's no need to look any further.
1. Fun for all ages out in nature: Kula Wild Adventure Park
This wildlife sanctuary is home to incredible wildlife, including reptiles and birds, a zipline running across the treetops, and a waterpark filled with slides, making it a great half or full-day activity with the little ones.
If you've got a budding biologist on your hands, experience their Ranger for a Day activity where the kids get to dress up, feed and help take care of the animals.
2. Pretend to be Zendaya for the afternoon: Sigatoka Sand Dunes National Park
If you've travelled to coastal countries like Australia or South Africa, you may be familiar with beach dunes already, created naturally and forming the softest banks of sand.
This is another activity that the whole family can enjoy, and they even offer tours where guides explain the different oceanic plants and ancient archaeological sites along the way. Even teens will have a blast, reenacting scenes from the popular 2021 sci-fi adventure film, Dune.
Travel like a local in Sigatoka Sand Dunes.
3. Do you think you're a horse whisperer?: Horse Riding
This is one of those activities most kids dream of doing at least once in a lifetime, and what could be more idyllic than trotting on the soft beachy sands along shallow crystal-blue waters?!
There are a few places around Coral Coast that offer horseback riding…Natadola Bay Horse Riding is located right next to the InterContinental Fiji Golf Resort & Spa, and Gecko's Resort and Mango Bay Resort both offer the activity too.
4. Have you ever flown above water?: Hydro Sports Fiji
You've obviously picked Fiji because of its oceanic-centric vibes, so get to enjoy a bunch of watersports you may not be able to do back home!
Ever tried flyboarding before where you literally fly into the sky propelled by water? It's suitable for ages six years and up, plus there are also inflatable towables, wakeboarding, kneeboarding, parasailing and jet skiing activities to try!
5. Looking for something unique to try on land?: Hot Glass Fiji
If you've ever watched Netflix's Blown Away, you may feel immediately inspired and excited to try out this epic activity, but if not, it's something really unusual to get to try anyway.
Try your hand at glassblowing (guided by the in-house professionals) and get the opportunity to make your own masterpiece souvenir to take home with you. There are also beautiful creations for sale here.
6. World's first Jet Boat & Village Safari: Sigatoka River Safari
Take a jet boat cruise along the Sigatoka River and lap up the good times with this multiple award-winning adventure.
Cruise down the river on a customised jetboat, stopping off at local villages along the way for a taste of true authentic local living, and your tour guide is full of knowledge and stories as you pass through the lush jungle scapes and waterways.
Book your Sigatoka River Safari tickets now on GoFiji app.
7. The only heritage passenger train in Fiji: Coral Coast Railway
Still running today between Cuvu and Sigatoka Town, this is more of an organised tour than a transport system. Jump inside the old red open cabin and enjoy a local tour, stopping off at local markets and shops, villages, and sand dunes.
Expect full commentary along the way, which is super useful for you getting to know and learn about your surroundings. To find the station, head to Shangri-la's Fijian Resort where the office is located out front.
8. A sensory explosion: Sigatoka Market
Bursting with colours and exciting fruits and street food you may not have seen before, or at least in person, turn a trip to the market into a fun, educational and tasty adventure.
The central market is covered, but still open planned, lined with stalls and rows of tables selling all sorts of produce – very similar to the local markets in Sri Lanka. Some interesting fruits to try include Rose apple (Kavika), Sour Sop (Custard Apple), Plantain bananas (Vudi), and Fijian Longan (lychee).
9. The ideal spot to start: Learn to surf
One of the reasons why so many families pick Coral Coast is because of the ridiculous calm waters surrounding the islands here. Thanks to its flat ocean, it's the perfect starting point if you're learning to surf, especially for the young ones.
There are also a bunch of surf camps that you can attend/send the kids to, even some that offer both surfing and yoga!
10. Visit a local village: Vatukarasa Village
One of the things we love most about Fiji is that it's still so rich in local culture. Spend the morning, afternoon and even a full day exploring one of the many local villages around – you can opt for a guided tour to a local village, like Vatukarasa village, or you can wander into one yourself where you'll be welcomed with open arms.
Wander the local farms, watch kids playing rugby, let the locals show off their traditional cooking methods, visit rivers, and so much more!
11. Family-friendly resorts with kids club, etc
Many of the luxury resorts around cater heavily for families, making sure that you've got everything you need in a stay when travelling away from home, whether you're with tots, toddlers or teens.
You'll find the family-friendly accommodation options offer kids and teen clubs, organised beach activities, waterparks, babysitting services and more. Popular options for families include Outrigger Fiji Beach Resort, Fiji Hideaway Resort & Spa, InterContinental Fiji Golf Resort & Spa and The Warwick Resort.
12. Watch the locals in action: Lawai Pottery Village
Available to visit on your own, or as an organised tour, this local village makes a living from their trade, pottery.
Get to witness the artists in action, moulding together vases, bowls, cups and all sorts (of which you can buy as a souvenir too). The process is explained from start to finish, and you'll also be invited to join in a traditional kava-drinking ceremony and Fijian dance.
13. We bet you've never ever tried this before: Ecotrax
Cutting through mangroves and crossing bridges over waterways, ride down the tracks of an old sugar cane railway, but not via train!!
Instead, using a modified electric bicycle carriage (Velocipede) that's mounted onto the railway, either peddle yourself is let the automated motor zoot you along, taking in the local scenery as you whizz by. You'll also stop at a local village and a remote beach for swimming and snorkelling.
14. Enter…If you dare…: Naihehe Cave Safari
Also known as the 'Cannibal Caves', this historic site was once home to a tribe of cannibals and the sacred site still contains the original cooking oven.
Naturally, this is suited for older teens (or babies that have no idea what's going on), and there are tons of different tours to choose from that stop here. However, if looking for something extra special, try this 4×4 safari excursion that's topped with a BBQ lunch (a good option for kids as not much walking is required to get here).
15. Championship Golf Course for players of all skill levels: Natadola Bay Golf Course
Located parallel to the beach, enjoy scenic rounds of golf at each one of the 18 holes, and it's the perfect family bonding activity.
If you're teaching your little ones how to swing for the first time, there's a practice facility with a 9-hole putting green, and whilst you're on the field if the rest of the famdam is not up for playing, relax in the tropical-inspired Clubhouse.
16. The beaches
Made up of 333 islands, it's no surprise that beaches basically surround you no matter where you are.
But there are some that are more suited for families, with calm waters and soft sands, like Natadola Beach. Sunset Beach is another stunner, and if you are looking for something extra special to try with the kids, charter your way to the private Honeymoon Beach in the middle of the ocean.
17. It's time to go chasing waterfalls: Biausevu Waterfall
Make your way to Biausevu Village and from here you'll trek just under an hour until you reach the 20 metres, two-tiered waterfall, the perfect spot for an afternoon dip.
It's a powerful fall, also making it an incredible photo-op, and don't forget your sunblock and tons of drinking water along the way.
P.s. It's known locally as Savu Na Mate Laya Falls.
18. If you've explored all there is to see around the Coral Coast: Day Trips
Because the country consists of so many islands, there are tons of locations to explore around you which are suitable for a day trip and don't take long to reach at all.
If the family needs a break from the salt and sunshine, head to manmade Denarau Island lined with luxury resorts, a world-class golf course, a shopping mall and a marina. From here, you can further head onto the Mamanuca Islands, another gorgeous snorkel and dive location.
19. The perfect place to learn: Scuba Diving & Snorkelling
We've said it before, and we'll say it again…the waters surrounding Coral Coast are just perfect for families, with no rough waters or waves rolling in.
This renders it a perfect place for snorkelling and learning how to scuba dive, with many shallow reefs around you. Most of the resorts will offer certified PADI diving lessons, suitable for the ages of eight years old and up.
20. Leave behind the tech devices: Fishing
Growing up this was one of my favourite Sunday rituals to do with my father, and is a great bonding activity.
You can either charter a boat out to sea which you can organise from your stay, or simply wander the beaches with your kit and look for a group of local fishermen gathering, and join the pack! At the mouth of the Sigatoka River is a popular spot for families too.
21. Baravi Handicrafts & Cafe
If you've spent the day exploring and are looking for a quick bite to eat, stop by this cafe and handicrafts boutique for a treat of local delights.
Order a cappuccino or cuppa tea, munch on a slice of cake, and browse the goods and souvenirs, from jewellery to home decor items.
Check out the activities available on the GoFiji app.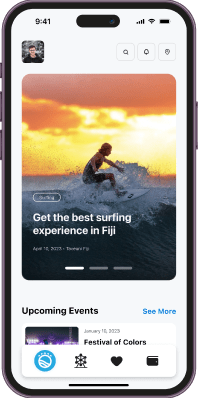 The only super app
you need in Fiji.