Top attractions and activities in Taveuni, Fiji
Are you looking for a peaceful and relaxing stay in Fiji? Then be sure to visit Taveuni, also known as the Garden Island, which offers stunning greenery, tropical flowers, and amazing birdlife. This island paradise is the perfect place to unwind and connect with nature, while also enjoying fun and exciting activities. In this article, we will highlight some of the best spots to visit in Taveuni, which should definitely be on your bucket list.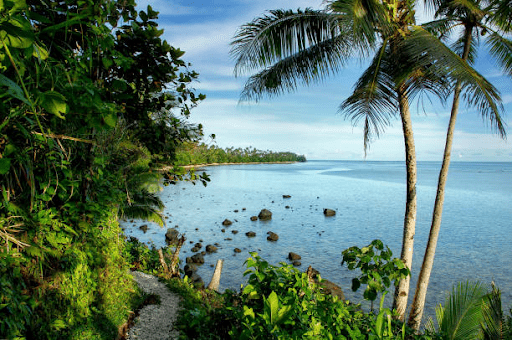 How to Reach Taveuni Island
The quickest and most convenient way to reach Taveuni is by plane. You can book a 16-seater domestic flight from Nadi International Airport, Nausori Airport, or Savusavu Airport. The flight takes approximately 1 hour and 50 minutes from Nadi International Airport and around 50 minutes from Nausori Airport, dropping you off at the Matei Airport in Taveuni. If you're on a budget, you can also opt for a ferry that departs from Suva and Vanua Levu.
How to Travel Around Taveuni Island
One of the best ways to sightsee in Taveuni is by taxi. However, note that taxis in Taveuni do not run on meters, so it is advisable to agree on a price with the driver before boarding. Bus services are also available on the island, operating on Fiji time, so be sure to check the latest schedule from your accommodation to avoid disappointment.
Lake Tagimoucia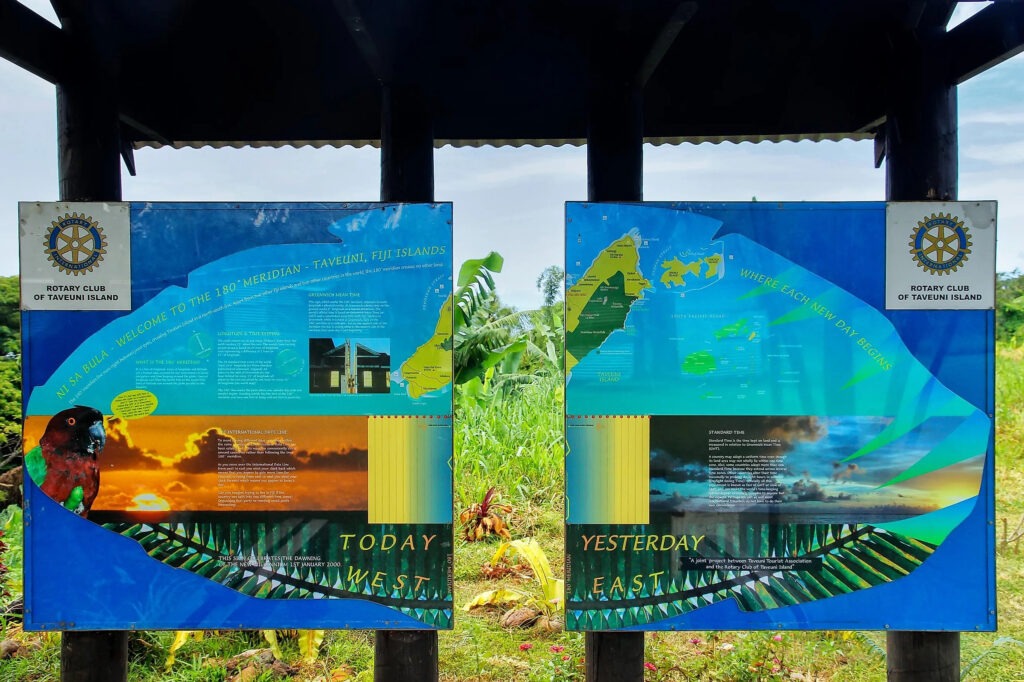 You wouldn't want to miss hiking through rough trails that take 1-2 hours to reach Lake Tagimoucia. This lake is home to the rare Tagimoucia flower, which only grows in Taveuni. It is also the national flower of Fiji and can be seen on the Fiji $50 note. The hike is worth it if you're visiting from October to February, as that's when the Tagimoucia blooms. According to legends, the Tagimoucia flower was the result of the tears shed by a Fijian princess who ran away into the forest after her father arranged her marriage. It is believed that the princess fell asleep while crying, and her tears turned into Tagimoucia flower. Curious if it's true or not? Hike up and see for yourself the most beautiful flower in Fiji.
Travel to the International Dateline
The International Date Line is an imaginary line that roughly follows the 180° line of longitude and passes through the Pacific Ocean. However, this line is not straight and strays from the 180° meridian at certain points. One of the unique experiences in Taveuni is the ability to travel between today and yesterday by standing on the 180 Meridian where world time zones reset. The International Dateline passes through the middle of Taveuni. It's definitely something to try when in Taveuni as it is a one-time experience you wouldn't want to miss out on.
Spa Treatment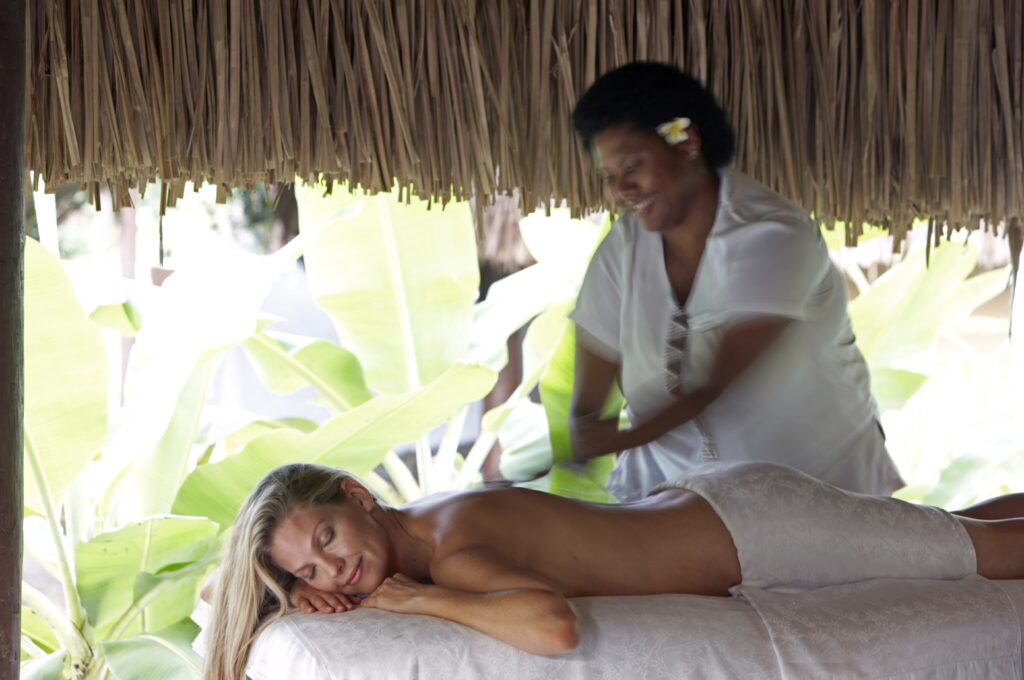 When in Taveuni, be sure to indulge yourself with a luxurious and unique style of massage in the midst of the jungle. The jungle spa at Qamea Resort & Spa offers a fusion of Fijian and French spa treatment. Spoil yourself with an amazing and relaxing massage to rejuvenate and feel fresh in paradise.
Peckham Pearl Farm
Fiji pearls are some of the most sought-after in the world, and when visiting Taveuni, it is a must to tour the Peckham Pearl Farm to see and learn how pearls are farmed and harvested. You'll be amazed to see how these beautiful pearls are grown and learn about the process from start to finish.
Visit the Holy Cross Church
The Roman-style Holy Cross Church is situated among lush greenery and is one of the top attractions in Taveuni. Visit the church on a Sunday to witness harmonious singing by the villagers. It's a beautiful way to experience the culture of Taveuni and get a glimpse into the daily life of the Fijian people.
If you are looking for something more adventurous, you can also take a guided trek through the rainforest, which is home to a wide variety of exotic birds and wildlife. You can also visit the Vidawa Rainforest Trail, which is a popular hiking trail that takes you through the lush rainforest and offers beautiful views of the coastline.
What to do in Taveuni, Fiji?
Another popular activity in Taveuni is snorkeling and diving. The island is home to some of the best snorkeling and diving sites in Fiji. One of the most popular diving sites is Rainbow Reef, which is located off the coast of Taveuni. Rainbow Reef is famous for its colorful coral gardens, large schools of fish, and numerous species of sharks and rays.
If you are a fan of waterfalls, you will not be disappointed in Taveuni. The island is home to several beautiful waterfalls, including the Tavoro Waterfalls and Bouma Waterfalls. The Tavoro Waterfalls are located in the Bouma National Heritage Park and consist of three separate waterfalls that can be reached via a short hike through the rainforest. Bouma Waterfalls, on the other hand, is a series of three waterfalls that can be accessed via a longer and more challenging hike through the forest.
One of the most unique things about Taveuni is that it is home to the International Date Line. You can stand on the 180th Meridian and travel between today and yesterday, as this is the point where the world time zones reset. It is a one-time experience that you do not want to miss out on when visiting Taveuni.
Where to stay in Taveuni?
When it comes to accommodation, Taveuni offers a wide range of options to suit all budgets and preferences. You can choose from luxury resorts, guesthouses, and homestays, all of which offer a unique and authentic Fijian experience.


Some of the popular accommodations in Taveuni:
Taveuni Island Resort & Spa: This luxury boutique resort offers stunning oceanfront villas and private plunge pools with breathtaking views. The resort provides a tranquil and intimate setting, perfect for honeymooners or those seeking a peaceful getaway. It features a spa, gourmet dining, and activities such as snorkeling, kayaking, and nature walks.


Paradise Taveuni: Situated on the southern end of Taveuni, Paradise Taveuni is an eco-friendly resort offering comfortable bures (traditional Fijian-style bungalows) with ocean or garden views. The resort is known for its friendly staff, beautiful grounds, and a range of activities including diving, snorkeling, and waterfall hikes.


Taveuni Palms: A luxurious beachfront retreat, Taveuni Palms offers spacious villas with private pools, personal butler service, and stunning ocean views. This exclusive resort provides a high level of privacy and personalized service, making it ideal for honeymooners and couples seeking a romantic escape.
Nakia Resort & Dive: Located on the northern side of Taveuni, Nakia Resort & Dive offers comfortable bures and oceanfront villas surrounded by tropical gardens. The resort has a friendly and laid-back atmosphere, with an on-site dive center for those interested in exploring the vibrant underwater world of Taveuni.
Garden Island Resort: Situated on the shores of the Somosomo Strait, Garden Island Resort offers comfortable accommodations and a range of amenities. The resort features a pool, spa, restaurant, and bar, and offers activities such as diving, snorkeling, fishing, and cultural tours.
Taveuni is a hidden gem in Fiji that offers a unique and authentic experience for visitors. From beautiful natural landscapes and rare flora to adventure activities and cultural experiences, Taveuni has something for everyone. So, if you are looking for a peaceful and relaxing stay in Fiji, be sure to add Taveuni to your bucket list.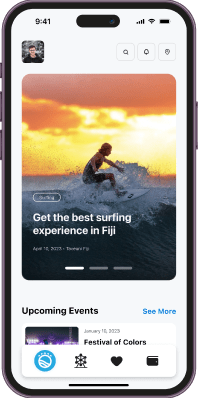 The only super app
you need in Fiji.