Top 10 luxury villas in Fiji
If you're looking for a private, quiet and comfortable place to stay while holidaying in Fiji, this article will help you choose the best private, cosy and beautiful villas you can enjoy with your family. These villas will check off all the reasons why you would want to stay in a villa when you're in Fiji. 
1. Sapphire Bay Fiji
Nestled on 100 acres of tropical gardens in Vuda Point, Sapphire Bay is your ideal place to stay. The bay offers a private beach area, free Wi-Fi, and self-contained villas with a private infinity pool. You and your family can enjoy the private space you've been craving, with the beautiful sea view from your private patio — holidays can't get any better than that. Experience a luxury stay at Sapphire Bay, where private chefs cook delicious meals for you; some royalty service right there. https://maps.google.com/?cid=2175063177580008149&entry=gps 
2. Sheraton Denarau Villas
Located on Denarau Island, you will experience a royal life here. Sheraton Denarau Villas are perfect for large groups of friends and families to enjoy luxurious private stays with the best world-class facilities at the adjacent Sheraton Fiji Golf & Beach Resort, The Westin Denarau Island Resort & Spa and Denarau Golf and Racquet Club. There are so many fun and exciting experiences waiting at the Sheraton Denarau Villas. Treat yourself to a luxurious two or three-bedroom villa that features a full kitchen and private balcony with stunning views. https://maps.app.goo.gl/K8ruktwCAx929Tis9
3. Dreamview Villa 
Love sea view villas? Then book yourself a self-contained villa that will allow you and a large group of friends to enjoy a private, peaceful and pleasant stay. The villa offers amenities such as kitchen, Wi-Fi and an outdoor pool for your guests to relax and explore fun activities such as snorkelling, scuba diving and more.  https://maps.google.com/?cid=8617542791506953475&entry=gps 
4. Turtle Island Fiji
Visit Turtle Island to experience pure indulgence and relaxation, as the island serves as an idyllic escape. The private paradise is nestled in the heart of Yasawa archipelago, where you and your loved ones can comfortably enjoy a home away from home experience. The resort offers 14 spacious villas with lush tropical gardens and ocean views. Curate your private island getaway as you wish by spending your day by your own private beach, unwind with Fijian inspired massage, exploring the island and enjoying delectable meals. Expect seaside breakfast with breathtaking views, picnic lunches on your own private beach and romantic moonlit dinners on a floating pontoon. https://maps.google.com/?cid=15201878354825729662&entry=gps 
5. Island Breeze Fiji
Island Breeze Fiji offers uninterrupted sea views from every corner of the villa. The accommodation overlooks the Koro Sea on the coast of Savusavu Fiji. The luxurious waterfront villa will spoil you with the best private stay on the island. The island offers free transfer to and from Savusavu Airport so you can travel to your private paradise without any hassle. You can also enjoy swimming and snorkelling in the ocean and private infinity pool. https://maps.app.goo.gl/YqRj89Z6Y8NYEx3y6 
6. Naisoso Island Resort Villas
Give yourself a private, peaceful and stylish stay at Naisoso island. Enjoy your first-class services and spacious four to five-bedroom villa with pools, kitchen and entertainment area. Treat yourself and your loved ones to the luxury comfort that you can enjoy to the fullest while staying in your villa. Be pampered by a private chef who cooks delicious meals for your family. You can also unwind and rejuvenate yourself with their fantastic spa therapy. https://maps.app.goo.gl/5x6S39QK5RB5i5Q6A 
7. Daku Fiji Resort 
Spend quality time in a comfortable environment with good food, amazing view and stunning scenery. Book yourself a three-bedroom villa; a private house on the hill with an infinity pool, fully equipped kitchen and air conditioning throughout. Enjoy the villa to yourself to swim and wind down with a cocktail with superb views over the bay. The Fijian-style setting will give you an amazing authentic Fijian experience. https://maps.app.goo.gl/P8Eec1HE3aHhEvBHA 
8. Taveuni Palms Resort 
The beach villa at the Taveuni Palm Resort is the perfect choice for couples and families looking to spend private time together. Get spoiled by eating authentic Fijian cuisine and swimming in a private pool. The lush tropical gardens make this villa absolutely stunning. Watch dolphins swim past each morning, and catch the breathtaking sunset at the end of the day. https://maps.app.goo.gl/EtbmCWN5i5uMfNuAA 
9. LomaniWai Resort Villa 
The resort is designed well, with plenty of space to cater for a large group of guests to spend a private and personalized stay. From its luxurious bedroom suites with smart TV and digital movie library to poolside sunbathing, there is plenty to keep your guests entertained. And if you choose an all-inclusive option, you get a personal gourmet chef who will prepare breakfast, lunch and three-course dinner or banquet dinners from a menu of your choice. You will also get to explore the beautiful tropical marine life in their Marine Reserve Coral Lagoon, right in front of the villa. https://maps.google.com/?cid=11664047635299389489&entry=gps 
10. Blue West Villa
Situated in the heat of Momi Bay, surrounded by lush tropical fauna and a walk away from the beach. A luxury two-bedroom self-catering serviced villa where you can enjoy an open lounge, dining and fully furnished kitchenette. Enjoy your privacy with lush tropical gardens and a stunning pool area. https://maps.app.goo.gl/J6dqajKr1QWgYGuP9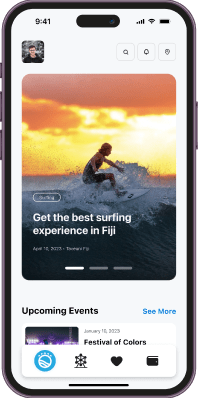 The only super app
you need in Fiji.