How much money do you need for a holiday Fiji?
Famous for its friendly people and heavenly tropical islands, Fiji is the epitome of South Pacific paradise. With more than 300 islands to choose from, you'll find plenty of tropical attractions and adventures to satisfy your wanderlust.
Fiji is a travel destination that has something to offer all travellers, from backpackers to luxury travel. Generally, Fiji is a relatively affordable country. Below is a guide on the cost of living in Fiji for you to plan your trip and budget accordingly. 
Accommodation Prices in Fiji
First, you should note that hotels in Fiji get booked pretty quickly during peak seasons. Thus, it's always advisable for you to book your accommodation at least six months in advance if you're planning to travel to Fiji.
For those travelling on a budget, consider more pocket-friendly accommodations such as an apartment stay. Prices range from FJD80-FJD100 /night( ~USD36.60 – USD45.80), or even cheaper at less centralised locations. 
On the other hand, if you want to experience comfort, on average, hotels in Fiji start from FJD800/night (~USD114 – USD370). Of course, there is also ultra-luxurious experience in Fiji, and private resorts can cost around FJD3000/night (~USD1500).
Food Prices in Fiji
Food prices differ in the Pacific depending on one's preference and availability. 
Food price comparison of resorts vs restaurants
Restaurant breakfast – a wide variety of authentic meals ranging from FJD5 – FJD15 (~USD2.20 – USD6.80)
Resort breakfast – free
Restaurants meal – a variety of authentic Indian, Fijian or Chinese cuisine from FJD8 – FJD12 (~USD3.60 – USD5.50)
Resort lunch or dinner – offer varieties for their guests ranging from FJD20 – FJD30 (~USD9.10 – USD13.70) for a main.
Highly recommend trying out authentic Fijian cuisine from local restaurants as they are cheap, yet delicious.
Supermarket food prices
If you are looking to save up and cook your own meals, below are the average prices of items you can find in the local supermarket.
Milk 1litre – depending on the type and brand you drink, the average price starts FJD2.85 – FJD7 (~USD1.3 – USD3.2)
Eggs – depending on the quantity you want, that is 12, 20 and 30 eggs. FJD6 – FJD15 (~USD2.7 – USD6.8) 
Flour 1kg – FJD1.50 – FJD1.95 (~USD0.6 – USD0.8)
Rice 1kg – FJD1.50 – FJD1.95 (~USD0.6 – USD0.8)
Oil 1litre – FJD4.95 – FJD6 (~USD2.2 – USD2.7)
Sugar 1kg – FJD1.50 – FJD2.30 (~USD0.6 – USD1)
Onion – FJD2.30 – FJD4kg (~USD1 – USD1.8)
Garlic – FJD1.60 – FJD2 (~USD0.7 – USD0.9)
Potato – FJD1.95 – FJD2.10kg (~USD0.8 – USD0.9)
Pasta 500g – FJD5.00 – FJD7 (~USD2.2 – USD3.2)
Bottle water 1.5 liter – FJD1.00 – FJD2.00 (~USD0.4 – USD0.9)
Soft drink 2.25 liter – FJD3.95 – FJD4.50 (~US-1.8 – USD2)
Pack of biscuit – FJD1.50 – FJD3.00 (~USD0.6 – USD1.3)
Tea bag – FJD2.50- FJD5.00 (~USD1.1 – USD2.2)
Chicken No. 1.4 – FJD13 – FJD15 (~USD5.9 – USD6.8)
Beer 750ml – FJD3.95 – FJD5 (~USD1.8 – USD2.2)
Wine – FJD15 – FJD30 (~USD6.8 – USD13.7)
Fruits and vegetables in Fiji
Markets in Fiji provide fresh and locally grown seasonal fruits and vegetables. Be sure to get your hands on the greens while enjoying your stay in the Pacific. You can find various fruits such as mangos, pineapples, watermelons, pawpaws and guavas from as low as FJD3.00 – FJD4.00 (~USD1.3 – USD1.8) and vegetables such as cabbages, Dalo leafs, beans, jackfruits and ladyfingers from FJD3.00 – FJD5.00 (~USD1.3 – USD2.2).
Pro tip: The locals believe that the freshest produce is on Saturdays. 
Cost of transportation in Fiji
There are many transportation options while travelling in Fiji. Prices differ depending on the mode of transportation and distance. 
Local buses – start from FJD0.92 – FJD3.00 (~USD0.4 – USD1.3) depending on the distance you're travelling.
Taxi fare – taxis in Fiji operate on meters starting from FJD2 (~USD0.9)
Express buses – FJD15 – FJD30 (~USD6.8 – USD13.7) (Nadi -Suva)
Rental cars – you can hire a rental car in Fiji from FJD80 – FJD180/day (~USD35 – USD80)
Boat ride – Port Denarau- Mamanuca Islands – adults FJD90 – FJD140 (~USD41.2 – USD64.1) children FJD50 – FJD90 (USD.22.9 -USD.41.2). 
Port Denarau-Yasawa Island – adults FJD120 – FJD130 (~USD55 – USD59.5) children FJD60 -FJD90 (~USD27.5 – USD41.2). 
Suva- Savusavu – adults FJD60 – FJD80 (~USD27.5 – USD36.6) children FJD30 – FJD40 (~USD13.7 – USD18.3).
Domestic flights – the quickest way of moving from one island to another is by flight. They are expensive but save plenty of time. A domestic flight costs around FJD90 – FJD600 (~USD41.2 – USD274.9).
Hopefully, the guide has given you a better idea of the costs in Fiji.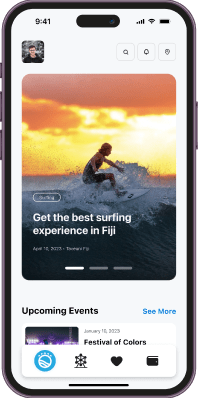 The only super app
you need in Fiji.