How to travel by public transport in Fiji
Fiji is one of the most visited travel destinations in the South Pacific. It's a tropical paradise, especially for beach lovers. For a nation known for its friendly people, white sandy beaches, phenomenal sceneries and stunning underwater world, there are plenty that Fiji offers to all types of travellers. 
If you're wondering how to get around the islands, then fret not, as you can easily hop onto any public transportation that will bring you from one place to another.
Buses in Fiji
Viti Levu and Vanua Levu have around 95% roads, and local buses are one of the most common, convenient, cheap and fastest modes of public transport for locals and tourists to get around Fiji's main islands. Local buses carry passengers to and from towns and cities to their destinations. A local bus has open windows and padded seats, and you get the real Fijian experience while travelling in one. The bus follows specific routes and stops at main town and city bus stops. They operate on a rough schedule of 'Fiji Time' starting from 6:30am till 7pm, but you will be able to find an updated timetable of the schedule at bus stops in major towns and cities. 
There are no bus stops in rural areas, so you will have to ask the villagers when and where you can catch a bus. The local villagers will know best how to board the bus. In these areas, you can also simply hail down any public buses from the roadside by waving at the driver. 
How to pay for your ride in Fiji?
From 1st of October, 2017, passengers on public buses will no longer be allowed to pay their bus fare using cash, and cash fares will be completely replaced with an electronic ticketing system. Therefore, all passengers travelling on public buses must register for an eTransport Card available at no cost and have these cards pre-loaded with electronic value to travel on public buses.
What is eTransport, and how do you get one?
eTransport is a government-regulated fare payment system where the public has to pay their bus fare through electronic means. Tourists travelling to Fiji are advised to purchase a disposable card. A disposable card can be purchased from the local buses and doesn't require any registration. You will have to buy a disposable card from the driver. The card value comes in FJD $2, $5, $10, $20, $50 and $100. The disposable card expires in 30 days from the first day of use. 
How to use an eTransport card in Fiji?
To pay for your bus fare, you will first have to tell the driver your destination. The driver will then enter the number of stage(s) you are travelling to, and then the driver will ask you to tap your eTransport card against the Point-of-Sale (POS) machine on the bus. Once you have paid your fare, the POS machine will print a receipt stating your stage number, the fare amount, and your remaining balance. Always keep the receipts with you as the Land Transport Authority officials conduct random checks, and fines are in place if you do not have any receipt.
Stage fares are as follows:
Stage 1: FJD$1.02 (~USD0.46)
Stage 2: FJD$1.61 (~USD0.73)
Stage 3: FJD$2.21 (~USD1)
Stage 4: FJD$2.60 (~USD1.18)
Stage 5: FJD$3.27 (~USD1.48)
Stage 6: FJD$3.86 (~USD1.74)
Stage 7: FJD$4.39 (~USD1.98)
What happens to the remaining balance on the eTransport card?
Towards the end of your holiday, if you have any remaining balance on your disposal card, then you will have to visit any Vodafone retailers or authorized agent outlet to get a refund. Just present your disposable card and a valid ID, and it will be refunded in cash. However, be sure to get your refund before the card expires (30 days times). 
Is there Uber in Fiji?
No. There is no Uber in Fiji. Most of the locals travel by public buses, taxis, domestic flights or water taxis. There is currently no ride-hailing services available in Fiji.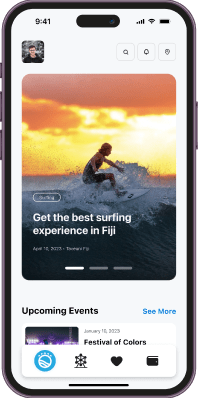 The only super app
you need in Fiji.