What are the taxi prices in Fiji?
Travelling in a taxi is pretty easy, safe and convenient in Fiji compared to public buses. You can quickly get to your intended destination, and rides are often smooth. Locals usually opt to travel via taxis when travelling to larger island towns and cities. 
Below is a guide for you to decide if hailing a taxi is your best mode of transportation while holidaying in Fiji.
Things to note while hiring a taxi in Fiji 
If you plan to hire a taxi in Fiji, keep a lookout for licensed taxis with vehicle registration numbers starting with 'LT'. Taxis in Fiji usually charge by the meter and have a flagfall of FJD2.00 (~USD0.90). Do take note that some taxi drivers refuse to turn on the meter, but as a passenger, you can also refuse to accept the taxi if the driver refuses to charge by the taximeter. Just be sure to check with the driver before you hop onto the taxi.
Where to find a taxi in Fiji
Taxi services are available on the island of Viti Levu, Vanua Levu, Taveuni and Ovalau. Once you've landed in Fiji, you can board a taxi right outside the Nadi International Airport. Airport taxis are yellow coloured, and easy for you to distinguish. Note that the airport flagfall starts from FJD7.10 (~USD3.20). 
Viti Levu
As Fiji's largest island, Viti Levu has a large number of towns, and you can easily find a taxi to transport you to your destination. You can easily hail a taxi from the taxi stands in the towns and cities. 
Vanua Levu
The most convenient places to hail a taxi are from Labasa and Savusavu town. You can also enjoy some attraction sites in the comfort of a taxi while travelling through Vanua Levu. The flagfall in Vanua Levu is FJD2.30 (~USD1), and some taxi drivers may negotiate the fare for long-distance drives. 
Taveuni
Taxis are pretty limited in Taveuni, and your best bet is from the Matei Airport and towns. Otherwise, you may get assistance from your hotel concierge to book a taxi on your behalf if you wish to tour around Taveuni. 
Ovalau
Similar to Taveuni, Ovalau has limited taxi services. The most convenient location to get a taxi is in Levuka Waterfront. However, do note that the taxis in Ovalau and Taveuni do not use a taxi meter. On average, the taxi fares should not exceed FJD50 (~USD23) if you plan to travel around Ovalau and Taveuni. 
Cost of taxi fares in Fiji
As mentioned above, Fiji taxi costs are calculated by the taximeters installed in the taxi. The flag-fall rate in Viti Levu starts from FJD2 (~USD0.90) between 6am to 9pm. The flagfall outside of these hours is FJD3 (~USD1.30). 
Flagfall rate in Vanua Levu starts from FJD2.30 (~USD1) between 6am to 9pm, and FJD3.30 (~USD1.50) outside these hours. Airport flagfall are at FJD7.10 (~USD3.20). 
Sometimes, taxi drivers will negotiate the fare for long-distance rides. Be sure to confirm the negotiated price before you board the taxi. 
Taxi fares for long-distance areas
If you are holidaying in Nadi and planning to visit other areas like Suva, Lautoka, Coral Coast, and Pacific Harbour, then check out some typical fare prices depending on your choice of location. Note that these fares can be negotiated with taxi drivers, and ensure that you agree on a reasonable rate for the rides.
From Nadi to Lautoka
Lautoka, also known as the Sugar City offers some of the best shopping spots and eateries in Fiji. 30-minute drive from Nadi International Airport to Lautoka costs approximately FJD40 – FJD55 (~USD 18 – ~USD25). 
From Nadi to Coral Coast 
This 1 hour drive from Nadi International Airport takes you to the beautiful beachfront resorts. Coral Coast is a very popular tourist holiday getaway in Fiji. Taxi fare from Nadi to Coral Coast is approximately FJD85 -FJD120 (~USD39 – USD55).
From Nadi to Suva
Suva, the capital city, is the busiest city of all time, offering tourists great local vibes, delicious food, big markets and amazing shopping spots. The 3-hour drive from Nadi International Airport to Suva costs around FJD230 (~USD105). Longer distances can cost even more, but you can also opt to visit Suva by flight, express bus or rental car.
From Labasa to Savusavu 
Vanua Levu offers travellers an excellent holiday getaway of both land and water adventure activities. Travelling between Labasa and Savusavu town and some of the sightseeing areas will set you back about FJD70 – FJD100.
It is recommended that while in Vanua Levu, be sure to visit some of the great attraction sites that are rewarding to the eyes. Note that traveling via a taxi between Labasa and Savusavu town and to sightseeing areas, fares can be negotiated and cost around FJD70 – FJD100 (~USD32 – ~USD45).
In short, the taxi costs in Fiji vary depending on the destination and distance. Check out these Fiji safety tips for a fruitful trip in the South Pacific paradise.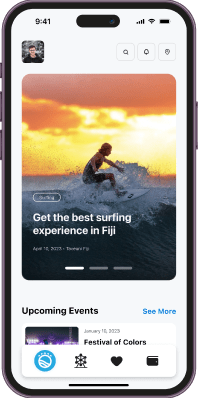 The only super app
you need in Fiji.