Safety tips to keep in mind when in Fiji
Here are 12 safety tips to keep in mind when you're in Fiji, for better recollection, we've divided these into three categories. These are things to remember in a communal setting, health and hygiene, and in an urban setting.
Communal and village settings
When visiting villages or rural communities, always remember these two most important tips. Modest clothing is a must for women, as most rural parts of Fiji are still Christian and practising Christians. Culture and Religion are on blurred lines in Fiji, for more clarification and insight on indigenous Fijian etiquettes, check out, '10 Must-know basic etiquettes about Fiji'.
As a foreigner or visitor visiting a village, you must always adhere to village bylaws

, these are laws that govern a village or community, these may include honouring traditional protocol and hierarchy, and being penalised for making excessive noise, drunkenness or larceny. If you're travelling with a tour group then all things about Fiji will be advised and taken care of on your behest by your tour company, such as your

isevuisevu

and

veiqaravi

which are traditional protocols.

 
Despite decriminalising homosexuality in 2010, Fiji continues to be a very culturally patriarchal and conservatively Christian country. Public Displays of Affection (PDA) between couples and homosexuality in villages/rural communities is still a sensitive subject.
Swimming at the beach is expected to be paired with a bathing suit or a bikini. There are no clothing optional beaches in Fiji because nudity is not permitted.
Health and Hygiene
Fiji being a developing country also has facilities and necessities lagging, many of which are of hygiene and health risks. Tap water is not safe to drink, especially if you're a foreigner. Similar to Bali belly, Fiji's tap water is mostly immune to locals only but often at times gets contaminated due heavy rain and flash floods that result in murky water.
Fiji's health system both has its pros and cons. Although a visit to the doctor at any public health centre is free, Fiji's health centres are equipped to handle minor health problems. Medical supplies are often limited and hard to replace when in shortage, so it would be best that you'd get all your vaccinations and tetanus shots in check before coming to Fiji.
Drugs are illegal in Fiji, possession of any may result in imprisonment and hefty fines. For instance, Marijuana possession can result in 1-3 months' imprisonment with a $100 fine or more. However, Industrial Hemp was just legalised in July of 2022 in an attempt to boost the economic sector through agricultural means.
Unless accompanied with a tour group or with a hotel company, do not go out swimming or dare hiking trails alone. Fiji has a lot of remote hiking and swimming spots and getting injured might result in getting stranded or not receiving the proper first emergency care. Emergency response is also limited to the police and fire authority. 
Urban setting and city centres
Fiji's on scheduled time, transportations are limited to buses, taxis and mini buses. Buses and mini buses run on schedule, buses run from 5/6am and the last bus is at 11pm or 12pm. Yet, for remote parts of Fiji, like the Naitasiri highlands and parts of interior Macuata and Cakaudrove (in Vanua Levu), their last bus departs cities and towns at 5pm. Mini buses operate until about 12pm and taxis operate for 24-hours in urban areas only.
Nightlife in urban centres is different, shops close and public transport with the exception of taxis stop operating, however, you must beware of nightlife in Suva and other urban centres. A lot of the times there have been cases of thefts (grab and run) and drinks being spiked, and the local crowd can get a bit rowdy at times. If you want to experience nightlife in Fiji, take a local guide with you, someone who knows their way around the city, especially the capital.
 When deciding to get a rental to drive around Fiji's mainland, take caution that Fiji being a former British colony keeps to the left side of the road and has right-hand drive for motorists. When in cities and towns take note that Fiji also has one way streets.
Sunday is a slow day in Fiji, many shops close for the day as it is a respected day and many locals attend church. Only a few shops, shopping centres and buses remain open and operating on Sunday.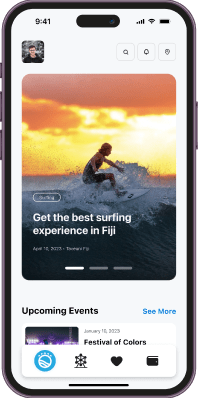 The only super app
you need in Fiji.