Fiji is a tropical paradise located in the South Pacific Ocean and is known for its stunning beaches, lush rainforests, and crystal-clear waters. With its diverse culture, rich history, and abundance of outdoor activities, Fiji has become a popular tourist destination. Here are some of the things that Fiji is famous for:
Beautiful Beaches
Fiji is renowned for its beautiful beaches, with soft sand and turquoise waters that are ideal for swimming, sunbathing, and snorkeling. Some of the most famous beaches in Fiji include Natadola Beach, Yasawa Island Beach, and Blue Lagoon Beach. These beaches are not only stunning, but they also offer a variety of water-based activities such as surfing, kayaking, and fishing.

Discover the most popular islands in Fiji.
Cultural Diversity
Fiji is a culturally rich country with a long history of indigenous Fijian, Indian, European, and Chinese cultures. The Fijian people are known for their friendly nature and welcoming spirit, and their traditions and customs are still celebrated today. Visitors can experience traditional Fijian village life and attend cultural festivals and ceremonies. Additionally, the capital city of Suva has a vibrant and colorful street culture, with markets selling traditional crafts, spices, and produce.


Witness the firewalking ceremony or experience the famous kava ceremony.
Adventure Activities
Fiji is an outdoor adventurer's paradise, offering a wide range of activities from hiking and kayaking to surfing and diving. Fiji is home to some of the world's best diving spots, with its clear waters teeming with diverse marine life, including colorful coral reefs and exotic species of fish. For those who enjoy hiking, there are a variety of trails that lead through lush tropical rainforests, providing visitors with breathtaking views of the islands and the surrounding ocean.
Check out the most popular scuba diving spots in Fiji.
Luxury Resorts
Fiji is home to many luxurious resorts that offer the ultimate in comfort and relaxation. These resorts offer a range of amenities, including spas, golf courses, and fine dining restaurants, making them the perfect destination for a romantic getaway or a family vacation.

Pamper yourself with a luxury resort getaway in Fiji.
Natural Beauty
Fiji is renowned for its stunning natural beauty, with its lush rainforests, pristine beaches, and crystal-clear waters. Visitors can explore the islands' diverse landscapes, including waterfalls, caves, and scenic valleys. Additionally, Fiji is home to a variety of wildlife, including exotic birds and animals, making it an ideal destination for nature lovers.

Travel like a local at Colo-i-Suva Forest Park.
Fiji is a truly remarkable destination that offers something for everyone. Its stunning beaches, diverse culture, and abundance of outdoor activities make it an ideal destination for anyone looking for an unforgettable tropical vacation. Whether you're a beach lover, an adventurer, or a culture enthusiast, Fiji has something to offer, making it a must-visit destination for anyone traveling to the South Pacific.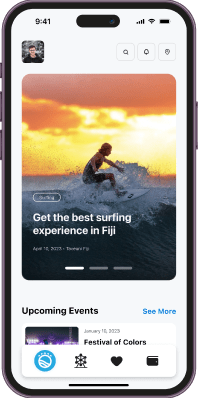 The only super app
you need in Fiji.