Top 10 family resorts in Fiji
Fiji is a fantastic family holiday destination as it's famed for having some of the best family-friendly resorts in the world. So, if you're looking for some fun family time and that well-deserved break, look no further. 
Here is a list of the best family resorts in Fiji to spend some quality time. 
Blue Lagoon Beach Resort 
Blue Lagoon Beach Resort, located on Yasawa Island, has stunning white beaches and crystal blue waters. Soak yourself in the sun and swim in clear water. The resort offers spacious family rooms that make your stay comfortable and relaxing. While you sip on Fijian-style cocktails, your kids can fully engage themselves with the fun activities that the Green Gecko's Kids Club offers. Be sure to enjoy a day out with your children fishing, snorkelling and visiting the village for Fijian cultural experience.
Radisson Blu Fiji Resort 
Radisson Blu Fiji Resort is a popular family resort in Fiji. The resort offers amazing accommodation packages for families to choose from. Make your family holiday a memorable experience with their first-class kids club and family pool. Let your kids enjoy a day doing face painting, hair braiding, playing cool Fijian games, crafting and participating in torch-lighting ceremony with Fijian warriors, all offered by Blu Banana Kids Club. Spend an amazing time with your children in the family pool with white-water tunnel slides.  
Fiji Hideaway Resort & Spa
The resort offers a complete family package of entertainment for you and your family. Rest assured that your kids will enjoy their stay at the resort by engaging with the Fijian kids club crew. The club will keep your kids hooked up with thrilling activities from treasure hunts to snorkelling and Fijian fishing lessons while you can pamper yourself with relaxing massages at the Spa. The nightlife at the Coral Coast is equally engaging. Attend the cultural nights and shows with your family. The best part of the resort is their family-friendly ocean view bures and Frangipani bures.
Fiji Marriott Resort Momi Bay 
Make this family vacation an educational one for your kids. The Fiji Marriott Resort Momi Bay offers your kids an amazing opportunity to learn more about Fijian Culture. Turtles Kids Club allows you and your kids to explore Fijian culture and influence by joining their interactive activities, including mini-amazing races, creative sessions, Fijian language lessons, coconut hulking, basket weaving, and pirate boat making, Fijian dance lessons, a talent quest and marine life education. Get a little closer to the Fijian lifestyle with your stay at the Marriott Resort.
Sofitel Fiji Resort & Spa
Sofitel Resort is a beautiful, spacious and luxurious resort in Fiji. Book your stay here to enjoy a private, peaceful holiday. The family room in the resort is spacious as it comes with 1 queen size bed and 2 tier bunk bed. You can relax by the pool or in the bar while your kids have a fun-filled day with their new Niu Kids Beach Club playing cool games such as sack race, sand castle, shell painting, mini golf, treasure hunt and Fijian pani game.
InterContinental Fiji Golf Resort & Spa 
Enjoy your family time at one of the largest resorts in Fiji. Nothing feels more perfect than sleeping in a room with a beachfront view, lagoon view, pool view or garden view. Mum can give herself a luxury treat of spa massage to feel rejuvenated and renewed, and dad can show-off his golf skills at their 18 hole Championship Golf Course. Keep your kids busy with fun activities offered by the resort's Planet Trekkers Kids Club.  
First Landing Beach Resort 
Book yourself an amazing stay that is family-friendly and budget friendly. The resort offers great accommodation packages that will suit your liking and needs. Stay at their bures to get amazing views that will leave you amazed. Check out their fun activities, such as exploring the water, learning cooking, kayaking, village tours, fishing and night entertainment. The Nalamu Nippers Kids Club will look after your kids with Fijian games and activities.
Outrigger Fiji Beach Resort 
Enjoy a home away from home experience at the Outrigger Resort. Give yourself the time you need to fully relax and spend quality time with your family. Enjoy amazing adventures offered by the resort and rest assured that your kids will be taken care of by the Coral Kids Club where they will be busy enjoying tours, water polo and Fijian games. Be sure to give your kids an amazing experience at the resort's Meimei Nanny Service where nannies will give them exceptional care by playing with them, doing arts and crafts and teaching them simple language lessons.
Koro Sun Resort 
Resort located in Vanua Levu is a perfect family getaway with amazing amenities and scenery. The resort caters for all sorts of bedding needs, therefore, you get so many options to choose from, from sleeping in an Edgewater villa to Treetop villa and Lighthouse villa. Experience amazing adventures with your kids, from reef kayaking, trekking, biking, rainforest spa and family snorkelling trip.
Plantation Island Resort 
The beautiful Plantation Island Resort is children's heaven and every parent's peaceful refuge. The best part of a family vacation is to ensure that your kids enjoy themselves to the fullest. Stay at the amazing resort that's got your back when it comes to taking good care of your children while you get some quality time with your significant other. The resort offers Crèche and Nanny service and Coconut Kids Club that will keep your kids busy and entertained.
Check out the best adults only resorts in Fiji.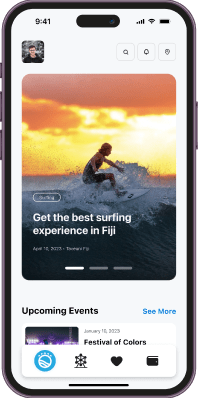 The only super app
you need in Fiji.