Things you need to know about Nadi
Most international visitors will arrive at Nadi International Airport as it handles 95% of international flights to and from Fiji.
Nadi is a transit point for other destinations in Fiji, and is slightly smaller than Lautoka, just to the north, or the capital Suva out on the eastern coast. It also has a large transient population of foreign tourists, which is important as tourism is a big source of income in Fiji aside from sugarcane production. Many visitors spend a night here waiting for ferries, boats to outer islands, or planes to and from home.
Known for its amazing beaches, clear waters, palm trees, and relaxing atmosphere, Nadi is a must-visit destination for all visitors. Located on the west coast of Viti Levu in Fiji, it is one of the country's largest cities and a great tourist hub.
With around 40,000 inhabitants, it's Fiji's third biggest township. It has a large Indo-Fijian (Fiji Indian) population making Nadi a centre for Hinduism and Islam in Fiji. It has the largest Hindu temple in the Southern hemisphere, and is a site for pilgrims called Sri Siva Subramaniya temple.
The Nadi region has a higher concentration of hotels and motels than any other part of Fiji.
It is a boat ride away from world-class resorts such as the Mamanuca and Yasawa Islands groups and the prominent Tavarua, which is renowned for surfing.
Most of the activities are on Queens Rd (Main St) in central Nadi. Main St is the street coming down from the 'A Marker' on the map, as it's confusing with Queen Rd seemingly everywhere.
How to get around from Nadi, Fiji?
You are able to walk to some shops, but you can also opt to get around Nadi through the public bus or taxis available everywhere. Just remember to ask the driver to turn on the meter while sending you to your destination.
Air-conditioned and local buses run from Nadi Bus Terminal and Nadi Airport to Suva multiple times a day. Express buses are almost always air-conditioned coaches. Services mostly follow Queens Road (Suva-Sigatoka-Nadi-Nadi Airport-Lautoka). Tickets cannot be purchased with cash on board and must be prepaid. Most bus services require a reloadable eTransport card obtained at any Vodafone shop. If you have an eTransport card, visit the staffed kiosk at the main Nadi bus terminal.
* Pacific Transport: six times daily, Suva-Nadi-Nadi Airport-Lautoka Express.
* Sunbeam (formerly Coral Sun): six times daily, Suva-Nadi-Nadi Airport-Lautoka Express.
* KBL (Kadar Bukush Ltd) offers a direct Nadi Airport—Suva minibus service daily.
A number of bus companies operate regional and local services, including to Lautoka to the north and Sigatoka to the southeast, ideal for day trips.
There are numerous ferries and day trips leaving daily from Denarau Port in Nadi, if you would like a simple day trip to the Mamanuca Islands, Yasawa Islands, or other similar islands, many ferries run from 9am to 4pm daily.
Is Nadi a safe region in Fiji?
Nadi is the safest town in Fiji, and there is no risk of pick pockets unless there is a major festival happening in town. However, it is always good to be cautious and be aware of your surroundings.
What are the top things to do in Nadi?
You may go to some of the creek sections near the airport where you may see beautiful finches, mongooses and other birds. If you want to explore Nadi, do be prepared to be approached by the shopkeepers as you walk down the main street.
Denarau Island
The high-end Denarau Island is just 5km northwest of Nadi. Here, you'll find the region's luxury hotels and resorts. This is also where you will visit Port Denarau Marina, the gateway to the breathtaking island chains of Mamanucas and Yasawas. Port Denarau Marina is walking distance to several international hotels, offering a vast array of recreational pursuits including an international 18 hole golf course – not to mention, being part of the largest retail and restaurant complex in the Nadi area. Port Denarau is ideally positioned to provide a stopover for rest, recreation and shopping during your cruising of the Fijian Islands. Aside from all that, Port Denarau Marina is also the epicentre of the booming yachting activity in Fiji.
Visit the Beaches
Nadi's beaches range from sandy pools to rocky coral stretches. Enjoy swimming with family and friends, participate in water sports, stroll leisurely along the shore, and just relax. Just 30 minutes away from the Nadi Airport, you can visit Natadola, one of the best beaches for swimming. Until recently this beach has been spared development so it is still in very good condition. Another beach that is popular and nearer to the airport (approximately 15 mins away) is Wailoaloa (pronounced as Wailolo). The beach is frequently visited due to its easy access and proximity to Nadi.
Visit Sri Subramaniya Temple
To kick start your cultural induction of Nadi, visit the iconic Sri Siva Subramaniya Temple. Located in downtown Nadi, Sri Subramaniya Temple is situated at the main street's southern end. The complex is free to enter and is open daily from sunrise to sunset. The Hindu temple bursts with colours and serves as the biggest Hindu temple in the southern hemisphere. You should dress appropriately and cover your legs and shoulders when visiting the temple. Sarongs are also available at the entrance at no charge. Do not take photographs while you are inside the temple.
Visit a Fiji Culture Village
To experience a taste of Fijian culture, you can visit Fiji Culture Village. There is plenty to learn about the unique Fijian culture at the Fiji Culture Village. Experience kava ceremony and taste kava. Watch a spectacular meke show. This is an extravaganza of stunts, singing, music, dancing, costumes, storytelling and legends.Enjoy delicious local food: kokoda, fish lolo, lovo (cooked in earth oven, night tour only). Otherwise, book an actual cultural tour to find out about the locals' way of life.
Visit the Nadi Garden of the Sleeping Giant
The Garden of the Sleeping Giant sits at the foothills of the Nausori Highlands about 10 minutes drive north of Nadi. The attractive landscaped gardens specialise in Fiji's native plants. A jungle walk takes you through a large lily pond and native forest. Originally started to make a place for the private collection of tropical orchids of Canadian actor Raymond Burr, this garden now houses many beautiful plants including a vast collection of 30 to 40 varieties of magnificent Asian orchids and Cattleya hybrids and trails for walking. It is open Monday-Saturday, entrance fee is F$10.
Download the GoFiji app for all the popular attractions and activities in Nadi.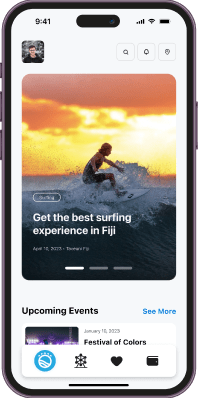 The only super app
you need in Fiji.