Romantic activities for couples in Suncoast, Fiji
Looking to spend a romantic getaway with your partner in Fiji? Spice up your love connection by enjoying and experiencing amazing romantic activities along the beautiful Suncoast. Suncoast introduces you to Fiji in a more natural way, with lush tropical rainforests, mountains, stunning beach-scattered coastlines, and breathtaking landscapes, all making up for an adventurous yet romantic exploration. Express your love on the Suncoast and pamper yourself and your lover with all the good things. Let's check out what you and your partner can do on the Suncoast.
Admire the sunset together
One of the most romantic things you can easily do with the love of your life is watching the sun seemingly dip into the ocean. Plan on taking a sunset cruise while holidaying in Suncoast. This will allow you to enjoy the beautiful sunset over the ocean while sipping on champagne and enjoying a romantic dinner. It's a great way to spend a romantic evening with your partner.
Take the scenic flight over the Suncoast
If this doesn't sound romantic, then I don't know what is. Fiji is blessed with outstanding beaches, rainforests, mountains, and turquoise waters. What better way to see them than by taking a scenic helicopter tour, where you can enjoy stunning views of the rugged mountains, azure waters, and stunning coastline from the air? This is a great way to see Viti Levu from a different perspective and create unforgettable memories with your partner. You can easily book Pacific Island Air private seaplane and helicopter flights from selected resorts in Suncoast.
Enjoy a Private Beach Picnic
Sometimes all you need is to spend some good quality time with your partner just by eating your food. Yes, food is the best love language couples enjoy sharing together and bonding over. A private beach picnic allows you to enjoy a romantic meal on the beach with your partner. It's a great way to escape the crowds and enjoy some quality time together. Be sure to check with your resort on what special treat they have for you to have the best picnic of your life in paradise.
Pamper Each Other with a Spa Massage
Of course, you need to give your body the most deserving rest, and why not do it while holidaying in Fiji? Indulge in a couple's spa treatment, where you can enjoy a relaxing massage and other spa treatments with your partner. Spa treatments in Fiji are like no other, with the natural setting, friendly masseuses, and natural beauty products used to make you feel relaxed. Share the love of pure relaxation with your partner; this is a great way to unwind and relax together.
Do check out Wai Spa – Wananavu Beach Resort, Dolphin Island, Belo Vula Resort, and Noqui Tau Spa – Tanoa Waterfront Resort for some outstanding massage services.
Set up a Romantic Dinner Date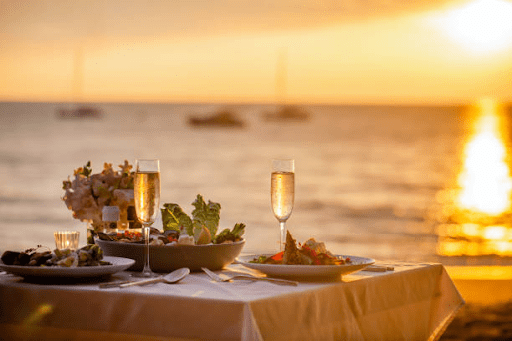 There is no right way to experience your love, so be spontaneous and take advantage of the beauty of Fiji. Perhaps propose to your partner over dinner. A dinner date by the beach is one of the most romantic things for couples to do, especially while holidaying. Enjoy a delicious meal under the stars with your partner and create endless and unforgettable memories together.

Enjoy Some Time Off Exploring
Spending good quality time also means doing nothing and just admiring each other. You can do the same in Suncoast by simply swimming in the resort's pool together, sipping on delicious Fijian-style cocktails, and just soaking in the beauty of Fiji. Later, stroll on the beach to end your perfect Fiji time experience.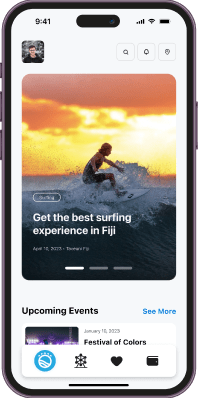 The only super app
you need in Fiji.