All you need to know about the nannying services in Fiji
Fiji is one of the top luxury destinations that caters for all types and groups of vacationers, from travel gurus and couple's getaways to a wholesome family holiday, the list is endless, and Fiji has it all. Fiji's holiday accommodations especially cater for larger family units as well by having a kid's club or a nannying service to entertain and occupy the kids.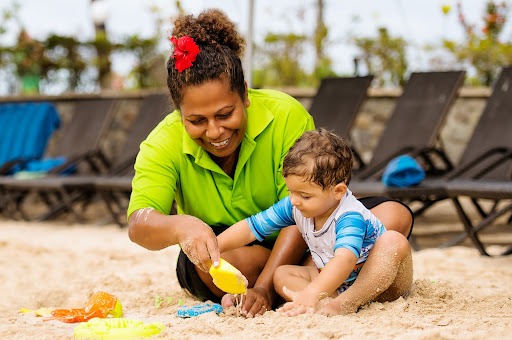 Photo Credit: Radisson Blu Resort.
The Nadi area and other resorts of Viti Levu, are more family-inclusive to vacationers. Our examples will solely refer to the coastal Viti Levu resorts, including Nadi and other accommodations.
Is nannying available in Fiji?
First and foremost, yes. Nannying services are available in most family-inclusive resorts around the country. Your best clue is if the resort has a kid's club, the resort will definitely cater for any of your other child-caring needs.
Check out the list of family-friendly resorts in Fiji.

Photo Credit: Outrigger Beach Resort.
What are some babysitting conditions and costs offered by some resorts in Fiji?
Let's begin with Coral Coast, Sigatoka's Outrigger resort, a 5-star hotel perched on the Korotogo hills. The resort offers their service through what is promptly named, "meimei nannying service". In Fijian, 'meimei' (meh-e-meh-e) refers to the act of caring for or looking after others, specifically children.
Under the 'meimei nannying service', the resort offers nannying for children between 6 months to 12 years of age and is available from 9am to 11pm. A written brief summarising your child's daily activities will be available for your inspection every day. The resort offers about 360 FJD (243.80 AUD) for about 4 days – which is about 90 FJD (60.95 AUD) per day. Outrigger offers a supervised kids club, teen activities, and a kids eat free meal deal as well.
Moving onto Fiji's premier marina and tourist destination, the island of Denarau houses a few 4 and 5-star resorts equipped with each of their kid's and nannying services. Beginning with Club Wydham, located on the southwest of Denarau island, the resort offers about 25 FJD (16.93 AUD) for the first 3 or maybe 4 hours. A different charge is afforded for each hour after that, which is about 7 FJD (4.74 AUD) per hour.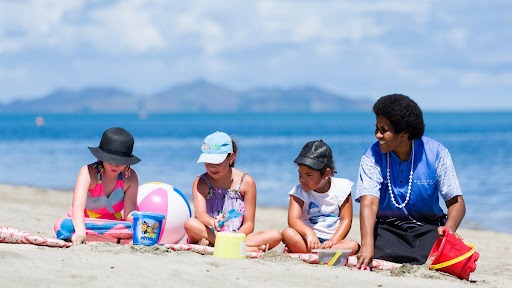 Photo Credit: Sofitel Fiji Resort and Spa.
Sofitel Fiji Resort and Spa also offers a kid's club called 'Niu Beach Club'. The club caters for children between the ages of 3 and 12, and includes activities such as zip lining, splash and play water areas, wall climbing, trampoline and a cubby house on the beach. Babysitting starts at 40 FJD for the first 2 hours and 17 FJD (11.52 AUD) every hour thereafter.
For an outstanding non-resort babysitting service, hit up Bula Smiles Nanny Services, based in Nadi. The nanny service has worked with many resorts and offers quality service at reasonable rates. Check out their Facebook page for more information. If you're interested in Savusavu, then choose Jean-Michel Cousteau Resort. Because the area is known to be more accommodative to adults through their many adults-only resorts, the Jean-Michel Cousteau resort is the only accommodation in the area known to be family-friendly.
For more information about each resort's babysitting services and kid's clubs, visit the hotel's official websites with their prices and other conditions clearly listed.
While you leave your children in the good hands of the nannies, go on all the fun adventures and popular attractions in Fiji with a peace of mind. Download the GoFiji app for all the amazing things to do in Fiji.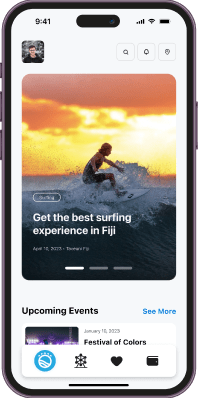 The only super app
you need in Fiji.