Where to go for hairbraiding in Fiji
Aside from the traditional female hairstyle of the beautiful 'buiniga' (mboo-e-nee-nga) almost adorned by every native woman in Fiji. There are also a few women's hairstyles that are quite popular with the ladies, that have subtle signs of foreign influence in them. Here's a breakdown of the best braids to get in Fiji and the salons to get them from, including the various price tags for each of these styles.
Brief history – The Virgin Locks
Although modern styles of braiding are completely new to Fiji, the idea of braiding has been around for a while. For Fijian women in pre-European times and even sometime after that, braiding became a symbolism of virginity for many across all social classes. The hairstyle which had braids falling off on the left side while the rest of the hair was still in buiniga was worn by many unmarried young women. After marriage, these locks which were often plaited in two or three, would then be cut off, signifying that they are now officially taken.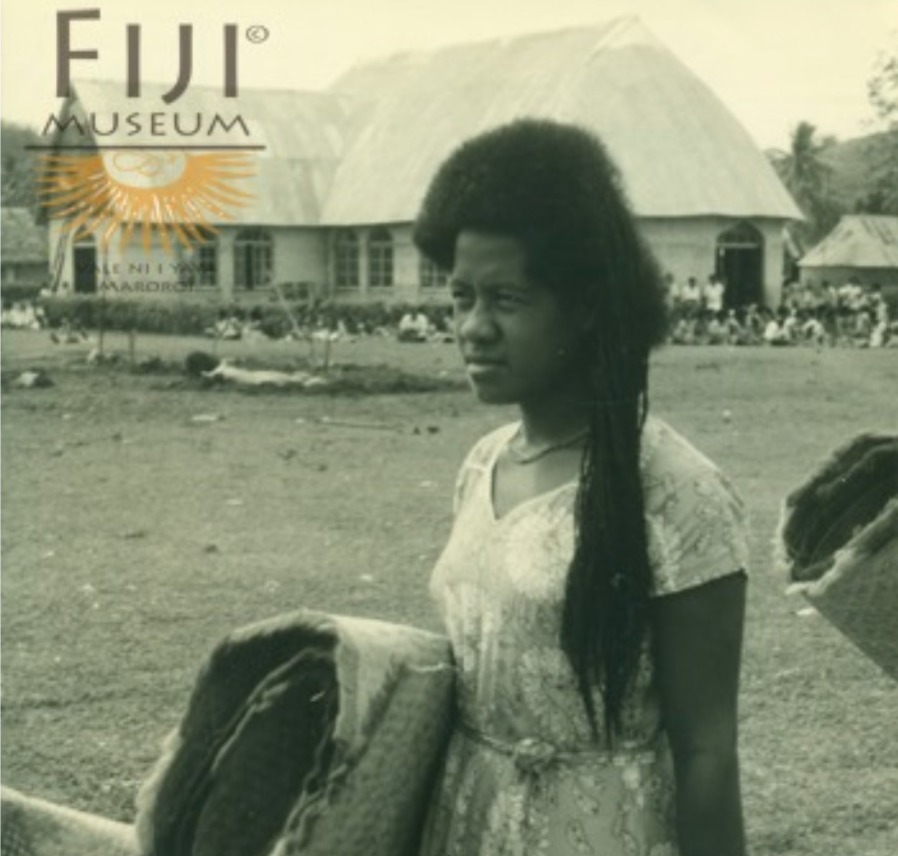 Photo Credit: Fiji Museum

These days only some families, most of which are in the village, practise this custom. The process is much different with many opting to grow out their entire hair instead of just the left side or the back of the head.
Current braiding styles in Fiji
When not in a buiniga, modern braiding styles are worn by Fijian women as a fashion statement. Many draw influence from fashion and other cultural themes, but for those that wear locks, this is an intermingle of modern and traditional themes. Beads have also been a recent addition to the colourful braiding hairstyles of Fiji.

Braiding styles found in resorts among visitors are often considered vacation braids or vacay braids. Tourists opt for this hairstyle as a means to manage their hair in Fiji's hot and humid weather. A hairstyle from a foreign place also gives a sense of adventure for some. For most tourists, you will see a mixture of cornrow braids decorated with beads on the tip of their hair or if feeling more daring than a mixture of box braids can be thrown into the mix.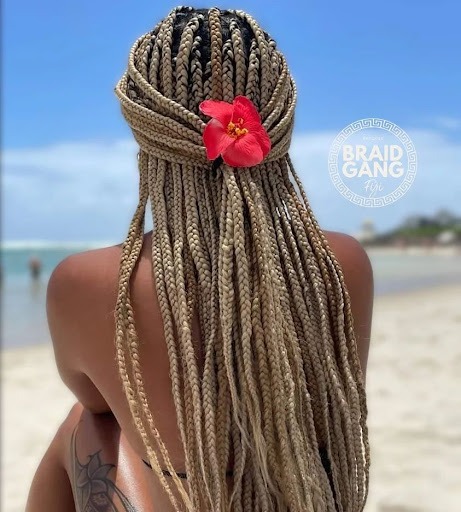 Photo Credit: Braidgang Fiji
Where and what hair salons in Fiji to get braids from?
All hair salons in Fiji offer braiding of all sorts since a large part of Fiji's population has curly and frizzy hair. Resort salons can be quite expensive, but some local hair salons are quite reasonable and their work meticulous.
If you're ever in Nadi, then do visit Braidgang Fiji, located in town on Vunavau Road or Totoka Hair and Makeup, located on Narewa road, Nadi. These two salons provide some of the best work, and for Suva, we have Jade Fiji located on the MHCC shopping mall on the ground floor. Hair Braiding Fiji is also available for personal calls and appointments and can be made through their Facebook page under the same name.
Price range for hair braiding in Fiji
Hair braids which are exceptionally cheap but include quality work aren't impossible to find, it's all a matter of where to look. Braids start around 1FJD (0.67AUD) or 2FJD (1.35AUD), which are very reasonable. Some island resorts that have backpacker accommodation offer cheap braiding of about 2-3 FJD (2.02 AUD), again it all comes down to the right place to look.
You can easily get your hair braided in Fiji at a reasonable price. So, when you do need braids, search through local salons before opting for the more pricier resorts.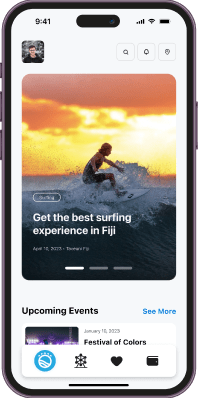 The only super app
you need in Fiji.