Where to get Wi-Fi in Fiji?
Staying connected with loved ones while traveling is a necessity, and you'll be pleased to know that finding connectivity is not that hard while you're in Fiji. Rest assured that you will be able to post those amazing pictures you took on your trip on social media in real time. You'll also be able to respond to important emails or complete any pending work from anywhere in Fiji. We'll share with you on how to get hold of Internet access to carry out any digital tasks required.
Where can I get Wi-Fi in Fiji?
Wi-Fi is widely available throughout Fiji. Whether you're searching for pocket friendly Wi-Fi or a free Wi-Fi spot, they are easily accessible without any hassle. Tourists can get free Wi-Fi access from Nadi International Airport and enjoy free Wi-Fi connection throughout the entire terminal for 2 hours or 1GB, whichever comes first. 
If you wish to stay connected for longer periods, then it is recommended to purchase a Wi-Fi voucher from Secure Your Bag in the Departure Terminal. For every extra 30 minutes, you will have to pay FJD7 (~USD3). Most hotels and resorts in Fiji also provide free Wi-Fi, especially in major cities such as Nadi, Coral Coast and Suva. It's also one of the easiest ways to get connected while you're in Fiji, if you do not want to purchase a local SIM card or pocket Wi-Fi.
Where to purchase pocket Wi-Fi in Fiji
If you're a heavy Internet user and do not want to stay disconnected, you can purchase a pocket Wi-Fi from Unwired Fiji that is available in Digicel stores, Connect from Telecom Fiji and Vodafone Fiji. Connect to a pocket sized 'Mi-Fi' with Vodafone and Digicel network up to 4G speed. The broadband plan for Vodafone is available from 350GB/30 days for FJD35 (~USD15) to 1TB/30 days for FJD100 (~USD45). 
Hotels and resorts in Fiji that offer free Wi-Fi
Some of the popular hotels in Fiji that offer free Wi-Fi in the lobby include Radisson Blu Resort Fiji Denarau, Fiji Marriott Resort Momi Bay, Sheraton Resort and Spa Tokoriki Island, Grand Pacific Hotel, and Tanoa Plaza Hotel. However, do note that some resorts charge a fee for Wi-Fi usage in rooms. Do check in with the receptionist during your stay. 
Cafés in Fiji that offer free Wi-Fi
Some of the cafes that offer free Wi-Fi are Moments Cafe in Suva, Corner Cafe and Bulaccino Cafe in Nadi, Blue Ginger Cafe in Lautoka, Skinny Bean Cafe in Pacific Harbour and many more. You can either choose to chill at the cafe or finish off pending work with some good coffee.
Stay connected through local telco plans
One of the best and easiest ways to stay connected to the online world is simply by using a mobile data plan. They are convenient as you don't have to carry along pocket Wi-Fi or modem with you, saving you space and load. The two major network providers in Fiji are Vodafone and Digicel offering similar services with slight differences in their bundle rates. So if you're planning to use mobile data for all your online needs then be sure that your phone has GSM dual band and the area in which you're staying has signal. Using a mobile data plan has been made easier for travellers as they can now purchase a 'Tourist Pack' directly from Nadi International Airport. Both Vodafone and Digicel offer this package which includes a SIM Card with text, call and data plan starting from FJD35 (~USD15) to FJD100 (~USD45). 
Vodafone Data Bundle:
Daily plan – 8GB from FJD3 (~USD1.50) and 12GB from FJD4 (~USD1.80) that expires in 24 hours 
Weekly plan – 20GB from FJD8 (~USD3.50) that expires in 7 days 
Monthly plan – 200GB from FJD35 (~USD15) and 250GB from FJD50 (~USD22) that expires in 30 days
Digicel Data Bundle:
Daily plan – 2GB for FJD3 (~USD1.50) expires in 1 day
7 Day plan – 20GB for FJD7 (~USD3)
15 Day plan – 50GB for FJD10 (~USD4.50)
30 Day plan – 125GB for FJD20 (~USD9)
Visit any Vodafone and Digicel store for more information regarding the data plans and SIM cards. Vodafone and Digicel stores are widely available in Suva, Nausori, Sigatoka, Nadi Town, Nadi International Airport, Lautoka, Tavua and Labasa.  
Internet shops in Fiji
Yes, you've read that right, internet shops are still everyone's go-to-place in Fiji for some last-minute digital or printing needs. In Fiji, Internet shops are widely located in major towns and cities. If you just want to send an email or print any important documents, simply head down to any Internet shops. You just need to pay for the time spent accessing the Internet. The rates start from as low as FJD0.50 (~USD0.20) for 20 minutes to FJD2 (~USD0.80) for 1-2 hours. Cost for other services such as printing, photocopying, binding, typing vary according to the number of pages.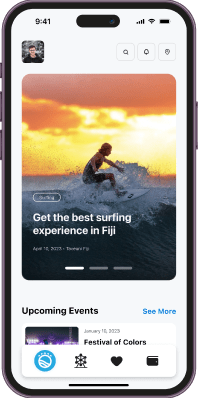 The only super app
you need in Fiji.