Where are the best places for yoga in Fiji?

Are you into fitness? Is yoga a part of your daily routine? Do you love both nature and yoga? If you answered YES to all of these questions, then you're in for a treat. Fiji, being a tropical country, is the perfect destination for you to practice and find solace. Your mind, body, and soul will harmonize with the exquisite beauty of Fiji's lush forests, sandy beaches, and crystal-clear blue waters. Restoring and rejuvenating in the Pacific isn't just about experiencing beauty; it's about embracing peace as well.
Morning yoga in Fiji has an unparalleled power as the radiant sun not only provides you with essential vitamins but also warms you against the passing cold winds. Picture yourself on the beach, striking your best yoga pose – a truly enticing thought, isn't it? So, all you yogis, remember to pack your yoga pants to enjoy a relaxing yoga session in Fiji. Making the experience even more convenient, many resorts in Fiji offer yoga sessions, so you don't have to go through the hassle of finding one. This guide will direct you to some of the best resorts and yoga studios in Fiji, ensuring a harmonious connection between your mind and body.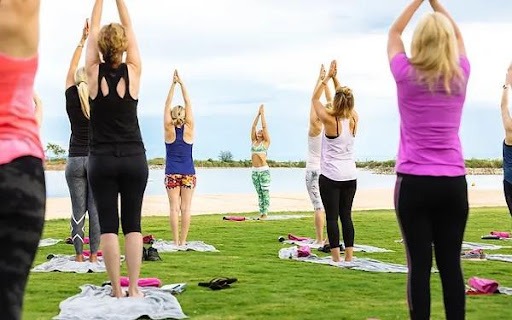 Kama Yoga Fiji
Photo Credit: Kama Yoga Fiji
Nestled on Denarau Island, Kama Yoga Fiji stands as one of Fiji's finest yoga studios. It beckons you to discover your inner peace and leave behind stress and anxiety. A haven for relaxation and rejuvenation after your travels and long flights, it provides regular sessions to kickstart a healthy and productive journey. Kama Yoga Fiji accommodates yogis of all levels, offering a reconnecting experience within its serene interiors or the embrace of the outdoors.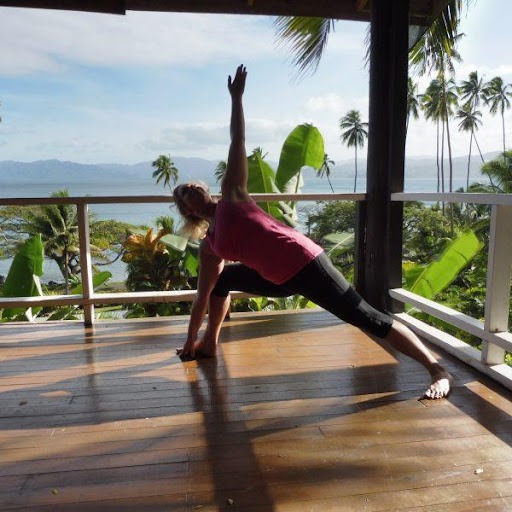 Daku Fiji Resort
Photo Credit: Daku Fiji Resort
Daku Fiji Resort, a hidden gem in Savusavu, presents traditional Fijian hospitality that soothes the heart and mind. Amidst lush tropical rainforests and turquoise waters, the ambiance itself promotes serene meditation through yoga. Regular sessions cater to all yogi levels, promoting mental and physical harmony. There's nothing quite like a invigorating morning yoga practice that enhances flexibility and strength. When in Savusavu, make sure to book your tranquil stay at Daku Fiji Resort for a unique yoga experience.
Nestled on the Coral Coast lies an "every yoga instructor's dream space" – Matanivusi Resort. It boasts a spacious, ideal yoga studio suitable for yogis of all levels, enhancing stability and fostering a connection between mind, body, and soul. Perched upon an elevated wooden deck overlooking a lush, sacred rainforest, the studio offers an environment where your soul can relax to the soothing sounds of nature as you harmonize your body.
Six Senses Fiji
Located on Malolo Island, Six Senses Fiji offers a comprehensive wellness program, including soulful yoga practices. Immerse yourself in daily hatha yoga sessions to achieve balance of body and mind. It's crucial to alleviate stress, tension, and muscle stiffness while on vacation to fully enjoy your exploration. The stunning Mamanuca waters and scenery will elevate your mood, enhancing your yoga experience.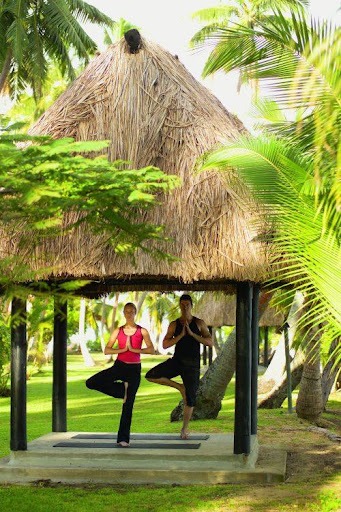 Jean-Michel Cousteau Resort
Photo Credit: Jean-Michel Cousteau Resort
There's nothing quite like a revitalizing morning yoga session surrounded by pristine waters. Morning yoga excels in restoring the equilibrium between your mind, body, and soul. Jean-Michel Cousteau Resort offers a serene setting for these sessions. Take advantage of their complimentary morning yoga or opt for a private session tailored to your schedule.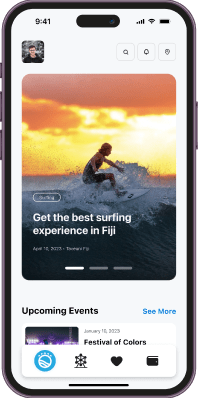 The only super app
you need in Fiji.