What is the meaning of Bula in Fiji?
Ever wondered what's the meaning of the frequently heard 'Bula!' that's uttered across the entire Fiji?
Bula! Or Bula Vinaka! — words that are equivalent with hello in the Fijian culture are more than just words. Fijian politician Lenora Qereqeretabua once said that to say, 'Bula Vinaka' is to mean good health, and in the Fijian language this means just that. 'Bula' means life/health, and 'vinaka' means good. 'Bula vinaka' is of the Bauan dialect that has become a standard of Fijian language due to the earlier influence of Cakobau and his missionary allies. Fiji has always had various chiefdoms with their own system of traditions and customs, complete with their dialects.  
Sa Malo! Malo Bula! 
There isn't much documentation before the arrival of Europeans because much of indigenous history relied on oral history. Lauans, people of the eastern islands, greet people with the word, 'Malo' whether it's 'Malo bula' or 'Sa Malo'. The word 'Malo' directly impacts early Tongan influence in the area, for they greet using the phrase 'Malo e lelei'. However, the word in Tongan means 'thank you'. With its incorporation into the Fijian language, it perhaps takes on a new meaning for being thankful for life, as 'Malo' is thank you and Bula is life. The eastern island is still rich in Tongan influence, and it is shown in their dialects, which still vary distinctly from island to island in this group.
Let's move on to the northern provinces, which each have their own dialects and own notions of greeting.
Bula Vina'a!
This greeting is from Cakaudrove but doesn't necessarily cover the entire province because earlier Fijians were more mobile, and migration was a constant familiarity. Such grouping of lands into provinces was more a British encouragement and initiative of native chiefs. 'Vina'a' is the Cakaudrove or Ca'audrove form of the word Vinaka. This province, along with the other northern provinces, is most notable for pronouncing words with a glottal stop, where the absence of the letter 'K' is replaced with an apostrophe. In Fijian, this is known as a 'gato' (nga-toe). This is mostly used along the Ca'audrove coasts and islands like Taveuni and Qamea. 
Bula Re!
This greeting is from inland parts of the Macuata province and parts of Cakaudrove that border inland Macuata. The word 'Re' means 'good' in the Macuatan dialect, such as Seaqaqa, Wailevu, Labasa, and Dreketi districts use this greeting. This province also utilises glottal stops in their dialects, with the letter 'T' replaced by an apostrophe in words and 'H' sounds replacing the letter 'K'. The district of Wailevu in Cakaudrove which is located south west of the province, also uses a bit of this dialect and has a hard sounding 'Ba' almost before every dialogue. For instance, a sentence can be, 'Ba hana re tina a va'sigalevu hai', meaning that, 'the lunch tasted really good'.
Miau (sa) Bula Re!
The province of Bua is more prominent in using this greeting, and some of the Macuata districts employ this as well. But perhaps 'Miau' is only added as a sign of respect, as it is the equivalent of the Bauan 'Ni' or 'you' in English. Bua, inland Macuata and parts of Wailevu (west) in Cakaudrove inter-use language terms as they border each other. This has been the result of years of trading, inter-marriage, alliances and war between these groups. The fluidity of borrowed language terms indicates the nomadic nature of early Fijians and the vast acceptance of influence between each group.

Bula Si'a!
This greeting is more uniformly shared among the two northern provinces of Vanua Levu, the Macuata and Cakaudrove provinces. 'Si'a' means good in upper Macuata and inland Cakaudrove dialects. Namuka, Dogotuki, Udu and Labasa district of the Macuata province and Saqani and Vaturova district of Cakaudrove, are just some examples of places that use this form of greeting. It must be noted that only these northern provinces comprehensively utilise glottal stops in the dialects, and one should be more aware of this language terms when in Vanua Levu or its nearby islands, nor wonder about such greetings when spoken.
Nu Bula Maleka
Parts of lower Naitasiri or parts nearer to the coastal areas and parts of Tailevu use this greeting. 'Nu' is the altered form of 'Ni', which in the Bauan dialect means 'you'. 'Maleka' is synonymous with the word 'good' but it is usually applied to describe a delicious meal or to applaud something that is skillful in the Bauan dialect. Places like Vuna district in Naitasiri, Rewa, Vugalei and possibly parts of Verata district (tikina) of the Tailevu province use 'Maleka' as a standardised form for the word 'good'. Therefore, most still use this salutation.
Bula Nakwa/ Bula Manaka
If you ever find yourself in the highlands of Viti Levu and the lingual a bit strange, just try and register these few terms for mind's sake. Nakwa or Manakwa, is the modified version of the Bauan form of Vinaka (good). These language terms are widely used within the Namosi province and parts of the Naitasiri highlands such as that of the Matailobau district.
Cola Vina/ Cola riki
This greeting is synonymously used in the Western parts of Fiji within the provinces of Ba and Nadroga, including its highlands and outer islands like the Yasawa and Vatulele. 'Cola' is the western equivalent of 'Bula', and 'Riki' is a respectful gesture that adds weight to the greeting, so saying 'Cola Riki' equates to 'Bula Vinaka'.
Ara Na Yadra
This is probably the only greeting that differs greatly from the others and this greeting is from the province of Ra. 'Ara' is the glottal form of the word 'Tara', which means to allow or permit. 'Na' is the Fijian form of the definite article, 'the' and 'Yadra' means morning, so these words put together signify the allowance for a new day/ a breath of life. 'Yadra' is used only in the mornings for most provinces but for the people of this province, 'Yadra' is used throughout the entire day whether it be morning, noon or evening.
Unsurprisingly, these forms of welcoming or greetings were widely popularized during the British occupation and regional influence from Tonga. These greetings aren't also fixed to the places mentioned and some customs in villages may still differ as per their own traditions.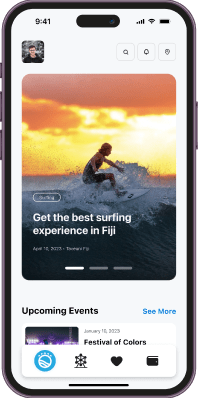 The only super app
you need in Fiji.