What are the most popular drinks in Fiji?
While on your holiday in paradise, it's the perfect time to indulge in some of Fiji's most popular and delicious drinks. To fully experience the Fijian lifestyle and beat the heat, be sure to try these authentic Fijian drinks.
Kava, also known as Yaqona or Grog, is Fiji's national drink and a staple in Fijian culture. Made by pounding Yaqona root and mixing it with water, this earthy beverage is often served as a welcome drink to new guests in the village. To witness the Fijian way of living and spend a night with locals sharing stories and ideas, join in on a kava ceremony and try this traditional Fijian drink.
Coconut water is another popular beverage in Fiji, especially during the hot summer months. The sweet water and soft meat of fresh coconuts, known as "bu" in Fiji, make for the ideal refreshing drink while relaxing on the beach.
If you're looking for something stronger, try one of Fiji's locally-brewed beers. Fiji Gold and Fiji Bitter are two of the most popular and easily accessible beers in Fiji. Fiji Gold is a light lager while Fiji Bitter has a grainy and bitter taste, making it the perfect choice for serious drinkers.
For a taste of authentic Fiji Indian culture, try Masala Chai, a sweet and aromatic tea made with Indian spices and milk that was brought to Fiji by indentured laborers. And, of course, don't forget to try Fiji Water, which is sourced from the island of Viti Levu in Fiji's Yaqara Valley.
Finally, to fully enjoy your tropical vacation, sip on some delicious cocktails and mocktails made with fresh Fijian tropical fruits. These beverages are available at bars throughout Fiji, and their vibrant colors and delicious flavors make for the perfect social media post.
Be sure to try these popular Fijian drinks during your stay in paradise.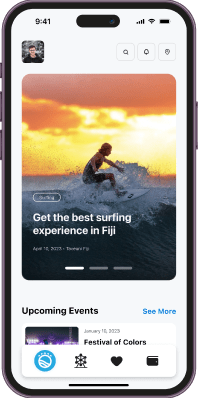 The only super app
you need in Fiji.