Weather and temperatures in Fiji
As a tropical paradise, Fiji is an all-year round travel destination. Mild and pleasant temperatures of around 25-30°C (77-86°F) are common in any given month. The temperature in Fiji typically varies from 68°F (20°C) to 87°F (30°C) and is rarely below 63°F (17°C) or above 90°F (32°C). Fiji rarely gets too cold and remains warm all year round.
Fiji's tropical climate is hugely influenced by the trade winds blowing from the southeast. As a result, the southeast of the islands are wetter and they have considerably more wind. On the western side there is a clearly drier season, which starts in July and lasts until October


When is the best time to visit Fiji based on the weather?

Depending on the kind of activities you want to do in Fiji, the best time of year to visit Fiji for warm-weather activities is from early June to early October. Between late March and early December, the warm tropical climate and sunny days offer endless opportunities for exploration in Fiji.
The wet season in Fiji is normally from November to April and results from the southerly movements of the South Pacific Convergence Zone. The wet season is characterised by heavy, brief local showers and contributes most of Fiji's annual rainfall. Annual rainfall on the main islands is between 2000mm and 3000mm on the coast and low lying areas, and up to 6000mm in the mountains.
Typically the smaller islands in Fiji receive less rainfall than the main Island with various amounts according to their location and size, ranging from 1500mm to 3500mm. Cyclones do occur in Fiji and are normally confined to the wet season, which runs from November to April. However, the greatest risk of cyclones occurring is in December, January and February.
On average, there are 17 cyclones per decade with some causing severe damage. They typically occur from November to April, but occasionally occur in October and May during El Nino years.
Between May and October, divers will find the coral reef waters at their most visible – though popular water activities are undertaken all through the year thanks to the pleasant water temperatures.
Do note that early June to October is generally the peak season for tourists in Fiji.


When is the cheapest time to visit Fiji?
The cheapest time to go to Fiji is during May. Not only will you score cheaper flights and accommodation during this month, but you'll enjoy clear sunny skies with low chances of rain and high temperatures for hitting the many pristine beaches. May is also right before the start of peak season so there will be fewer crowds around the islands and goods and services pricing should still be very competitive.
The best time to travel to Fiji for cheap accommodation coincides with the wet season, October through to April, however prices for hotels can spike around the holiday season at the end of the year. The dry/peak season sees the highest average prices for accommodation in Fiji, July and August in particular, which are also the two months with the highest number of tourists visiting Fiji in 2018.
Credit: https://www.tourismfiji.com/
Credit: https://www.tourismfiji.com/
Does Fiji experience four seasons?
No. Fiji only experiences two distinct seasons, dry (winter) season from May to November and wet (summer) season from December to April. The differences in temperature between the warm and cool season are still pretty small.


When is the peak season for Fiji?
The most popular months for international travellers visiting Fiji are June, July, August and September which is considered to be the peak season for tourism. International travellers flock to the Fiji islands during this time for the dry season. The number of travellers spike again in December during the holidays, despite the month of December being in the middle of the wet season. Generally the wet season is considered the off peak season, but the months of November to April still see many travellers coming to Fiji to enjoy all that the islands has to offer.
Packing for Fiji based on the season
Although the average temperature in Fiji in July slightly differs from December, your packing priorities will remain quite similar. Check out the ultimate packing list for Fiji.
Since Fiji weather is usually very warm, you will need a lot of clothes that are cooling and lightweight. Thin cotton-based clothes are highly recommended. It will help you pull through the hotter days while also protecting you from the sun and other elements.
For women, packing light summer dresses is a great option when exploring Fiji. Be considerate of the local customs especially if you plan to visit a local village. This means wearing modest clothing that is not too revealing, such as loose-fitting pants or a long skirt.
In terms of shoes, comfort is a top priority. Since rain can come in instant bursts, you need footwear that will be easy to dry and appropriate for hot weather. If you are planning to do hiking, ensure that you have proper hiking shoes with good grips.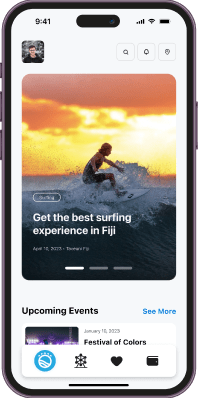 The only super app
you need in Fiji.