Vou Hub Fiji performances are a must-watch when in Fiji
Fiji is multi-culturally diverse to the extent that modern Fiji embraces a fusion cuisine, a shift in lingo and culture, and the birth of contemporary dances. A group responsible for recreating most of Fiji's cultural dances and adapting folklore or stories into performative art is the Vou Hub Fiji-a performance art theatre based in Nadi. Trying to experience a traditional dance first-hand can be rare as most dances are hardly performed outside cultural occasions unless requested at festivals and public ceremonies. So, if you do get a chance to see a Vou performative dance in live action, savour every moment because that is as good and as vibrant as it's going to get.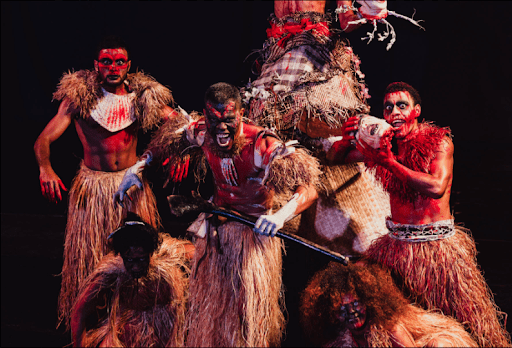 Photo Credit: Vou Hub Fiji.
What is Vou Hub Fiji?
Located on-route to Denarau Island, this performing art theatre intrigues both locals and tourists alike. The group performs in a large retractable tent situated on Denarau Road in Nadi, at Maqalevu. According to Vou Hub director, Sachiko Soro, the Hub is a Fijian artist-owned and operated avenue where you can see high-quality performing arts, as it's the heart of arts. 
Vou, pronounced 'Voh-ooh' means 'new' in the i-taukei indigenous language. The performing arts theatre first opened its doors in 2019 and aims to give their audience a memorable and magical experience to take with them when they return home. This experience is an array of traditional, modern, and contemporary dance or a mixture of the former two.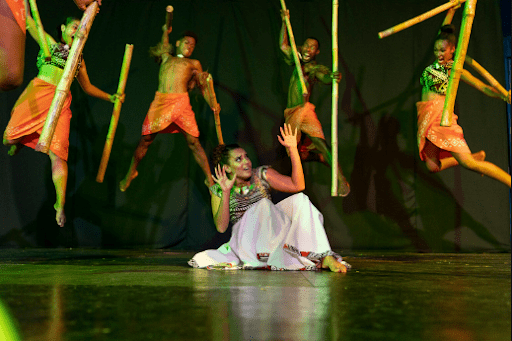 Photo Credit: Vou Hub Fiji.
Aside from the theatre, the group performs at weddings, events and festivals; in fact, a team of Vou dancers have been given the honour of participating in the 2023 Glastonbury festival that will be held in June in Somerset, England.
Performers of Vou Hub Fiji
The inclusivity of Vou performers is to be commended, as it ranges the cultural diversity of Fijians. Upon watching their practice performances online, aside from performing folklores in dance-form, it must be noted that these talented individuals collectively gather ideas and perform new dances from scratch, changing them and incorporating new moves as they progress further.
The recruitment process for dancers, of whom all are locals, are done through free community performances and workshops, which help in discovering talented individuals. These individuals are then offered scholarships sponsored by the European Union to study at the Conservatorium of Dance in Nadi.
Upcoming Vou Shows
Post-Covid shows are back and better than before, for the duration of this May month and June, there are a few shows that you and the family might like to explore while in Fiji.
Cannibals Chase Horror Maze
The Vou performance theatre has a reopening special of the Cannibals Chase Horror Maze every Friday. "Are you Chicken? Or Game?", is the slogan used for this chase, judging by such a slogan one can ascertain that this chase is not for the weak. The chase, which happens just as night falls, consists of a Bush Maze that has been specially crafted to both confuse you and fuel your adrenalin, and you will only have a single torch to guide you. 
The chase starts from 7pm-9pm and if you haven't reserved your ticket then there are a few scheduled shows for the upcoming month of June. Scheduled shows are from the 2nd, 9th, 16th and the 23rd of June. 
Grab your Cannibals Chase tickets on the GoFiji Mobile App! 
Fiji Untold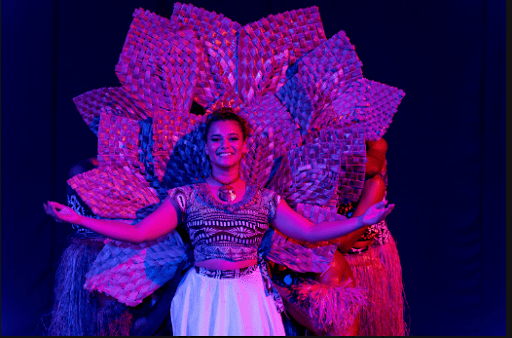 Photo Credit: Vou Hub Fiji.
According to the Vou Hub website, Fiji untold follows a young girl torn between identity and aspirations, thus plunging her into the mysterious Fijian underworld. A world full of traditional folklore thought to be stories of pastime but are indeed real; the stories of Octopus Gods, shape-shifters and women giants. The next showing of Fiji Untold will be on the 1st of June at 8pm-9.30pm.
Grab your Fiji Untold tickets on the GoFiji Mobile App!
Island Adventures
The theatre also offers a fun and interactive show for your children to be a part of, the Island adventurers are an innovative, courageous, informative and hilariously funny group . Yes! That was a characteristic each for all the Island Adventurer members. The Island Adventurers aim to give an educational and funny interactive show complete with original soundtracks for children to dance along. 
Grab your Island Adventurers tickets on the GoFiji Mobile App! 
Vou Hub Fiji Tickets
All fees are inclusive of return transfers to Hotels in Nadi, along with a complimentary snack and drink. 
Plans for the future? Like any young budding business, their hopes are promising and limitless. The Hub looks to expand their business further to hold a coffee shop and a shop. The Vou Hub invites you to come and share an authentic moment with them, plus it's a great way to support a local business and to connect with people.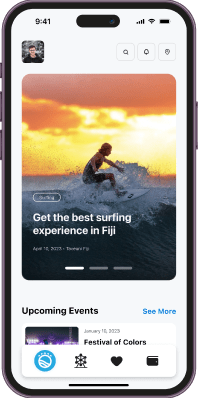 The only super app
you need in Fiji.