Ultra luxury private island and resorts in Fiji
Dolphin Island Resort
Nothing says luxury like your own private island. Situated off the Northern coast of Viti Levu, Dolphin Island is an award-winning oasis of exclusivity that caters for up to eight guests, making it the perfect option for couples, families or small groups of friends. Surrounded by crystal clear waters and just a short 15-minute boat ride from the Suncoast region of Fiji, this elegant beachfront property is completely private and comes with its own butler and personal chef. 
Jean-Michel Cousteau Resort Fiji
Designed as your own Fijian village, surrounded by a marine sanctuary, a spectacular secluded coastline, pristine coral reefs and exotic marine life, this multi-award winning eco-friendly, luxury boutique resort is one of the most renowned destinations in the South Pacific.
Kokomo Private Island Resort
Situated in Kadavu, Kokomo is a private island luxury resort offering the ultimate in exclusivity. What makes Kokomo unique? Guests have the option to choose from 21 secluded, absolute beachfront villas or opt for multi-room private residences – literally a luxury home away from home. Farm to table is Kokomo's philosophy and its incredible culinary offering is enough to make you want to never leave. The best way to access the island resort is by its exclusive private aircraft.
COMO Laucala Island 
COMO Laucala Island's private location north-east of Taveuni and first-class services make it one of the most exclusive island resorts in the world! After a 45-minute scenic flight on the Resort's private jet and guests will discover an 18-hole championship golf course, bountiful water activities, a dedicated wellness centre and world-class dining options all cooked fresh daily using local produce from its on-site farms.  Accommodation has everything that guests could need, with private pools, personal butlers and buggies to explore the island at leisure.
Likuliku Lagoon Resort
A multi award-winning, unique, luxury wilderness retreat for adults only, designed with integrity to cultural values, traditional architecture, and embraced by the renowned warmth of the Fijian people. The only Fiji member of National Geographic Unique Lodges of the World collection. A luxury haven with Fiji's only authentic over-water bures over a calm lagoon, where the resorts gets its name from.
Namale Resort & Spa
Namale is a 525-acre sanctuary for adults looking for a truly all-inclusive escape. Encompassing an award winning 10,000 square feet spa area, a private waterfall, beach, blowhole and only 23 rooms, our 200+ staff cater to tailor made experiences for every guest. Unlimited meals, private dining, motorized activities and alcohol are included.
Nanuku Auberge Resort
The resort sits on its own private beach locality within the adventurous Pacific Harbour region and offers a range of accommodation options for couples or large families, private pools and personal butlers, it mixes traditional Fijian heritage by way of ornate furnishings with luxury modern trimmings. 
Royal Davui Island Resort
The secluded boutique island retreat and very popular with honeymooners. A secluded boutique island retreat with luxurious touches befitting an exclusive island resort. Intimate, with only 16 spacious, incredibly private pool villas makes this resort unique. But it is the intangible aspects of this barefoot luxury retreat that sets it aside and offers an indulgent escape for true romantics.
Six Senses Fiji
Sustainable luxury living with spa, water sports and more. Set on a sandy beach are 24 pool villas along with multi-bedroom residences that offer fully equipped kitchens and private pools. Offering activities for everyone with a Six Senses spa, water sports, cooking classes, a kids club and nature trails and villages to explore.
The Wakaya Club & Spa
The Wakaya Club & Spa is situated on a privately held island and entirely surrounded by exquisite coral. With only 10 guest "bures" and two private luxury villas, the resort offers its guests a unique private experience.
Turtle Island
Escape the Ordinary with Fiji's Leading Private Island. With just 14 villas, acres of lush forests and 12 pristine private beaches, this truly all-inclusive paradise serves as an idyllic sanctuary for couples seeking connection, community, culture, and consciousness. 
Vatuvara Private Islands Resort
Accessible only by private plane, the gorgeous boutique resort is situated in Fiji's most remote region – the Lau Islands., surrounded by pristine turquoise waters and Fijian forest. The resort exudes extravagance through décor and it's attentive staff. With a private airstrip and three private beach front villas, this resort feels incredibly exclusive, giving guests true privacy and luxury.
Vomo Island Fiji
A luxury private island encircled by incredible beaches and clear waters, ideal for snorkelling, diving, kayaking, paddle boarding and swimming. Renowned for exceptional cuisine, sophisticated villas and residences and heartfelt Fijian hospitality.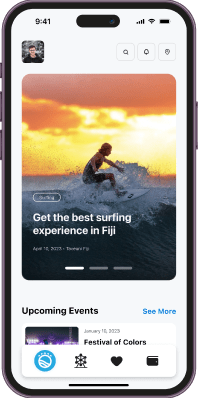 The only super app
you need in Fiji.