Travel like a local: Mt. Korobaba in Suva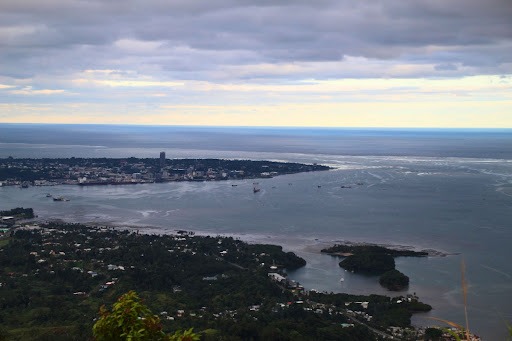 View of Suva and Lami from Mt. Korobaba
One of Suva's most popular hiking trails, the Mt. Korobaba trail boasts challenge and determination for those that have climbed it. Situated about 20 minutes outside Suva, on the outskirts of Lami, the topography of Korobaba is about 400 metres in height. This article will share tips on what to do, wear, and carry and what weather is best suited for taking on that precarious Mt Korobaba hike.
Mt. Korobaba: brief history
Mt. Korobaba is located in the Lami municipality, just outside of Suva. The Lami municipality is divided into three wards, the east, west and central ward. Mount Korobaba falls under the western ward, which is largely made up of steep and forested terrain, plus a flat coastal area made up of mangroves and grassland.
According to UN-Habitat, 51 percent of Lami still falls under native ownership, and Mt. Korobaba is one such example. Mt. Korobaba belongs to the Mataqali (Clan) Natodre of Waiqanake village. A Fiji Times article, also confirms that this was a native tribal outpost for the Mataqali Natodre back in the day.
Topography
Mt. Korobaba is a single cone-shaped mountain about 422 metres high with sharp ridge valleys neighbouring it and small winding creeks and waterfalls bordering it. The mountainous flora is rich, with exotic and native vegetation cohabiting the area. One such foreign tree species that will provide excellent shade on your hike up is the large evergreen trees of Mahogany hardwood. These hardwood trees' exceptionally large sizes suggest the area's lack of logging.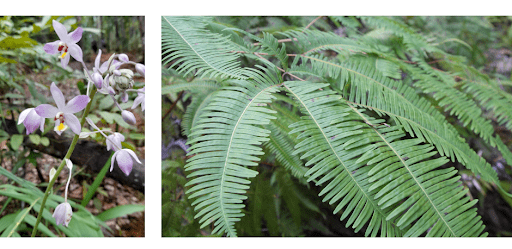 The mountain includes native trees and plant species such as ferns and the orchid species, the 'Large Purple Orchid' (Spathoglottis Plicata), which is usually lighter in shade.
How to get to Mt Korobaba
Bus fare from the Suva bus stand to Lami (Cement factory) is $1.45, one-way. You can get on the Wailekutu shore bus based at terminal 3 on the Suva bus stand, the bus colours are blue with streaks of red and white coated on the side.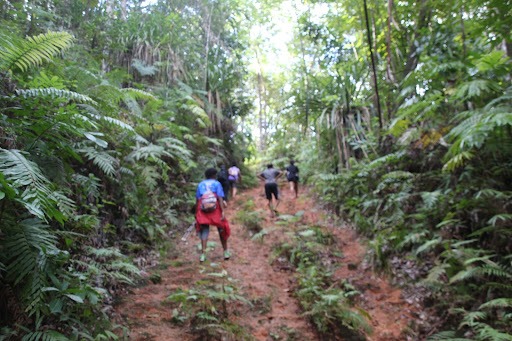 You'll have to get off at the fisheries depot in Lami, located across the road from the cement factory. Make your way to the Tengy cement factory, located beside (right) the Pacific Cement Limited. There's a trail that starts beside the gate to the Tengy factory and goes all the way behind the factory leading into the forest. Your journey will begin here. The trail is quite lengthy and meandering, but with a local guide, the trail will be a breeze. Just remember to always keep left, for instance, if you come across two winding paths (which you will do eventually), choose the left path.
Tips to remember before and when hiking the Korobaba
1. If you are an avid hiker, then this hike will be of medium difficulty for you. If you are not, and this is your first time on the trail, then this will be a bit challenging for you. The trail is a meandering climb with many twists and turns in it, so it is best to get yourself a local guide, someone who knows the place well.
2. Prepare yourself physically as well as mentally. There have been stories of people giving up halfway, which is true.
3. If your fitness is up to par, then the hike will take about 2.5 to 3 hours. First-timers will take around 3-4 hours. Consequently, starting early in the morning is a must. The earlier you start, the better use of daylight you'll get, and the more enjoyable the hike will be.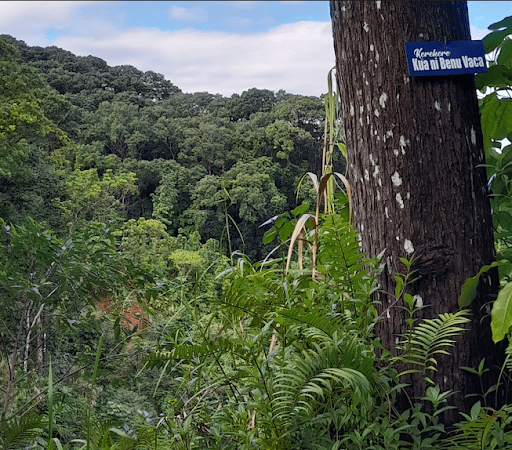 No littering signs
4. Wear proper hiking shoes or shoes with good grip. The soil is easily slippery as you are descending down from the mountain, especially after it has just rained. The amount of hikers using the trail can also weaken the soil.
5. There aren't any proper tracks to follow, but you'll have to just stick to the trail or path worn down by previous hikers who have been to Mt. Korobaba.
6. There are no fees to pay, and there have also been a number of thefts reported on the trail, so, please stay alert.
7. Littering has become an eyesore on the trail. If you have rubbish from food or empty water bottles along the trail, then dispose of it in rubbish bins readily available in town or at your accommodation.
If you make it to Suva for business or pleasure, hop on this trail for some determination and a breath of fresh air in nature.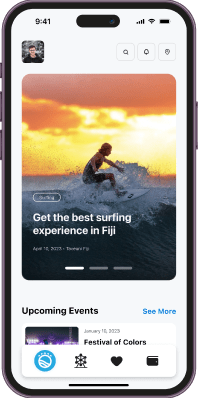 The only super app
you need in Fiji.