Top 10 spas on Denarau Island in Fiji
One of the best forms of relaxation in Fiji comes in a tropical setting, with natural products, by skilled therapists and in Fijian style. The spa experience in Fiji is unique as one gets to experience a heavenly treatment. What makes Fijian spas a must-visit is the beautiful setting, friendly and helpful staff and homegrown natural beauty products with many health benefits.
The Denarau Island has some of the best spa spots you wouldn't want to miss out on. Give yourself a beautiful and pleasant Fijian style spa experience to rejuvenate and refresh. 
Listed below are some of the best spas on Denarau Island.
So Spa
Visit So Spa to relax and get beauty treatment by amazing therapists in a unique setting. So Spa, which is located at Sofitel Fiji Resort & Spa, offers guests impeccable service, exotic touches and attention to detail. So Spa infuses French techniques with a touch of Fiji in your spa journey. The bures at the spa are for individuals and couples to enjoy a private treatment. Each bure includes air-conditioned massage pavilion, an open-air outdoor shower, imported massage tables and Fijian artworks. The deluxe spa bures include a private whirlpool spa bath. Give yourself a luxury treat that will surely benefit you. https://maps.app.goo.gl/2CuQzr4mi7UQQJoeA 
Island Surf Beauty & Spa
Island Surf Beauty & Spa, located at Denarau Road, is beautifully decorated with Indonesian furniture and crafted antiques. This spa offers guests a pickup and drop-off service from any accommodation in Nadi and Denarau areas. Visit Island Beauty & Spa to take advantage of top-range products and aromas in a beautiful environment that will truly mesmerise you. The spa also offers various selections of beauty treatments including waxing, facial, henna design and hair braiding. https://maps.app.goo.gl/ANB8RsgJr34kjgDU8 
Spa Maya 
Spa Maya, located at Port Denarau, provides its guests with a unique massage treatment that is inspired by ancient Vedic Texts and Rituals that date back over 5000 years. The spa offers facial, body and hair treatments that are uniquely herbal and formulated to help balance and rejuvenate your soul. If you're looking for something extra, then head down to Spa Maya and experience ancient treatment to feel relaxed and have an unforgettable spa experience. https://maps.app.goo.gl/BpRrQpEQ5RwYvkBt6  
Heavenly Spa by Westin 
If you're looking for something luxurious yet beautiful, Heavenly Spa by Westin located in The Westin Denarau Island Resort is where you should be. This spa provides guests with a relaxing tropical environment that is beautifully decorated with wooden bures and river stones. The spa features 10 open-air therapy rooms and some of the highest quality facilities, such as hydraulic treatment beds, open-air showers, high-tech steam rooms, Vichy showers and many more. What better way to pamper yourself than indulging in a spa with fantastic nature views? You can take full advantage of other high-quality services provided by the spa, such as energizing scrubs, warm seashell massage and cooling wraps that will help ease sunburns. Do visit Heavenly Spa by Westin when in Denarau Island for that soothing experience that's worth every dollar. https://goo.gl/maps/fMiVrZWvRCwvNtAs9 
Spa Denarau
Spa Denarau, located at Port Denarau is famous for its Fijian style massages. The spa offers the classic and Fijian specialty. Experience the spas signature ritual, such as dilo nourishing wrap to detoxify and deeply hydrate and strengthen connective tissues with nourishing dilo butter and dilo after-sun soother that will rapidly hydrate and sooth sun-damaged or dehydrated skin. The spa uses Pure Fiji products to restore and protect your skin, giving you an ultimate Fijian experience. You can also purchase their products from their boutique. https://maps.google.com/?cid=11018544682827281096&entry=gps 
Oasis Spa
Oasis Spa located at Port Denarau Marina can be easily spotted by its little hut that is ideal for visitors to go in and have a good massage. Their perfect massage rooms allow guests to feel comfortable, rejuvenated and renewed. The spa also offers beauty services such as manicure, pedicure, facial, waxing, braiding and henna application. If you're new to massages, then start one off with Oasis Spa. It'll leave you wanting more. https://maps.google.com/?cid=16983649972888925237&entry=gps 
The Spa and Poolside Spa Pavilion
Choose to relax in private in one of the seven treatment rooms at the Hilton Fiji Beach Resort and Spa. Experience a relaxing, immersive experience with luminous results. The ritual massage includes mineral stone therapy, Fijian massage and detox treatment. You can also take advantage of their unique poolside pavilion experience of manicure, facial or massage. The spa uses Pevonia skincare products to restore and protect your skin to ensure that continuous glow. https://maps.app.goo.gl/SfA3sHXvkQ3v1YH78 
Senikai Spa
Located at the Wyndham Denarau Resort, the spa offers some of the best services for couples to unwind during their trip. They offer luxury day spa, wellness packages, treatments, and wedding hair and makeup services in Fiji. If you're planning on getting married in Fiji, then give yourself a luxury treat before the big day to look fresh and glowy. The spa offers treatments such as Bobo massage, waxing, tinting, exfoliation, scrubs, as well as couples and honeymoon massages. https://maps.app.goo.gl/jYGGJEdf4y44Sqgw6
Harmony Retreat Spa
Located at Radisson Blu Resort in tropical surroundings, the harmony retreat spa offers a great selection of treatments using Pure Fiji products. Be sure to try their signature 'sugar glow' treatment that exfoliates and hydrates your skin by using natural ingredients such as coconut and natural cane sugar or their 'firming ritual' to pamper your skin with Fijian honey and fresh coconut. https://maps.google.com/?cid=3587420339510979956&entry=gps
Nadina Spa and Beauty Denarau 
A day spa with a professional therapist will help ease your stress and make you feel relaxed with their deep tissue massage. The spa offers pampering deals at affordable prices and includes other services such as waxing, facials, eyelashes and nail polish as well. Book your appointment with them to experience a high-quality massage that will leave you feeling recharged and all ready for your Fiji adventures. https://maps.app.goo.gl/ovKnWu1ozJyayHL17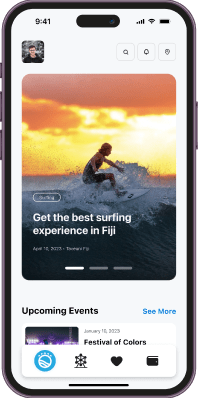 The only super app
you need in Fiji.