Top 10 most popular snacks and dessert in Fiji
Desserts are a beautiful end to an amazing feast, they are sweet and comforting. Snacks are munchies that are shared with loved ones over a cup of tea. For your next visit to Fiji,  try these popular Indian and Fijian flavoured snacks and dessert. They are made with love and bring families together. Most importantly, these snacks and dessert are easy to make with all the ingredients lying around in the kitchen. 
Cautious: can get you drooling 
Vakalavalava (cassava cake) – Vakalavalava is a soulful Fijian dessert, it is known as cassava cake because it is made of freshly grated Cassava, shredded coconut, sugar and butter. Yes, Cassava is the main ingredient for this dessert. The ingredients are mixed well and then baked in a pan. Vakalavalava is a sweet dessert, optionally topped with sweetened condensed milk or syrup. The Vakalavalava, which tastes like a Pudding, is best enjoyed with families and friends during breakfast or with afternoon tea. In a Fijian household, Vakalavalava is often eaten as a dessert after a big feast. Eat Vakalavalava locally at the market as Fijian ladies often sell them there. 


Gulgula – also known as mini doughnuts, is a popular snack in Fiji. Every social occasion is incomplete without Gulgula. Whether it's Diwali or Holi, Gulgula is the most loved snack in Fiji. Gulgula is mostly prepared by Fiji Indians because it is a snack that has originated from India, brought to Fijian shores by the indentured labour. Gulgula are basically deep-fried balls made of flour, sugar, water/milk batter. Nutmeg, cardamom and raisin makes it more flavourful. The soft, crispy balls are a snack that can be eaten at any time of the day, usually enjoyed with afternoon tea. For variety, pumpkin or banana is also added to the batter. Look out for bean carts around the town or at the bus stop to get your hands on these tasty snacks.


Vakalolo – this is a traditional Fijian dessert, similar to Vakalavalava made from grated Cassava, coconut and sugar, but these are wrapped in banana leaves and steamed. Vakalolo is a sweet dessert, a pudding-like texture which is eaten any time of the day. While traveling on the road or at home sipping a cup of tea or coffee, Vakalolo is a good companion. Fiji Indians also prepare this delicious dessert and enjoy it with families. While it is a dessert made at home, it can be bought from the markets around Fiji, where locals sell them for FJD$2 – $3 dollars. 


Cassava, Dalo(taro) chips – just as much as Fijians enjoy the boiled Cassava and Dalo, the deep-fried chips are also popular snacks in Fiji. Mixed in flour batter with spices makes these chips much more enjoyable and delicious, especially during the rainy season. Although it is best enjoyed with tea, you can also eat it on its own with chilli garlic chutney. This is a savoury snack which is prepared with the leftover boiled Cassava and Dalo. It's crispy, delicious, and can be eaten with other condiments such as ketchup. Aside from these, snacks such as Samosa, Bhajiya, Bara and Saina are also enjoyed with much love. These snacks are sold on bean carts and at any vegetarian restaurant in Fiji, such as Quick Bite in Nausori and Govinda Vegetarian restaurant in Suva. 


Custard Pie – Pies are baked with love for special occasions such as birthdays and weddings. And Sundays are usually baking days for Fijians. Custard pies can be eaten at any time of the day, whether you are at home, in the office or shopping malls. They are usually served with tea or coffee for breakfast. Covered with condensed milk and garnished with peanuts, custard pies are sweet, soft and jiggly. They are sold in most bakeries and across the town for as low as FJD2 a piece. 


Ice cream – Ice cream is the OG and most convenient dessert in Fiji. Having an ice cream by the beach during midday is the ultimate comfort for perfect relaxation. Everyday is a good day for ice cream due to the warm tropical climate. One can enjoy ice cream whenever the craving hits. Ice cream can be enjoyed on its own or with jelly. Every family function is incomplete without ice cream, served in a cone or bowl, and it is every Grandma's favourite. With all the brands in the market, Tuckers is one of the most popular brands. You can purchase ice cream in a tub from any supermarket in Fiji.  


Bongo – just like the ad song: "Bongo is delicious, Bongo is fun, Bongo is number 1", undoubtedly it's the best munching snack in Fiji. It's the crowd favourite, and the kids love it. It's a must-try when in Fiji, along with other snacks such as Twisties and thumbs-up potato chips. Bongo is a cheesy and crispy snack which is enjoyed by all Fijians. Easily accessible from any supermarket or local shops in Fiji, Bongo is a perfect companion while you're binge-watching your favourite series. 
Seviyan Sweet (Vermicelli noodles) – a popular dessert that is eaten during Eid in Fiji. The vermicelli noodles are roasted in ghee, cooked in milk and topped with chopped almonds, raisins and cardamom. 


Biscuit – FMF cream biscuits are a must-try when in Fiji. You will find them in every function, such as birthdays, parties and Christmas. It's also commonly eaten during breakfast. Dung it in a cup of tea or have it with a glass of juice. Some even crushed the biscuits in ice cream before gobbling them down. You should try the family pack as it offers different flavours.
Halwa – a popular sweet dessert, made of semolina. Deliciously made in ghee and milk, garnished with almond, sultana and cardamom. It's a dessert that you share with friends and family. Halwa is a traditional Indian sweet dish prepared for a special occasion such as Diwali and Pooja festival in Fiji. It has a pudding-like aftertaste. This dessert is deliciously made at home and enjoyed by all. 


Bonus: Bhuja Mithai – a must-try homemade sweets and savoury snacks from the local bean cart operators who sell their scrumptious snacks all around Fiji. Look out for them at the roadside and bus stops. It's very popular in Fiji, the locals here can eat them on a daily basis. It's very popular amongst school students.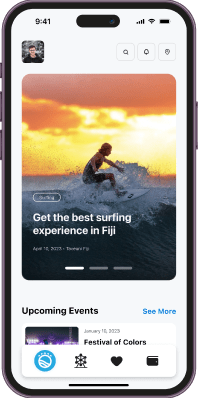 The only super app
you need in Fiji.