Top 10 most Instagrammable spots in Fiji
Do you love taking pictures on your trip? Fiji is undoubtedly a photographer's heaven as Fiji offers some of the most attractive sites, including beaches, waterfalls and luxurious resorts. You'll be spoilt for choice when it comes to flexing on the 'Gram.
Sri Siva Subramaniya Temple
Sri Siva Subramaniya Temple is the largest Hindu temple in the Pacific, situated at the southern end of the main road through Nadi. The temple symbolizes Indo-Fijians' existence in Fiji and their diverse culture and influence. While holidaying in Fiji, be sure to visit this beautiful, well-kept, colourful and peaceful building. Do, however, remember to dress appropriately for a visit. Inside the temple, you'll learn more about Hinduism and its deities. The colourful temple makes for a beautiful photo for your social media.
The Garden of the Sleeping Giant
The Garden of the Sleeping Giant is one of the most attractive spots in Fiji. The garden is located at Wailoko Road in Nadi and the main highlight of the garden is over 2000 varieties of beautiful Asian Orchids surrounding the garden. American actor Richard Burr previously owned the garden as part of his private collection, but today the garden is open to the public. Enjoy canopy-covered boardwalks, lush green lawns, peaceful lily ponds, fountains, vocal frogs and dense rainforest. It's also a popular venue for special events such as weddings, social gatherings and parties.
Kavala Bay Waterfall
Located in the scenic forest of Kadavu, Kavala Bay Waterfall is a perfect picture-worthy spot. The region has very few connecting roads, and thus, the only way to travel to the island is by boat or foot. Kadavu offers great hiking opportunities, and one of them is the Kavala Bay Waterfall Trail. The 3-hr trail ends at a picnic spot on a deserted beach, and you'll pass by scenic forests and quaint local villages.
Yasawa Island Resort & Spa
Love relaxing on a beach? Be sure to check out the Yasawa Island Resort Beach for that soothing experience. The Yasawa Island Resort and Spa is an all-inclusive resort that offers all gourmet meals and activities such as kayaking, stand-up paddle boards, snorkelling and private beach picnics. Swim in crystal clear waters, and walk barefoot on the white sand. It's an ideal spot for pre-wedding photography as well as a wedding venue. The views are absolutely stunning and breathtaking.
Sabeto Hot Spring and Mud Pool
The Sabeto Hot Spring and Mud Pool is another popular spot in Fiji. A great way to immerse yourself in the traditional Fijian way of life, the mud baths are just a few kilometres from the Garden of the Sleeping Giant and just a 20-minute drive from Nadi. Many visit the hot spring for some self-pampering sessions. The Mud Pool and Hot Spring is a budget-friendly natural anti-aging solution. It is believed that the sulphur in the hot spring has healing properties. Not only will you be able to capture some epic photos of yourself covered in mud, you'll also gain some health benefits in the process.
Natadola Beach
Located on the main island of Viti Levu, Natadola Beach is arguably the most beautiful white-sand beach in Fiji. Natadola Beach is known for lush palm trees, soft dark cream sand and beautiful landscapes. It's a paradise for adventure seekers, and a go-to place for diving, surfing, and snorkelling. You can also opt to have total relaxation under the shades. If you're looking for something to spice up your feed, you can try the horse-riding activity at Natadola Beach.
Sawa-i-Lau Caves
Located on the northern Yasawa Island, Sawa-i-Lau Caves is an iconic natural beauty. The limestone cave needs no introduction as they were previously featured in the Hollywood blockbuster film Blue Lagoon. Sawa-i-Lau's secret attraction is hidden within the bowels of its domed mountain. Two caverns, filled with turquoise seawater pools that are fed by the tides. Daylight floods the first (and larger) cave from an opening along its southern ceiling and wall. It's a pleasant swim but surprisingly cooler than outside the cave. You'll need a guide (and a bit of courage) to lead you through the secretive underwater entrance to the second, smaller cavern.
Koro Sun Resort
Koro Sun is located in Vanua Levu, surrounded by lush rainforest at the edge of a stunning private lagoon perfect for relaxing holidays, active family vacations and magical romantic getaways. The Koro Sun resort is worth visiting for its rainforest spa experience. All the products at the spa are home-grown and made of natural ingredients, such as the detoxifying leaves that swaddle you during the Banana Leaf Body Wrap. Additionally, the coconut oil used for scrubbing is also supplied by the neighbouring plantation.
Navala Village
This is the last village on Viti Levu that still lives a traditional lifestyle, complete with thatched bures and an atmosphere unlike anywhere else. The village is located in the highlands of Ba and portrays an image of how Fijians used to live in the past. There are a total of 200 traditional thatched bures in the village. Navala is very special because all their houses are the same size. All the bures have a metal post, also known as a Bou, and Bous are mostly placed in a chief's house. Navala Village is definitely a historic landmark on the island and is considered one of the most picturesque villages in Fiji.
Cloud 9
Cloud 9 is Fiji's only two level floating day bar with an internationally stocked bar and Italian wood-fired pizzeria surrounded by turquoise blue water and picturesque views of Vanua Malolo and Ro Ro Reef. The unique bar located in the middle of the island, is only a 15-minute speed boat right away from Musket Cove Resort and neighbouring resorts and about 45 minutes from Port Denarau. Nothing speaks cooler than relaxing on one of their reclining day beds or cool hanging chairs soaking up the sunshine, sipping on your favourite cocktail, and listening to chilled beats playing in the background. Definitely not a place to be missed for photography in Fiji.
Book a Cloud 9 Day Trip on GoFiji app! Download GoFiji app on your mobile phone today.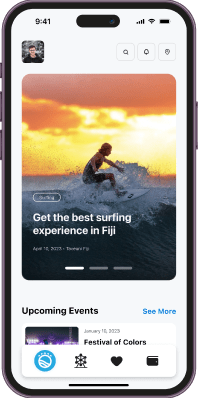 The only super app
you need in Fiji.