Top 10 Local Bars in Nadi: Unveiling the Gems of Fiji's Nightlife
The ultimate Fiji tourist, whether it's an adventure seeker or a comfort and luxury traveller, will at some point need a nice cool drink to help wind down in the Fiji heat. A cool beverage in your hand and the smoothness of island music playing in the background make that Fiji experience even more memorable. Here's our list of the best local bars in the Nadi area, from downtown Nadi, Denarau and a few other hot spots.
Cloud 9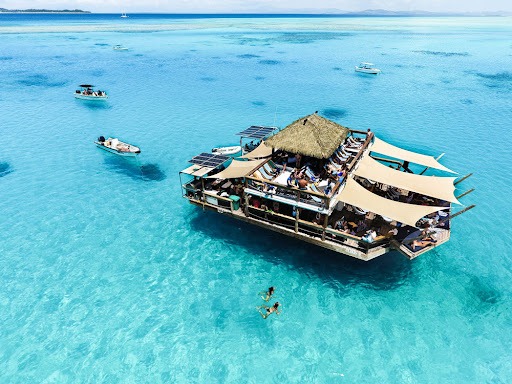 Photo Credit: Cloud 9
Starting off our list is the best of the best in the area, 25 kilometres off the coast from the Denarau marina. Cloud 9 is the ultimate floating oasis for those looking to sip cocktails in the sun and sea. Moored in the shallow calm waters of the Roro reef, Cloud 9 is about 10 minutes northwest of Namotu and Tavarua island resorts. Opened in 2013, the bar and grill are unmatched, from its environment, alcoholic beverages, delicious oven pizzas and international underground DJs hired to entertain guests. Partying here is truly magnificent, memorable and totally out of this world.
The Wet Edge
On the island of Denarau, especially the marina, there are a few spots to check out for cool drinks and good food. In Sheraton Fiji, there are a few restaurants and bars to visit, like the Wet-edge. With this one, you can choose to enjoy the usual drink customarily by sitting on a chair with a table by the pool, or you can swim up to the bar and order your drinks. Need something to go with your drinks, their menu of burgers, wraps, fried chicken and chips and pizzas can help settle and balance out your drinks.
Suka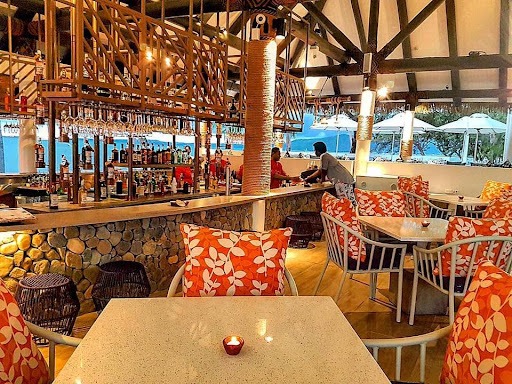 Photo Credit: Sofitel Fiji Resort and Spa.
On the Sofitel resort property, it might be easy to confuse this bar with the restaurant it shares the same space with – Solis, but the Suka bar is renowned for its good vibes, pleasant drinks, and if great food is needed, the restaurant is there to assist you. Suka bar has been highly recommended for its good vibes, lovely drinks but most of all, its exceptional service from staff. Drinks are totally up to you, whether you like it neat or spiced up with a little tropical flavour the staff are there to make it happen. For directions, do note that the bar is facing the beach while the restaurant is situated a little further inside.
Lulu's Bar Restaurant and Café
We move to the Marina, where the options might overwhelm you. Lulus Bar has it all with drinks, good food or even a hot cuppa. The choice is completely yours to ponder upon. With beautiful outdoor seating and directly across from the South Seas Cruise departure port, you can just sit and order your drink and food while waiting for your transport to the islands. If rushing is not on your agenda and relaxing seems more welcoming, you can sit, eat and watch the hustle and bustle of the marina slowly pass you by.

Sails Denarau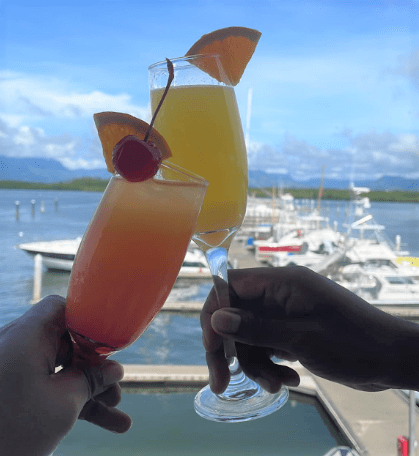 Photo Credit: Sails @ Denarau.

Located on and adjacent to Lulu's, Sails Denarau is also a great place to enjoy a drink or two. Sails Denarau offers private dining, outdoor seating and family-friendly service. Their cocktails and drinks help affirm the chilled and relaxed atmosphere Sails at Denarau is known for. Although their food menu might be pricey, it is sourced locally, guaranteeing a fresh and delicious taste.
The Hive
One of the best night spots is about 10 minutes outside Nadi town on Kennedy street, in Martintar. This open-roof bar is a great vibe for those looking to enjoy Nadi in the afternoon. With a good vibe, great music and amazing staff- this is the place to be if you need the perfect shot of Nadi sunsets during the golden hour.
For a backpacker feel, you can check out Wailoaloa Beach for various beach bars and grill outlets.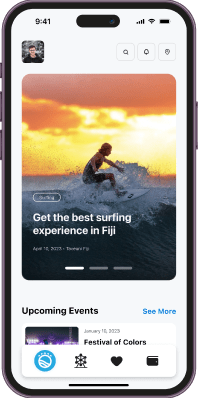 The only super app
you need in Fiji.