Top 10 hotels along Fiji's Coral Coast
Fiji's coral coast stretches from the capital city, Suva to the coastal town of Sigatoka and its vicinity. The coral coast is popular for its breathtaking blue lagoons and coral white beaches. Here are 10 listings of the best accommodations along Deuba's Pacific Harbour to Sigatoka's coral coast. In a map-like direction, we will start from Pacific Harbour (east) and work our way toward Nadi in the west. This list only covers 4 and 5-star hotels that have garnered excellent reviews on Google and TripAdvisor.
The Pearl Resort

Photo Credit: The Pearl Resort
Located on Queens Road, Pacific Harbour in Deuba, this 4-star resort sits just about a kilometre west of the tourist centre – Fiji Arts Village. Suva city is about 49 kilometres to the east, and Sigatoka, 76 kilometres to the west. The resort is accommodating and affordable, with room prices around $510 FJD. The resort also offers snorkelling, waterfall and boat trips to the Beqa lagoon, which is famous for its shark feeding activities.
Nanuku Resort Fiji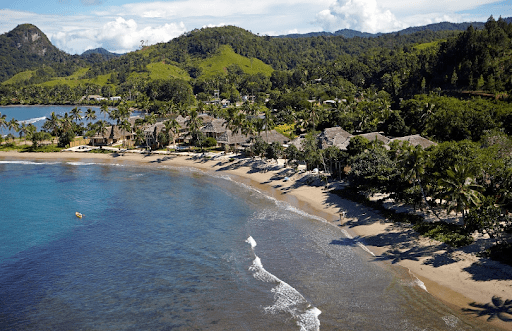 Photo Credit: Nanuku Resort
Nanuku, is about a 6-minute drive west of the Pearl and is Pac Harbour's only 5-star resort. Like the Pearl, Nanuku also offers activities of snorkelling, star-gazing, picnics at their private island and a visit to Beqa island for a dive into their illustrious lagoon. Spacious suite rates begin at about $1700 FJD, and come with a number of features, such as an all-access pass to the Nanuku beachfront and a daily breakfast included.
Naviti Resort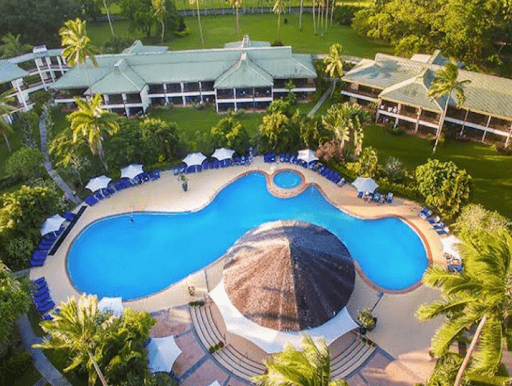 Photo Credit: Naviti Resort
Part of the Warwick hotel group, this 4-star resort is located on Queens road, Korolevu, about 26 kilometres from Sigatoka. Naviti, like most of Nadroga's resorts, is closest to some of the province's natural wonders and tourist attractions. For this resort, the Biausevu waterfall and deep-diving in nearby lagoons are some of the most accessible adventures.
de Vos – The Private Residence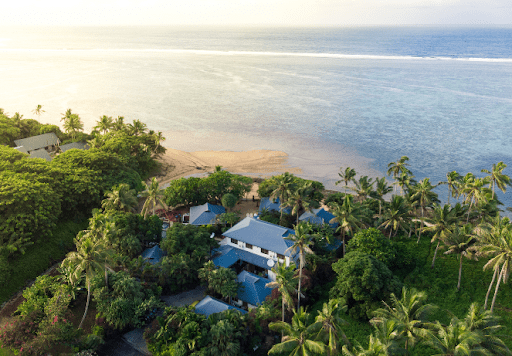 Photo Credit: de Vos- The Private Residence
de Vos, is a 4-star resort on a private property located in Maui Bay, about 4 minutes west of Naviti and 24 kilometres from Sigatoka town. The property has 5 luxury bures equipped with their own furniture, private plunge pools and dining suites. The property can also host business meetings or company retreats; for more, do read up on their 'conference menu' cited on their website. On premises activities include Kayaking, Coral reef walking and snorkelling. Off-premises activities like waterfall, horse-riding and fishing trips can be organised with tour groups or by the resort.
Maui Palms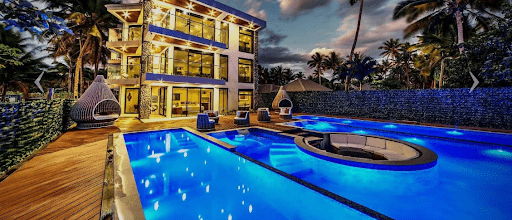 Photo Credit: Maui Palms
Maui Palms is about a 2-minute walk from de Vos and a 26-minute drive from Sigatoka. Maui Palms is also a 4-star resort conveniently situated in Maui bay, where some of Coral Coast's best restaurants are located. In addition to its private villas, the resort also offers apartments in a three-story building offering one of the bay's most beautiful views. The resort offers free activities like kayaking, snorkelling, fire-walking and a walk to the reefs in low tide.
Outrigger Fiji Beach Resort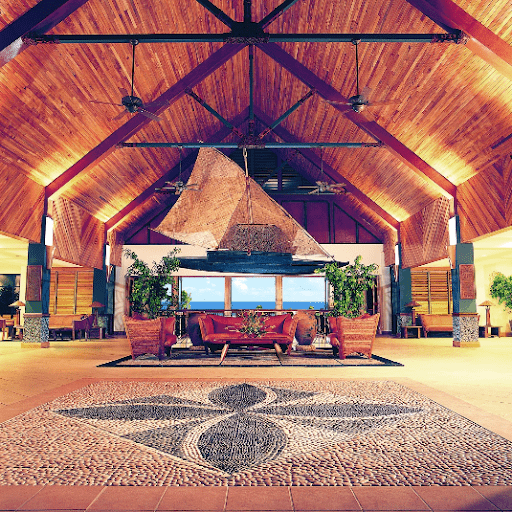 Photo Credit: Outrigger Fiji Beach Resort
Located on Sydney drive (off Queens Road), Korotogo, this 5-star resort is about a 10-minute drive from Sigatoka. Room rates start at around $185 FJD, offering a spacious room complete with a breathtaking balcony view. Bure's are also available but for a family accommodation the 'plantation family 2-bedroom bure' would be more accommodating. For weddings, the resort offers 3 venues, a beach, a garden and a chapel location known as the 'bure ni loloma' (house of love). The resort is situated directly opposite the Kula Wild Adventure Park, a well-known bird sanctuary.
Shangri-La Yanuca Island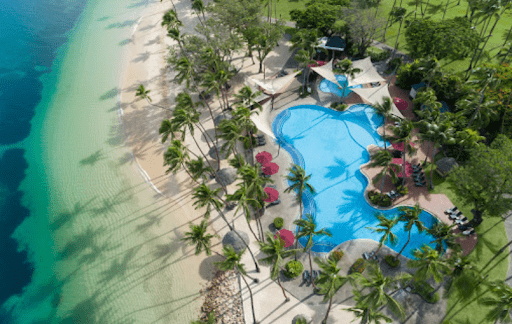 Photo Credit: Shangri- La Yanuca Island Fiji
Shangri-La or known locally as 'Fijian', is a 4-star resort located about 200 metres off the Cuvu coast, on the island of Yanuca. The resort boasts its own secluded beach and private lagoon free from the hustle and bustle of Fijian life in surrounding villages. Rooms are spacious with a magnificent view of the Pacific Ocean, with pricings through their website beginning at about $380 FJD. The resort offers a water park free for guests, however age limits are 7 years and above. Other activities include glass bottom boat tours, snorkelling, parasailing and flyboarding.
InterContinental Fiji Golf Resort & Spa
Photo Credit: InterContinental Fiji Golf Resort and Spa
Located on Maro road in Natadola bay, this 5-star resort is a 55-minute drive from Nadi international airport and about 34 minutes west of Sigatoka town. The resort covers 35 acres of property, featuring an 18-hole golf course, restaurants and bars, swimming pools, conference facilities and a wedding chapel. Apart from golf, other activities include diving, snorkelling and resort entertainments like traditional meke's (dance) on Mondays.
Yatule Resort
Photo Credit: Yatule Resort and Spa
Also located on the Natadola beachfront is the 4-star accommodation Yatule resort. It is about 350 metres to the left of the Intercontinental hotel and offers 36 quaint little bure's at around $300 FJD. Resort activities that are offered include a guest discount at the Natadola Bay golf club, kayaking and a tour to the Navo Cave.
Likuri Island Resort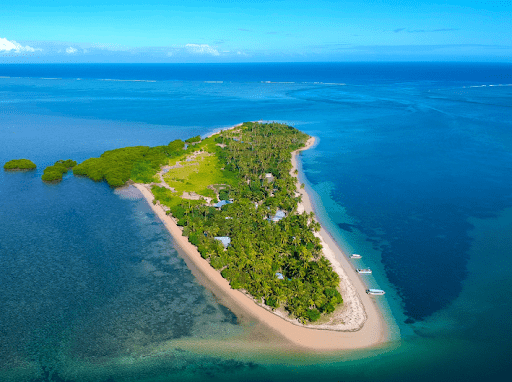 Photo Credit: Likuri Island Resort
Located next to Natadola bay, the Likuri island resort is positioned in the harbour of the same name and is about a 50-minute boat ride from the Viti Levu coast. The island hosts 23 themed boutique bure's such as an island bure, garden bure and family bure. The resort offers free activities of kayaking, jungle treks, coconut jewellery making and beach volleyball. Off-resort trips and tours can be organised upon request.
All accommodations offer low and affordable rates on their own respective websites.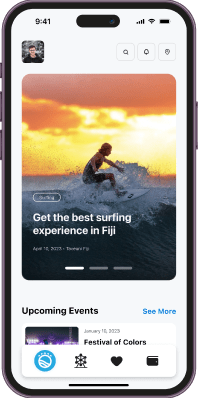 The only super app
you need in Fiji.