Top 10 accommodations in Savusavu
Savusavu, Fiji's hidden paradise, is located on the south coast of Vanua Levu, and is equipped with its own town, jetty and airport. Aside from hosting some of Fiji's magnificent natural wonders, the Hidden Paradise is also home to some of Fiji's most scenic and serene resorts.
This list will provide you with only the best accommodations in the Savusavu vicinity that have gathered excellent reviews on google and TripAdvisor.
Jean-Michel Costeau Resort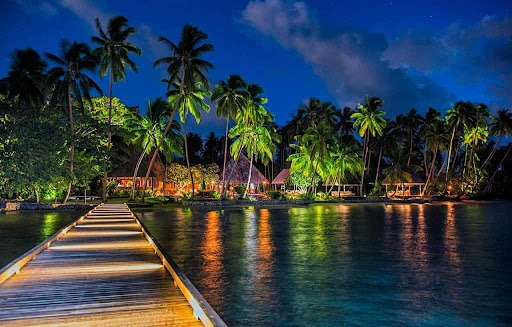 Photo Credit: Jean-Michel Costeau Resort

Located on Lesiaceva Point in Savusavu, this world-famous 5-star hotel is an 11-minute drive from town and about 15 minutes from the airport. This resort was founded by Jean-Michel Costeau, son of world-class oceanographer Jacque Costeau, the same man who titled Fiji the soft coral capital of the world. This resort, with its diving and marine-friendly outlook, has one of the best diving teams in Fiji.
The resort is in a pristine, relaxed location with 25 bures. Activities include a kids Bula club, snorkelling and diving with one of the best diving centres in one of the finest dive locations in the world, the Namena marine reserve.
Tavola Villa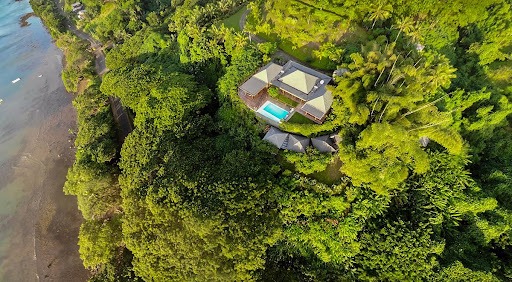 Photo Credit: Tavola Villa

Like a luxurious Bed & Breakfast, this private villa sits on an 8-acre property beside the Hibiscus Highway. Within the Savusavu town's proximity, this private resort has three luxury suites all ready for you to book for the whole family. Designed by Madeleine Blanchfield, an award-winning Australian architect, the design is minimalist and eco-conscious.
Located on Raiwasa Road (off Lesianacava Road), this lodging has a helipad and is accessible by helicopter directly chartered from Nadi or through hotel transfer pick-ups arranged by the villa from the Savusavu airport.
Daku Resort

Photo Credit: Daku Resort

Located on Lesianaceva Road, about 2 minutes from the Savusavu jetty and 9 minutes from the airport. This resort is conveniently based not too far from town, giving you easy access to necessities from town while also relaxing in nature. The resort has individual villas, bures and pool houses guaranteeing privacy for every guest. It also has conference and wedding packages inclusive of venue, photography, videography and babysitting.
Activities for the resort include snorkelling and diving as the Savusavu Bay has magnificent underwater scenes, hiking, a day at the thermal pools, waterfall swims and visits to nearby villages.
Emaho Sekawa Retreat Fiji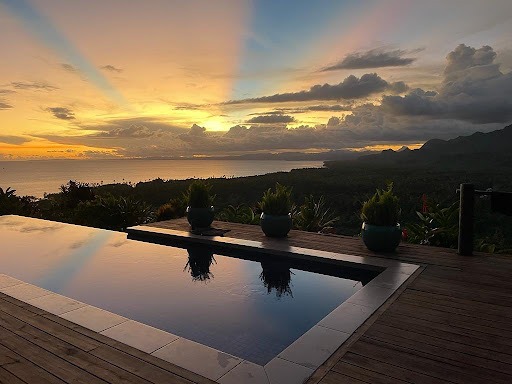 Photo Credit: Emaho Sekawa Retreat Fiji

This adults-only 5-star hotel is perched high up in a privately owned estate, capturing the most panoramic view of the Savusavu Bay. If you're looking for seclusion and peace, this three-villa private resort is for you and your partner.
Three luxury villas are equipped with their own pools, self-serve kitchens, restaurant and a bar to enjoy. There are also well-trained staff available on-site to assist with your every whim.
Situated on Sekawa beach estate (off Cross Island Road), the resort is a 21-minute drive from Savusavu town and 20.8 kilometres from the Airport. It is also a few minutes' drive from some of Savusavu's most wonderful natural wonders, such as the Vuadomo waterfall, Waisali Rainforest Reserve and the Nukubolu thermal reserve.
Namale Resort and Spa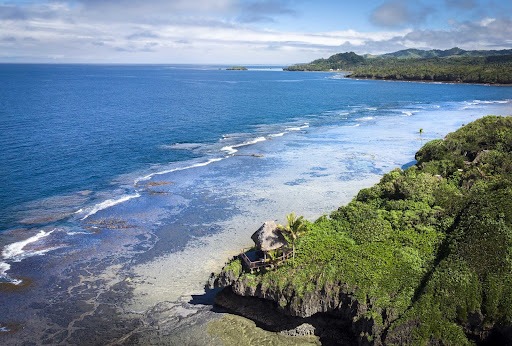 Photo Credit: Namale Resort & Spa

Trip advisor travellers choice award of 2021, this adults-only resort is appropriately situated on Savusavu's hibiscus highway, 6 kilometres from the airport. The resort has 22 luxurious bures and villas for you to choose from, or you can rent the villas to enjoy reunions, friend trips, or to host you and your party for your upcoming nuptials. The rental package lets you and your party enjoy the 525-acre property alone without the worry of strangers.
Activities at the resort include paddle boarding, snorkelling, scuba diving, hiking waterfalls, and reef walks during low tide. Do note that the resort allows teenagers 16 years of age and older to stay at the resort.
Savasi Island Resort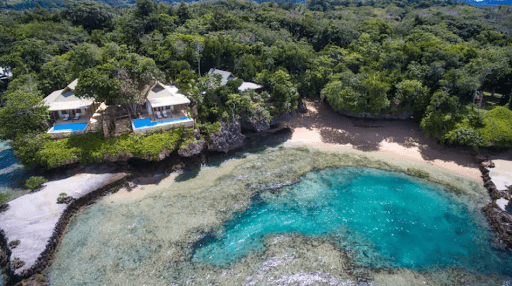 Photo Credit: Savasi Island Resort

This boutique hotel is a walking distance from the Hibiscus highway (off-shore) and about 700 metres past Namale Resort. It is also a 7-minute drive from the Savusavu airport which is also located by the Hibiscus highway. It is a 52-acre private island with 13 villas boasting privacy and luxury for its guests. The resort offers a free honeymoon package for newly-weds. If you feel even more adventurous then enjoy the resort's nautical accommodation on a permanently moored 140ft three-masted schooner.
Activities for the resort include kayaking down the Qaloqalo River to the remote Salt Lake, hiking, waterfall chases, paddle boarding or being part of the conservation efforts at a coral nursery in Natewa.
Koro Sun Resort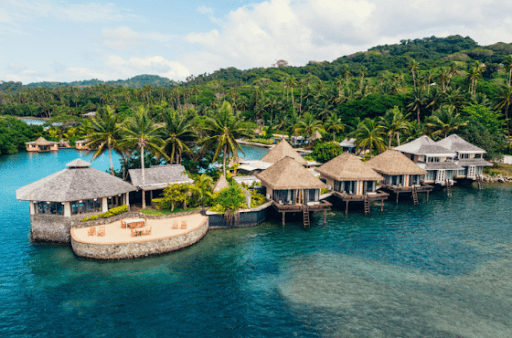 Photo Credit: Koro Sun Resort

This 160-acre property is about 11.5 kilometres from the Savusavu airport, with the Hibiscus highway cutting right through it. It has 56 fully air-conditioned bures and villas with adult-only bures located over the shore. The 2 and 3-bedroom bure located on land is accommodative of large family groups with pools and landslides to choose from.
You can play some golf at the resort golf course, relax at the rainforest spa or snorkelling and diving at nearby reefs. You can do all this kid-free as the resort has a free Koro kids club and nannying, ready for you and your partner.
Salt Lake Lodge

Photo Credit: Salt Lake Lodge

Its pristine location and proximity to one of Fiji's only lakes, Salt Lake, makes this lodge a much-needed recommendation. The lodge is located in Naweni, with a road turning in before reaching La Dolce Vita Villas a few metres ahead on Hibiscus Highway. The Qaloqalo River feeds Naweni's Salt Lake, kayaking this river in order to get to the remote lake is an activity that every tourist should do when in Savusavu, regardless of whether you're staying at other accommodations.
The lodge being the nearest to the lake, has beautiful bures and villas that sit on the water's edge. Kayaks are free to use to explore the river and the lake, and bikes can be used to explore the coastal road.
La Dolce Vita Holiday Villas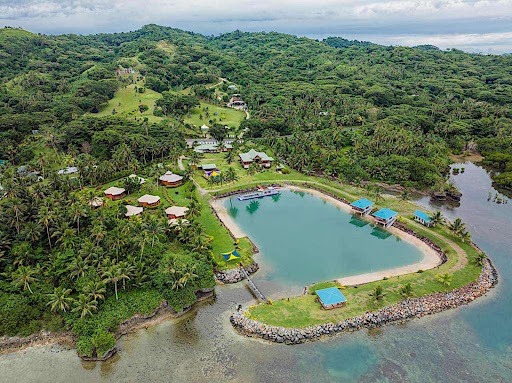 Photo Credit: La Dolce Vita Villas

A 26-minute drive from the airport, these sustainably operated villas are located by the water's edge on Hibiscus Highway. The Villas are eco-friendly being solar-powered, and your villas are refreshed by growing plants and trees.
Activities at the villas include scuba diving, snorkelling, paddle-boating for you and the kids and golfing at the villas golf course.
The Remote Resort

Photo Credit: The Remote Resort

The remote resort is everything but accessible, hence the name. Specially designed for couples and dive enthusiasts, the resort sits on the edge of the soft coral inspiration- the Rainbow reef! It is exclusively accessible by boat only and perhaps seaplane (if inquired).
The resort has 8 villas and has straight access to one of best dive sites in the world, the Rainbow reef, located in the Somosomo Strait.
Looking for seclusion and exclusivity? Then explore Savusavu today for a new chapter, for you and your partner.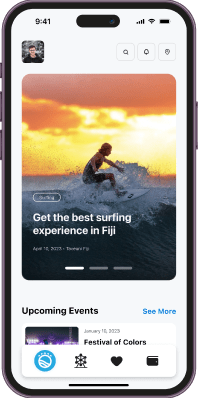 The only super app
you need in Fiji.