Tips to remember about electronics for Fiji travellers
Have you ever reached a destination, only to realise that the accommodation's power outlet was a little different from the ones you had back home or you had to discard items at airport customs because they weren't allowed in the country? Well! For you, the soon-to-be ideal Fijian traveller, this article will tell you all the things you need to know about electronics before making a trip to Fiji. For more reads on Fiji's safety travel tips, check out our other article, safety tips to keep in mind.
Power points and plugs
Every unknowing traveller has felt regret over the fact that their phone or laptop chargers were not compatible with their hotel room's power outlets. Fiji uses type 1 power plugs which is similar to Australia and New Zealand's. If you are travelling from any place other than these two countries then it is preferable to get type 1 adapters or power boards at local shops when you have arrived in Fiji.
Cell service providers
Cell service providers in Fiji are limited to two options, Vodafone and Digicel, the latter had recently been acquired by Australian telecommunications company, Telstra. 4G broadband range is quick in urban and resort areas, however broadband range and even cell service might drop in remote and rural areas.
Wifi
Wifi at your accommodation will either be free or cost a certain price. For a cheaper alternative and easy set up, you can choose to buy a Digicel sim card with great data internet deals. Arriving at Nadi airport, you'll see a Vodafone and Digicel shop at the duty-free area before customs, you can purchase your sim cards at either one of these two shops. Another alternative is to use international roaming services, which costs a few extra dollars but offers the same exceptional service.
Drone use
Recreational drones are currently big in the travel industry and Fiji has even had a taste of it. Its use has improved tourism by increasing aerial exposure to sites and made travel more memorable for travellers. Drone use is permitted in Fiji under certain conditions for both commercial and recreational purposes. Permits can be lodged online before your arrival in Fiji, a link for an online portal is available here and codes used for recreational drone flying is OP 137 and for commercial use, OP 138.
Radio and telecommunications equipment
Radio transmitters and telecommunication equipment are allowed under the condition that an import permit is lodged with the Telecommunications Authority of Fiji.
GoPro, insta360 and cameras
GoPro action cameras are one of the most go-to essentials for travellers and are easily processed through Fiji customs. If packed in your luggage, then do declare it for custom agent's knowledge, however, most frequent Fiji travellers prefer to put their GoPro cameras, cameras and even insta360's in their carry-ons for easy identification and safety. GoPro's are also available in local electronic shops in Fiji, although at a costly price.
Power banks
A low battery is the last thing you need when out travelling and luckily, power banks can easily be found in local electronics shops and for affordable prices too. Power banks range in sizes and surely you'll find what mostly suits your wallet and your travel plans.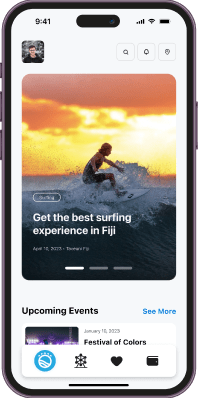 The only super app
you need in Fiji.