Things to do on the island of Ovalau
Ovalau island in the province of Lomaiviti, has more than just a rich assortment of colonial and traditional history in its books but a splendid rocky landscape that adds to such history. Apart from historical walks, Ovalau's rugged landscape makes for some lovely and challenging hikes and waterfall tours. Its coastal waters, spectacular for snorkelling and kayaking. Here's a list of the 10 best things to do in Ovalau.
For a thorough read through, a guided walk of Levuka is also available on our website, which has a set of historical sites for you to see in Levuka town.
Bathing spots- Baba
Photo Credit: Sailorshome Levuka.
Baba, the settlement located a few metres inland from Levuka town has been around since Fiji's colonial days. On Garner Jones road, right behind Levuka Public School, a path ascends further inland to the three settlements of Baba; Korovou, Devo and Nosonoso. A waterfall with bath pools are located here, ask any local or inquire with your accommodation and they will gladly guide you.
Hike- Baba
A hike to one of the mountain tops located behind the town is possible, that is, its path going through one of the Baba's settlements. On a clear day, a stunning view of the Lomaiviti islands can be beautifully captured from this mountain top. Arrangements can be made with any of your Ovalau accommodations.
199 steps
Located north of town, on Mission hill is a set of steps that lead up to Delana Methodist School. Aside from being the longest steps in Fiji, nothing else can be said about this site. It does however accord one with a brilliant workout and an excellent view of the town and the Koro sea.
Gun rock
At a lower altitude from the mountain peak at Baba settlement, in the village of Levuka Vaka-Viti, north of town, sits Gun rock. Gun rock is right behind the houses of the 'Tui-Levuka' (chief of Levuka- district) clan, so it is only exceptional that you seek permission from them before ascending the mountain.
The rock pertains to an interesting part of history as well. Initially, Gun rock was a defence fort against the Lovoni tribes in contact times. The rock later endured a few shots as a testament of how accurate a ship's aim was in case Cakobau wasn't quite receptive to early settlers. Needless to say, Cakobau firmly understood the message. Later in 1858, Father Breheret, first priest of Levuka's Sacred Heart, held the island's and Fiji's first-ever Catholic mass beneath this rock.
Waitovu waterfall
Photo Credit: Travel Blog.
About a kilometre ahead of Gun rock in the village of Waitovu village, there's a serene waterfall with a deep pool for you to swim in. A higher tier of the waterfall is visible from sea and in the case that you can't find any villagers to seek permission and to take you, you can try and seek out the village headman (turaga-ni-koro), one responsible for up keeping village bylaws. A simple reminder- please be respectful and avoid skinny-dipping
Centre of Fiji-Vuma village
Not much is documented about this place and if you are a history fanatic then this one's for you. This site was documented by early Europeans to have been the most central point in the Fiji Islands. Hence, why it became a contributing factor for early European settlement in Levuka. The centre which is located on the sacred burial grounds of the Tui-Levuka clan is about 3 kilometres north of Levuka town. The site isn't much- except for a square concrete plaque fixed onto the earth atop of a hill by the coast of Vuma village. Permission can be sought from Tui Levuka's household, who will then direct you to Usaia Delai of Vuma village. Delai will then instruct one of the village youth's or boy's to take you up to the site. You will have to go around the hill from the coast during low tide as the chief's (Tui Levuka) burial ground is considered sacred. As the hill is quite steep, for assistance, a sturdy thick rope ascends the path right to the top.
Rukuruku water slide
Photo Credit: The Baystay Rukuruku.
On the north side of the island- 14 kilometres north-west of Levuka town, sits the village of Rukuruku. The pool is about a 30-minute walk from the village, equipped with a beautiful swimming spot and a natural water slide. Arrangements can be made with the Rukuruku baystay, a homestay nestled in Rukuruku bay, about a kilometre north of the village.
Snorkelling
There are a few snorkelling spots to enjoy in Ovalau, Maloi reef is about 4 kilometres from Rukuruku baystay and picnicking on the Sandbar or snorkelling around the area can all be arranged with the baystay at Rukuruku. Snorkelling near Levuka town, at Lekaleka reef can be arranged with the Sailorshome accommodation located in town. Although, you must bring your own snorkelling gear.
Lovoni tour & hike
Photo Credit: Epi's Tours.
Lovoni, having been one of the last groups to have resisted European influence, has an interesting place in Fiji's early colonial history. The village of Lovoni sits on a remote valley approximately 18 square kilometres in area, literally located in the heart of Ovalau, in what was once an active volcanic crater. Explore Lovoni's turbulent history and arrange for a tour and a hike of Lovoni with any of the Ovalau accommodations.
Around the island- taxi tour
Here's another activity you can do which can easily be arranged by your accommodations, a round taxi tour of the island. This can take about an hour and a half to complete, where your taxi will stop at photo-worthy spots around the island before continuing the journey. The island receives so many visitors that this has now become a thing for local taxi drivers.
Please avoid wandering off or exploring on your own as most of Ovalau is still indigenously owned.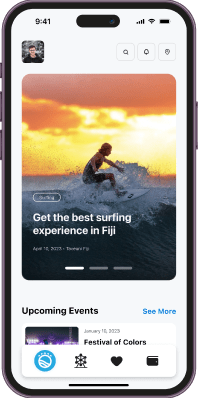 The only super app
you need in Fiji.