Things to do in Fiji and best time to do them
There are two main seasons in Fiji:
The dry season — May to October
The wet season — November to April
But don't worry, because no matter the weather, there's always something to do in Fiji.


Dry season in Fiji
Watch humpback whales
Every June to October, the humpback whales migrate from the Antarctic to the South Pacific for the warmer weather. You can spot them near Kadavu Island lagoon with their calves. If you're feeling brave, sign up for a tour to swim and snorkel alongside them. Otherwise, watch them from aboard a boat.


Enjoy soursop season
Soursop is a type of tropical fruit. It has needles on its skin and juicy, delicious meat with a hard, black seed at its heart. Some say that its taste would remind you of pineapple, papaya, strawberries, mango, banana, and coconut all at the same time!
Soursops are rich in vitamins and are known as a cancer-buster. The fruit can be enjoyed as a drink, ice-cream, sorbet, cakes, jellies, or jam. June to September is harvest season in Fiji, so it's your chance to help yourself to a healthy portion.
Hike Mount Tomanivi
If you're looking for an adventure, consider a hike up an extinct volcano. Expect chirping birds, native plants, and mountain streams on your way up, with breathtaking scenery to boot.
The earlier part of the hike is easier, but it gets steeper as you reach the top, so be sure to dress appropriately with the necessary gear. It'll all be worth it when you see the beautiful islands spread out below you.


Wet season in Fiji
Enjoy the local cuisine
Although the rain during the wet season will keep you indoors, you can turn "crisis" into opportunity by making a food trip out of your time there. Here are some dishes to start you off:
Baigan valo
Fijian roti
Babakau
Palusami
Cassava cake
Fiji coffee
Lolo buns
Kokoda
Take a Fijian cooking class
After you've tried the food, why not try to prepare them yourself? Take a Fijian cooking class where you'll learn to make your favourite Fijian dishes. After that, more eating awaits!


Visit a museum
Fiji might not be the museum hub of the world, but they do have some pretty fascinating stuff. If you're looking to immerse yourself in the history and culture of the island, do check out these museums:
The Fiji Museum
Ba Civic Museum
Levuka Museum
Kalevu Cultural Museum
Orchid Island Cultural Centre


Your memories in Fiji will last you a lifetime. Make it count.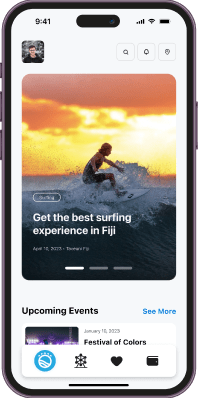 The only super app
you need in Fiji.