The Ultimate Packing List for Fiji

You may be feeling anxious, not knowing what to pack for your upcoming trip to Fiji!
Here is the ultimate packing checklist to ease your mind. From what to wear to what you need for a honeymoon trip in Fiji, we've got you covered!
Here are some important things to note to give you a brief introduction of Fiji before jumping into the packing list.
Fiji has a warm tropical climate. The temperature rarely rises above 31°C, and it's usually between 26°C (79°F) to 31°C (88°F) all year round, making it the perfect beach destination! If you're visiting during the wet season, you may experience occasional downpours, but there is still plenty to do.
June to September and December to January are considered dry months with pleasant weather. The lowest temperature can fall to 23°C. Hence, it's the peak period of tourism. November to April is considered summer, with more sun and downpours. The weather is generally more humid. May and October are considered the lull tourism season in Fiji.
Fiji does not have a stringent dress code like in many countries. However, if you are planning to visit a Fijian village, you must dress moderately to respect the community.
The ultimate packing list for Fiji
Passport
You wouldn't want to arrive at the airport, realising that you forgot to bring your passport, do you?
Visa (if applicable)
Check out if a visa is required if you're planning to travel to Fiji.
Booking confirmation/E-tickets
If you've made any prior reservations, it's good to print out your confirmation letter.
Credit cards/Fijian dollars
While most merchants in Fiji accept credit cards, bringing along some Fijian dollars is advisable, especially if you plan to visit the rural areas.
Driver license
If you are planning to rent a vehicle in Fiji, remember to bring along your international driver permit.
Mobile phone and charger
If your mobile phone doubles up as your camera, don't forget to bring it along to capture those precious memories.
Waterproof dry bag
Fiji is synonymous with watersports. In order to keep your items dry, you should consider bringing a waterproof bag, and it'll come in handy when you are on a boat or having a blast at the beach.

Long and short-sleeved shirts
Most days are pretty warm in Fiji, so you'll likely need to pack more short-sleeved clothing. Not forgetting, some beach-appropriate clothing as you'll probably be island-hopping on some days. Best to keep your clothing simple and cooling for the best experience.
Shorts or skirts

Feel free to dress in shorts or skirts for your OOTD shots! Generally, you are not required to wear long pants or jeans in Fiji, unless you are planning to visit a local Fijian village. You're required to cover your shoulders and knees if you are visiting a Fijian village.
Dresses
You are encouraged to bring some fancy dress for photo taking at restaurants and casual wear. After all, who doesn't like a great photo when they are on vacation?

Scarf or sarong
You can also consider buying a sulu, a traditional sarong in Fiji to complement your attire in Fiji. You'll be spoilt for choice as the sulu comes in different motifs and colours. Sulus are available across the country in most gift shops and handicraft markets.
Swimsuits/bikinis
Fiji is a tropical paradise with plenty of water activities. Even if you don't plan to do any water sports like stand-up paddling, or surfing and opt for swimming, you should get your swimsuit ready!
Sleepwear
It's recommended that you pack some light and loose sleepwear to have a good night's sleep. It's important to note that some resorts do not have air conditioning and only have fans.
Flip flops/slippers/shoes

A pair of waterproof sandals are a must for Fiji if you are planning to do water sports such as snorkelling, kayaking, windsurfing or diving. You may also want to bring a pair of comfortable walking shoes, especially if you plan to go hiking.
Innerwear/undergarments
Of course, you should not forget your bras and underwear! Cotton and other light fabrics are highly recommended.
Sunglasses
Remember to protect your eyes from the sun!
Sunhat
Fiji is the time for you to put on those trendy hats.
Sunscreen/sunblock
Since Fiji is usually warm and has plenty of sunshine throughout the day, you'd want to protect your skin from getting sunburned. It's important to apply sunscreen regularly if you're planning to chill at the beach. Even if you intend to do suntanning in Fiji.
Mosquito repellent
Pretty sure you don't want to be covered in mozzie bites throughout your holidays in Fiji!
Toiletries
Bring along your favourite travel toothbrush and toothpaste. Not forgetting the towels, facial wash and also pack some face masks for optimum self-pampering.
Personal medical kits
It's always wise to carry around some medicines when travelling abroad. Some basic medicines can be your lifesaver. At least pack some meds for potential headache, flu, stomach bug, and emergency kit for cuts or personal allergies.
Power adapter
Fiji uses Type I socket, which has three flat pins in a triangular shape. Fiji operates on a 240V supply voltage and 50Hz. However, some resorts have plugs that can handle both 110 and 240 volts. If you're travelling from Australia or New Zealand, you shouldn't face any issues with the sockets in Fiji.
Laptop
If you are planning to spend your time working from Fiji, remember to bring your laptop. Fiji is an ideal place for digital nomads to work. You can easily get access to the Internet anywhere with pocket wifi.
Backpack
Do bring a backpack that you can use as a hand-carry on your airlines. Most airlines allow a maximum of 7kg for one carry-on bag. So, make sure that you do not exceed the weight limit.
Camera/Gopro
Don't forget to pack your camera or Gopro to capture those stunning landscapes in Fiji. You'll want to take plenty of photos of the gorgeous sunsets and attractions. It's recommended that you pack a lightweight camera if you are planning to go hiking.
Book
If your ideal holiday is to laze around, sipping coconut at the beach, then it's recommended that you bring along your current read!
Rain jacket
Depending on the season of your visit, you're encouraged to bring along a rain jacket to protect yourself from the elements.
Water bottle
You'll want to stay hydrated throughout the day under the warm tropical weather!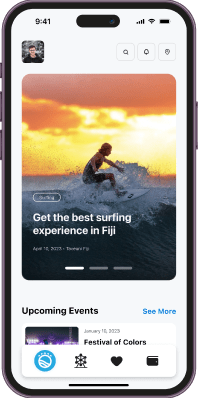 The only super app
you need in Fiji.