The significance of rugby in Fijian culture
Fiji as a nation has always differed greatly from its neighbours and continues to do so in many ways. With such a multicultural society, there is bound to be diversity, but there are also only certain things that help unite such a diverse country, and one of them is rugby. It is the only sport that has been well understood and adopted by Fijians, and no other sport has had such luck among such a superstitious and proud group of people. Let us explore how this sport has remained relevant in an ever-evolving remote tiny island nation.


The sport that turned islanders into gentlemen
Like all things foreign, rugby, Fiji's national sport was introduced to natives by Europeans. According to Schieder's piece titled, 'Rugby in Fiji: Unifying and Dividing a Multi-Cultural Society', rugby, invented in England in the early 1820's wasn't introduced to Fiji until the late 1800's. Pioneered in 1884 by early British settlers and the colonial administration, the sport was introduced to help Fijian natives be more British, as the mindset at the time was set on civilising indigenous 'savages'. The first official match was played between colonial officials and Fijian soldiers and policemen in the province of Ba, most of whom were native. 
The country's first rugby union club was the Fiji Rugby Football Union founded by New Zealand expatriates and established a competition for natives the following year. After a few merges and changes, the union as it is known today is the Fiji Rugby Union (FRU), Fiji's national rugby body- responsible for everything rugby related. Possibly, what aided in its widespread acceptance was its marketability to natives earlier on in the colonial years. 


A sport that unifies a nation
With so many cultures clustered on such small islands, there is bound to be tensions between some cultures, often the result of a few miscommunication and misconceptions. The vastness of diversity also allows for cultures to pertain to the boundaries of their own cultures, and for Fiji, this has been true throughout its colonial history. Yet, there have been a few ideals and subjects that have managed to bring the country together as much as rugby. Some other unifiers include food, Kava and language since non-indigenous cultures have fluently mastered the various provincial and district dialects of wherever they have resided. 
Although most rugby players are indigenous, the game hasn't failed in bringing people of different ethnic backgrounds together. This is most exemplary when people of different ethnicities come together to support their school, provincial or work rugby teams, often putting differences aside as everyone cheers for their teams. 


Reality of the sport
Every playground you see in the country is big enough for a rugby match and usually has goalposts on each end of the ground. The goalpost forming the 'letter H', has a pole placed horizontally between two poles and is 10 feet from the ground. Travelling further into villages, often these goalposts are not just made of steel but wood or anything that can be modified to kick balls through or get a score under. Rugby and sports are encouraged among kids just as much as academic studies are, and because of this, rugby has remained profoundly significant for kids, especially those striving for a better life, and it has been true for many players who now reside overseas. There are even programmes partnered with communities that help kids and youths perfect and progress their skills; some are grassroots rugby efforts, rugby clinics and rugby academy for kids. 
The extensive knowledge that every Fijian spectator has about the sport may amaze some visitors. The national team's loss at any game gives the opportunity for self-professed amateur referee's to lay out full commentary on what should've been done, how the game was to be played and what player played poorly. These commentary can drag out for days and even an entire week, sometimes resulting in disagreements, particularly if one cheers for the other team. But most times, the blame is placed on the referee for biasness toward the Fiji team, and if the team is victorious, then the umpire and his descendents are freed of all accusation. In fact, their entire existence isn't of little concern to Fijians when the outcome is positive.
Fiji at the global rugby stage
Fiji's first historical rugby mark was its first gold medal at the 2016 Rio Olympics when the Fiji sevens men's team won the men's rugby sevens competition. The team also maintained their reign for the 2020 Tokyo Olympics and have further gained worldwide recognition for it. The mens 15's team has also played at the Rugby World Cup, making it as far as the quarter finals. Fiji, in this millennium, has progressed greatly in the sport; it has even branched out to rugby league, including the super rugby series.
Rugby- the sports for real men
One cannot speak for other sports and their impacts on other nations, but for Fiji, the introduction of rugby to natives had come with implied undertones, whether intended or not. According to Presterudstuen in his piece, 'The mimicry of men', Fiji has been spinning around the same colonial logic of rugby since it was first introduced, and that the sport idealised masculinity and hierarchical concepts. Perhaps these ideals are what made it easier for the sport to be more widely accepted in colonial Fiji at the time since its culture is centred on social hierarchy and strongman ideals. However, until recently, these socially and gender-dividing concepts in sports have evolved with the inclusion of women in rugby. The women's rugby team, Fijiana have received favourable public opinion in their recent games.
If ever you're in Fiji, don't ever be surprised to see an impromptu rugby session out of the blue and its venue in the most unexpected places. Fijians don't really embrace the professionalism of the sport but rather its concept. Therefore, you'll not only see makeshift goalposts but a bottle for a ball and the side of a pavement or a round-about of a neighbourhood as their playground.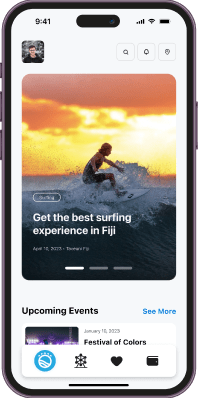 The only super app
you need in Fiji.