The Sailors Home in Levuka, Fiji: A turquoise charm in a colonial town
You will hardly find any themed accommodations in Fiji, whether it is intentional or not, but when you do, it will definitely be beautiful and incomparable to the larger resorts that you're normally used to. A blue blot on Levuka town's rugged ascending landscape is the first thing you will notice out of the town's otherwise pleasantly camouflaged environment- sticking out like a sore thumb, to put it more plainly. That blue blot is one of Levuka's few homely and welcoming accommodations, specifically a homestay, 'The Sailorshome Levuka'. Sailors is one of the oldest still standing colonial homes in Fiji.
A ship captains abode: Backstory
Located on Levuka's Beach street, Sailorshome sits on an elevated position that overlooks many islands in the Lomaiviti province. According to the guidebooks offered by the homestay, which you will easily find in your room, Sailorshome was built by a ship captain in 1860, with the front porch (now converted to rooms) floors having a slight slope, giving the feeling of a ship deck, where water could easily flow off.
According to David Stanley's 2004 book, 'Moon Handbooks South Pacific', Sailorshome got its name from the steamship that worked the England-China route in the 1850's. There are also historic accounts of a Sailors Home in Liverpool, England in the 1840's and another in Melbourne, Australia which opened its doors in 1865. These two homes aimed to provide accommodation for seafarers after spending long laborious months at sea. It is unclear if the reasoning is the same for Sailorshome in Levuka but the port town of Levuka, its hometown, makes this a possibility.
Rooms and rates at Sailors Home, Fiji
The home is ideally split between 2 large bedrooms on either side of the house. Each bedroom has a door that connects to a smaller bedroom that has a spectacular view of the sea and in good weather, a panoramic view of the Lomaiviti group. A corridor runs from the front door straight to the living room. The kitchen, which is a shared space, consists of an island counter situated in the middle of the room and a table with chairs placed beside it. The living room is neatly set-up with an exquisite Windsor furniture set and a television mounted on the left wall for those in need of the news or a good drama.
Room rates are 150 FJD (103.27 AUD) for one or two people and 50 FJD for an extra visitor per night. Sailors is passionate about the environment and can take you on a guided reef walk of Levuka's coast or if you need to hike or visit some of Ovalau's waterfalls or Levuka's bathing spot, it can be arranged for you.
What makes Sailors a home?
Why recommend Sailors for your accommodation when visiting Levuka? Aside from the colonial house along with its sailor-themed decor. If you're an introvert or someone who needs their own peace and quiet, then Sailors is for you. Better yet! If you're also in need of company then Alice Tamani, the homestay's manager is very welcoming and above all, an exceptional conversationalist. Whether it is an inquiry into the best sites to see, places to eat on the island or relevant topics like climate change, the list is endless and Aunty Alice has got you covered. You'll never run out of warmth with Aunty Alice around.
One of Aunty Alice's many paintings.
You are sure to have a calm and quiet house in the morning as Aunty Alice will be out of the house enjoying her usual morning walks and taking in Levuka's scenery. In the living room, you will stumble upon a little table that is scattered with paint brushes and a canvas that surely has an unfinished prospect of Levuka's daily scenery. You will probably see her paintings hanging in one of the rooms, and can even purchase them as a memorable souvenir of Sailors and even Levuka as well. Listening to Aunty Alice share stories of Levuka and its daily activities, lets you know that her knowledge of Levuka and even Ovalau equally rivals that of the locals.
Visit Sailors for an affordable, homely and refreshing experience.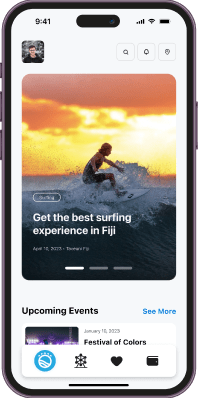 The only super app
you need in Fiji.