The FRINGE Festival on Fiji shores

If you were in Suva last week, chances are you were at the Fiji Fringe festival, held at the Laucala bay area. If you weren't, then definitely missed out on the most entertaining, innovative and educational festival the country has had in a while. Some may consider this an exaggeration but this article is here to provide some accuracy and confirmation to this statement. The Fringe Festival in Fiji is an arts and culture festival that hit our shores on 25th Feb-4th March 2023.
What is the FRINGE?
The University of Glasgow archival website describes the origins of the FRINGE to have been in Edinburgh in 1947; and the organisers of the Fiji festival confirmed this at the festival launch. Post-war efforts to revive culture launched the Edinburgh International Festival in 1947. The intrusion of a few amateur theatre companies arriving uninvited created a festival that was innovative and unconventional at the time. Playwright Robert Kemp coined the term 'the Fringe' in the Edinburgh Evening News on 14th August, 1948 for the amateur theatre groups that showed up uninvited. The Fringe, referring to the creative groups of the periphery that had unconventional ways of being innovative.
The FRINGE in Fiji
The festival was a collaboration of the event and planning company, The Festivals company and the Fiji sports council, along with partnerships from the Fiji arts council to name a few. It was a weeklong affair of cultural workshops, visual arts and crafts, including entertainment, carnival rides and food stalls. All of which were camped out at the Vodafone Arena car park.
More than just a carnival
The most interesting take of this festival was perhaps the cultural workshops and the visual arts and crafts space that were available. The visual arts space was splendidly idyllic, and the paintings shown in its little gallery were contemporarily pacific.
The cultural workshop, which featured cultural artisans of many indigenous Fijian skills like Masi printing (Kesakesa) and pottery (Tuli Kuro) were exceptionally educational for the young ones and those new to the craft and culture. As a local, I even found this to be a wonderful opportunity and had to take my teenage cousins for this interactive workshop, which they indeed found to be educational.
The festival also promoted local music artists and groups. It engaged 100 artists and organised 30 shows, including some international artists.
Fiji has never before seen a festival that incorporated carnival, culture and arts into one. If you missed out this year, prayers be that this becomes an annual thing and you'll come around for that one too.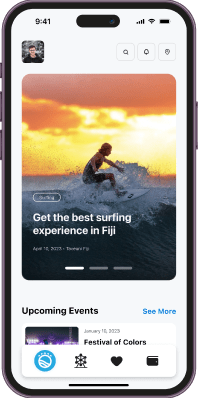 The only super app
you need in Fiji.