The COVID-19 protocols in Fiji
Must-know information for visitors to Fiji
Fully vaccinated travellers from all over the world are not required to quarantine in Fiji.
Effective 14 February 2023, international travellers arriving into Fiji by air or sea will no longer be required to provide proof of COVID-19 vaccination and travel insurance.
Fiji now has zero travel restrictions and offers a safe and relaxing holiday for travellers from all over the world.
Travel insurance is not mandatory but recommended.
Ensure you are up-to-date on all travel advisories prior to your departure.
Click HERE for more information.
Departing from Fiji
Depending on your country's entry requirements, you may need to record a negative test result to return home. 
If you test positive on a RAT during your stay in Fiji, you will be required to undergo 5 days of isolation.  
Should your home country or insurance provider require a PCR confirmation, this can be facilitated by your hotel at your cost. 
Your primary/close contacts will not need to quarantine provided they monitor their symptoms.
In Fiji, costs for a RAT test starts from $30FJD but some countries require a PCR test which starts from $200 FJD.  
If you intend to stay with family or friends in Fiji and need to book a test to return home, you can find this at locations outside your hotel. (Find locations in the Returning Home section on this page)


Your role as a visitor to Fiji
You have a part to play too in keeping COVID-19 contained in Fiji. These recommended steps will ensure that you will enjoy your time in Fiji as best as possible.
Book with a Care Fiji Committed business for your safety and peace of mind
Ensure that you have appropriate travel insurance
Do not travel if you are unwell or have COVID-19 symptoms
Wash your hands and use hand sanitiser regularly
Avoid areas with low vaccination rates
Masks and social distancing are no longer mandatory but it is a good practice in crowded spaces
Contact your resort's Wellness Ambassador if you feel unwell during your stay
The World Travel and Tourism Council has declared Fiji to be a "Safe Travels" destination.
The history of COVID-19 in Fiji
When COVID-19 hit the world in 2019, Fiji was not spared. The first reported COVID-19 case in Fiji was on 19 March 2020 in Lautoka. According to the Worldometer at the point of this writing in October 2022,  Fiji has had 68,264 cases and 878 deaths due to COVID-19. 
In March 2021, Fiji was the first Pacific Island country to receive COVID-19 vaccines through the COVAX initiatives. The front liners were the first to be vaccinated, followed by the rest of the population. 
As of today, 1,544,736 COVID-19 vaccine doses have been administered. 639,162 people or 72.2% of the population have been fully vaccinated. 
To date, the country has administered only AstraZeneca, Modern, and Pfizer vaccines. Vaccination is mandatory for the adult population.
During the height of the pandemic, Fiji closed its borders to non-residents. They closed their ports on 16 March 2020, followed by their main international airport in Nadi on 26 March 2020. A national curfew and lockdowns were introduced.
What is careFIJI?
careFIJI is Fiji's contact tracing mobile application, introduced by the Fijian government to assist the Ministry of Health and Medical Services to facilitate manual contact and tracing efforts. During the height of the pandemic, the use of careFIJI was essential in stopping the spread of COVID-19 and saving lives in Fiji.
As of early 2022, the careFIJI app was no longer required for entry into business as Fiji does not depend on contact tracing anymore. Nonetheless, the procedures might differ in the future should there be any changes in the situation. 
Care Fiji Commitment (CFC)
Thankfully, the worst of the pandemic has passed. As of 1 December 2021, visitors have been welcomed back into Fiji.
Fiji Airway's Travel Ready Programme has achieved the highest possible COVID-19 Safety Ratings.
Similarly, Fiji abides strictly by the Care Fiji Commitment (CFC), a WHO-approved set of health and safety measures for travel in the post-COVID world.
Care Fiji Commitment (CFC) protocols include:
The 100% vaccination of eligible tourism staff
Tourism businesses are only open to vaccinated guests
Enhanced sanitation practices in place for all guest areas
Physical distancing practices where appropriate
Masks are no longer mandatory but encouraged in crowded spaces
A Wellness Ambassador is appointed by each business to implement, adapt, and monitor COVID-19 plans
All tourism frontline staff are trained in best-practice COVID-19 Safety protocols
A COVID-19 plan is in place to ensure that safety standards are upheld
A dedicated national COVID-19 hotline is established to respond to case queries and concerns
Thanks to CFC, the World Travel and Tourism Council has declared Fiji to be a "Safe Travels" destination.
Click HERE for a list of businesses that abide by CFC.
What is COVID-19?
COVID-19 is an infectious disease caused by the SARS-CoV-2 virus.
The disease can cause mild to severe respiratory illnesses, including death. Most people infected with the virus experience only mild to moderate symptoms, and recover without special treatment. 
However, there are those who will become seriously ill and require medical attention. Especially vulnerable are the elderly and those suffering from underlying medical conditions like cardiovascular disease, diabetes, chronic respiratory disease, or cancer. 
Nonetheless, anybody of any age might be infected with COVID-19 and become seriously ill.
What are the common symptoms of COVID-19?
The most common symptoms of COVID-19 are:
Mild, flu-like symptoms
Fever
Dry cough
Difficulty breathing
Fatigue
Sore throat
You might also experience the following:
Aches and pains
Nasal congestion
Runny nose
Diarrhea
Some people don't develop any symptoms despite being infected.
Most people (approximately 80%) recover without requiring any hospital treatment.
Nevertheless, around one in every five people who are infected become seriously ill and have trouble breathing, especially among those who are older or have underlying medical conditions. 
Seek medical attention if you have a fever, cough, and difficulty breathing.
The latest state of COVID-19 worldwide
As of this writing, the World Health Organisation (WHO) has examined the evidence on the latest COVID-19 Omicron variant with consideration to the high levels of population immunity in most places, as well as the differences in each country's immunity landscape.
Their concern is the impact of the rise of Omicron variants XBB and BQ.1. In conclusion, the experts are of the opinion that the XBB and BQ.1 do not diverge sufficiently from each other or from other Omicron lineages. There is no necessity to establish new public health responses or designate a new variant. The two remain a part of Omicron, which is still a variant of concern.
There is no evidence that the latest Omicron variants will be of significantly greater risk than other Omicron sublineages. Nonetheless, the assessment is based on data from sentinel nations and may not be an accurate representation of other dissimilar countries.
That said, the beautiful islands of Fiji beckon. We wish you an amazing Fijian adventure!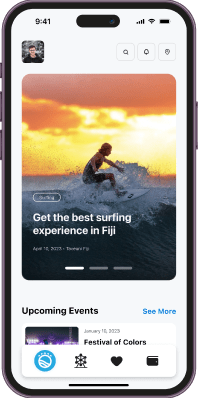 The only super app
you need in Fiji.