The best resorts with golf courses in Fiji
Thanks to the golfing prowess of professional Fijian golfer Vijay Singh, Fiji has become a top-notch destination for both seasoned golfers and beginners looking to tee off in paradise. If you're yearning to gather your friends for a relaxing yet competitive golfing escapade, then prepare yourself for a tropical golfing extravaganza. Fiji welcomes you with open arms to its range of 9 to 18-hole championship courses set amidst breathtaking landscapes.
One of the perks of staying at an all-inclusive resort is that you don't have to fret about venturing too far to satisfy your golfing cravings. Instead, you can luxuriate in the grounds of your resort while indulging in a lavish golfing experience. So, if you're up for an easily accessible golf game, let's save you some time and effortlessly plan your perfect golfing experience in Fiji. Here's a delightful list of resorts that boast their very own golfing grounds:
Plantation Island Resort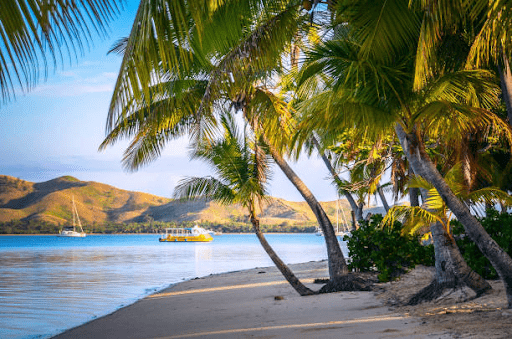 Who can resist the allure of holidaying in the exquisite Mamanuca Islands? Not only is this resort worth every penny, but you'll also find yourself captivated by the unparalleled beauty and awe-inspiring views of the surrounding island. Plantation Island Resort is no exception, and the rich island culture and warm Fijian hospitality will undoubtedly melt your heart, making your stay extra special. As you revel in the resort's fantastic array of thrilling activities, don't forget to swing those golf clubs at their picturesque 9-hole course. Play to your heart's content, and when you're ready to unwind, head to their open-air bar to celebrate the impressive skills you've just showcased.
Koro Sun Resort
Prepare to be greeted with warmth and friendliness in Vanua Levu by the locals, known as Fijians. The lush tropical surroundings, crystal-clear waters, and stunning greenery found here are absolutely breathtaking. This resort offers an authentic Fijian experience, ensuring you and your loved ones enjoy a serene and peaceful stay. While the resort provides a plethora of amazing activities, the best way to challenge yourself during your stay is by taking on their pitch n' putt 9-hole golf course nestled within the lush tropical rainforest. One thing's for sure, you'll be laughing a lot and occasionally misplacing a golf ball or two.
COMO Laucala Island
Prepare to enter a world of luxurious island accommodation that surpasses your wildest imagination. COMO Laucala Island is a dreamy haven brimming with stunning views, opulent comfort, a cozy environment, warm waters, and an unbeatable location. Come here and live life king-size. Get ready to explore the unspoiled surroundings and indulge in treatments and experiences like no other. The highlight of this island paradise is their challenging 18-hole championship course, beautifully situated within an old plantation, and surrounded by Laucala's majestic mountains. To add to the allure, their signature par-5 12th hole extends all the way to the beach, making for an unforgettable golfing experience.
InterContinental Fiji Golf Resort & Spa
Nestled along the scenic Coral Coast, this resort is the epitome of luxury and comfort. As the world's first international luxury hotel brand in Fiji, it offers unrivaled services and a plethora of fantastic activities to keep you entertained throughout your vacation. For the serious golfers out there eager to put their skills to the test, the resort boasts an 18-hole par-72 course that will leave you in awe. And when you need a break from the fairways, the South Pacific architecture of the clubhouse serves as the ultimate vantage point, providing breathtaking views across the entire golf course.
Whether you're a golfing aficionado or simply looking to have a swinging good time with friends, Fiji's resorts have got you covered. With their stunning golfing grounds and luxurious amenities, these resorts ensure that you have an unforgettable golfing experience while basking in the beauty of the islands.
So, pack your golf clubs and get ready for an adventure in paradise. Fiji's golfing resorts are waiting to welcome you with open arms and provide the perfect backdrop for a fun-filled and relaxing golf getaway. Whether you choose Plantation Island Resort for its picture-perfect 9-hole course, Koro Sun Resort for laughter-filled rounds amidst lush rainforest, COMO Laucala Island for a dreamy 18-hole championship course surrounded by natural beauty, or InterContinental Fiji Golf Resort & Spa for a luxurious experience on their remarkable par-72 course, you're guaranteed to create lasting memories.
From testing your skills on challenging fairways to soaking in the breathtaking views, Fiji's golf resorts offer an experience like no other. And when you're not on the course, you can indulge in the world-class amenities and activities provided by these resorts, ensuring that your vacation is as enjoyable off the greens as it is on them.
Grab your golfing buddies, unleash your inner golfer, and embark on a golfing adventure in Fiji. It's time to swing, relax, and create memories that will last a lifetime. Fiji awaits, and its golfing paradise is calling your name.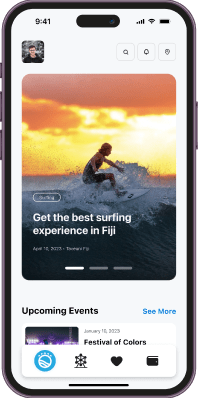 The only super app
you need in Fiji.