The best private islands getaway in Fiji
Are you searching for an all-inclusive, luxurious vacation in Fiji? Look no further! This article will help you plan a memorable holiday for you and your loved ones. Fiji's private islands offer an exclusive, exotic, and romantic getaway that will be etched in your memory forever. Enjoy worry-free quality time in a tropical paradise with warm waters, pristine beaches, mouth-watering cuisine, cultural richness, and breathtaking scenery. Below are some luxurious private island recommendations for your next Fiji trip.
Kokomo Private Island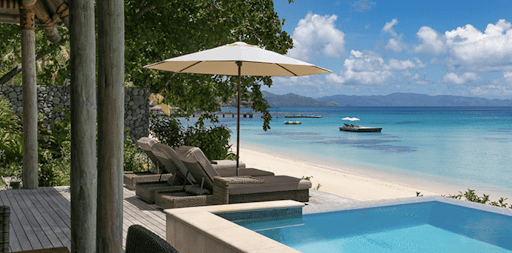 Located at the edge of the Great Astrolabe Reef, this beautiful place is like no other. When you've booked a stay at Kokomo Island, expect royalty treatment starting from your arrival, where you will be transferred to the island via their private seaplane or helicopter to luxurious and spacious rooms. The island offers beautiful beaches and crystal blue waters waiting for you to relax and unwind with soulful treatment. When in Kokomo, be sure to take advantage of their all-exclusive and thrilling activities, such as diving, snorkeling, kayaking, fishing, coral restoration, sailing, paddleboarding, towable, ocean trampoline, motorized water sports, sunset cruise, private boat charter, glass-bottom boat, waterfall, village tour, cultural tour, farm tour, tennis and basketball, yoga, fitness center, and kids and teens club. Enjoy the epitome of privacy, space, and luxury in their twenty-one exclusive villas that feature a private pool, tropical walled gardens with stunning ocean views, and direct beach access. The villas also feature a large living area and kitchenette coupled with a master bedroom with a walk-in closet, rain shower, a deep soaking bathtub, and an outdoor shower. The best part of the villa is their Pacific design that boasts traditional Fijian nuances with elegant stonework and artwork by renowned artist Chris Kenyon. And if you are traveling with your family, then check out their residence offer to suit your needs.
Vatuvara Private Island
Described as one of the world's most beautiful places by Forbes Magazine, this island offers you conscientious luxury with an exclusive experience in the Northern Lau Group of Fiji. The luxurious and comfortable stay on the island brings you the opportunity to immerse yourself in magnificent Fijian culture and to enjoy the rich symphony of island life. The pristine 800-acre property can only be accessed by private plane. The Kaibu island, which is the home of Vatuvara Private Island, is powered by solar energy from their Tesla solar farm. One of the best things about the island is their organic farms, from which they prepare and present to you delicious mouth-watering foods. The luxurious villas at Vatuvara are to die for; the villas feature a king-size bed and double vanity ensuite with a huge stone bath and both indoor and outdoor showers. Live life king-size here with Wi-Fi throughout and sipping to the best wines from the kitchen. The island also allows you to relax by the beach or enjoy a soothing massage, do yoga, experience rich cultural activities, and go out scuba diving and play golf.
COMO Laucala Island
COMO island is an extraordinary natural paradise in Fiji. The island recalibrates the idea of luxury, and you enjoy time and space here on your terms. Located in the Cakaudrove Province in Vanua Levu, the island can be accessed by private charters. The COMO Laucala Island has a private lounge at the Nadi International Airport where you will be taken care of by their team. The island has twenty-five standalone homes that are suspended over lagoons, on hill tops, amidst rainforest, and beside the rolling waves. Each residence has an elegant lounge with private pools, spacious sundecks, and outdoor baths. The residences have Fiji-inspired interiors and tropical South Pacific landscaping. Indulge yourself in thrilling adventures at COMO Laucala Island, such as golfing, hiking, farm tours, deep-sea fishing, and horse riding.
VOMO Island Fiji
VOMO Island is your own paradise from the moment you arrive. The beautiful island, surrounded by palm trees and sunshine, brings pure heartfelt luxury that melts your soul. Experience private beachfront accommodation, luxurious spa treatments, and invigorate yourself with hiking Mt. VOMO, island trekking, Fiji fishing, challenging yourself to a 9-hole golf game, enjoying long walks on the beach, island picnics, and diving. Relax at the island's luxurious beachfront resort villas that offer beautiful gardens or upgrade your option to a private beachfront residence where you can enjoy butler service as well.
Royal Davui Island Fiji
The Royal Davui Island Resort is an exclusive adults-only island that is situated in Beqa Lagoon. Experience Fijian barefoot luxury, elegance, and privacy like no other place. If you're looking forward to taking a break from the hustle and bustle of busy life, then Royal Davui Island is the place for you to escape. Let the white beaches and turquoise blue water fill your soul and make you want to stay connected with nature. The luxurious bungalows or villas are a perfect blend of modern Fijian architecture, giving you the experience of a lifetime.
Overall, Fiji's private islands offer an exclusive and luxurious experience, providing a chance to disconnect from the world and connect with nature. Each private island has its unique charm and offers various activities and amenities to cater to your needs. So, if you're planning a romantic getaway or a family vacation, consider visiting Fiji's private islands for a once-in-a-lifetime experience.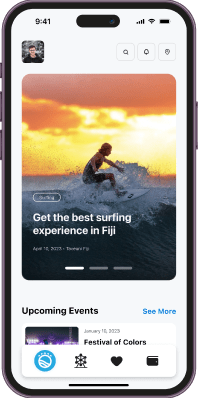 The only super app
you need in Fiji.