The 5 best kids' club in Fiji
Planning your next family vacation to Fiji and unsure about the options available for you and your children? As parents, it's crucial to ensure that your children are well taken care of while also having opportunities to learn and explore. Rest assured that in this paradise, your kids will not only have an exciting experience but also an educational one, nurtured with love and care by the locals. Fiji is renowned for its friendly population, and the locals here genuinely enjoy spending quality time with children. Bid farewell to your worries about your Fiji holiday – we're here to assist you in keeping your little ones engaged without compromising your own private and personalized stay. Here's a list of some of the best resorts with kids clubs, offering your children a chance to stay active and continue learning.
The Kids Village – VOMO Island

Photo Credit: VOMO Island Resort
Situated in the Mamanuca region, this luxurious resort provides top-tier child care services in Fiji. While parents relax at the adults-only Rocks Bar, children have their own haven to enjoy the paradise. The purpose-built and air-conditioned kids village boasts spacious indoor and outdoor play areas. Catering to children aged 3 to 12 years old, the kids village offers a range of age-appropriate activities to keep them engaged. Notably, children will learn about Fiji's culture, the island itself, indulge in arts and crafts, and discover the significance of the coconut tree – often referred to as the 'tree of life' in Fiji. VOMO Island even offers a baby butler service for up to 4 hours per day, with additional hours available at FJD20 per hour. The kids village operates from 9 am to 9 pm daily, featuring activities such as hermit crab hunting, arts and crafts, ball games, sandcastles, picnics, disco nights, Fijian dance and language lessons, beach bonfires, storytelling, volleyball, coconut husking, basket weaving, mini-olympics, fish feeding, garland making, night games on the floodlit tennis court, face painting, and musical games, including cooking lessons.
Jungle Kids Club – Koro Sun Resort
Situated in Vanua Levu, this exceptional resort offers outstanding family accommodations along with one of the best kids clubs in Fiji. The resort provides a complimentary kids club, ensuring your children have a day filled with fun and exploration around the resort. With their designated 'Bula Buddy,' children aged 4 to 12 years are supervised and guided through daily activities. Parents can rest assured as the Bula Buddies prioritize safety while engaging children. Activities include rainforest hikes, introduction to Fijian culture, Fijian arts and crafts, tidal pool exploration, snorkeling (for children 7 years and older), t-shirt painting, coconut leaf weaving, and sand village construction.
Coconut Club – Plantation Island Resort
When it comes to providing a thrilling experience for children in Fiji, Plantation Island Resort is a must-visit. The resort offers an array of activities that cater to all ages. Like many other resorts, Plantation Island also offers nanny services, ensuring your children's well-being. The highlight of holidaying at Plantation Island Resort is that kids can join the Coconut Club for free. Activities range from beach soccer, coconut boat making, marine activities, cultural dance performances, treasure hunts, toy weaving, arts and crafts, jewelry making, to bonfires and storytelling under the stars.
Little Chiefs Club – Shangri-La Yanuca Island
At Shangri-La Yanuca Island, one thing is clear: your children are in for a memorable experience filled with surprises and exciting activities. Allow your kids to take charge and immerse themselves in Fijian hospitality, creating cherished memories at this kids club. The Little Chiefs Club offers an array of activities, including tie-dying sarongs and tees, weaving classes, tackling the inflatable water park, learning about ocean conservation, and enjoying outdoor games and dance classes.
Kids Corner – Warwick Fiji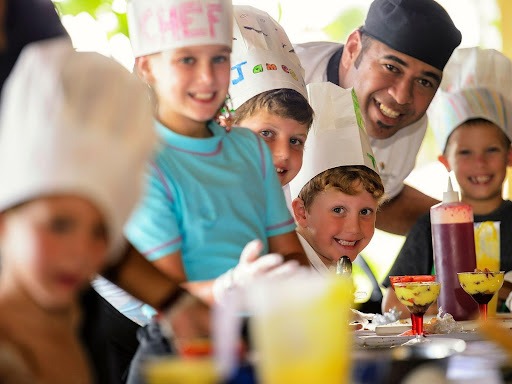 Photo Credit: Warwick Fiji
The kids club at Warwick Fiji is a complimentary offering for all guests, providing children with a chance to engage in exciting activities. Children between the ages of 3 and 12 years can partake in various fun activities. Younger kids can enjoy fish feeding, sandcastle building, crab hunting, seashell collecting, craft making, face painting, and treasure hunting. For older children, thrilling adventures await, including kayaking, snorkeling, stand-up paddleboarding, beach and pool volleyball, Fijian cultural activities, as well as tennis, squash, and basketball.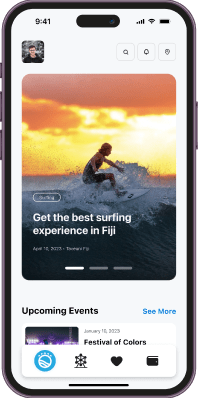 The only super app
you need in Fiji.