Seventh Heaven: A Secluded Island Paradise
Seventh Heaven Fiji is an opulent floating platform situated in the Mamanuca Islands of Fiji. This extraordinary platform serves as an exceptional destination, providing guests with an unforgettable experience amidst the breathtaking paradise of Mamanuca Island.
Photo Credit: Seventh Heaven Fiji
How to visit Seventh Heaven?
Reaching Seventh Heaven is a straightforward and pleasant journey – all you need to do is embark on a brief yet comfortable boat ride departing from Port Denarau. This unique platform is nestled in the crystalline waters of the Mamanuca Islands, encircled by captivating coral reefs and teeming tropical fish.
Once you set foot on Seventh Heaven, you're in for an unparalleled experience. The platform offers an array of services and amenities designed to make your stay truly exceptional. Private suites are a highlight, each boasting its own balcony that provides breathtaking vistas of the ocean. These suites are thoughtfully adorned with contemporary furnishings and equipped with all the conveniences necessary for a comfortable and enjoyable stay.
Beyond the private suites, Seventh Heaven also boasts a restaurant and bar, where you can indulge in delectable culinary delights and refreshing beverages. The restaurant's menu spans a diverse range, encompassing traditional Fijian dishes as well as international favorites. Meanwhile, the bar offers a perfect setting to unwind and relax, with an enticing selection of cocktails and beverages to savor.
Photo Credit: Seventh Heaven Fiji
For the ultimate experience, you can take a "leap of faith" and immerse yourself in the warm, unspoiled waters of Mamanuca Island. Additionally, there's a wide range of water activities available on the platform, such as snorkeling, kayaking, and paddleboarding. Surrounded by stunning coral reefs and teeming with tropical fish, it's the ideal spot to delve into the mesmerizing underwater world.
Seventh Heaven operates daily from 9:30 am to 3:30 pm, ensuring you have ample time to savor this truly exceptional and unforgettable experience. It's evident that Seventh Heaven stands out as a distinctive destination that promises its guests an unforgettable adventure right in the heart of the South Pacific.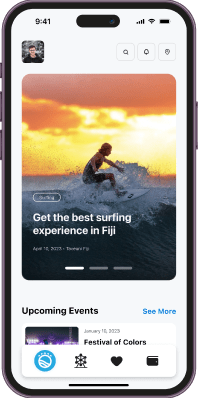 The only super app
you need in Fiji.