Recipes for the most popular snacks and desserts of Fiji
Now that we know the top 10 most popular snacks and desserts in Fiji, the next thing you should do is try making them on your own! It's usually super easy, as all you need is a few ingredients lying around your kitchen. After all, most Fijian snacks and desserts are made at home. 


Trust us when we say they are easy to make, fun to curate and delicious when ready to be served. So, let's begin to make your kitchen smell heavenly. 


1. Vakalavalava – arguably the most loved dessert of Fijians. It's a dessert that is enjoyed at breakfast, with afternoon tea or at a gathering. The dish may sound complicated as the main ingredient is cassava, but it is fun to bake and definitely something different from the regular cakes. Let's try making this simple yet delicious Vakalavalava. This dessert mainly uses fresh coconut and cassava, but you can also use frozen cassava and over-the-shelf packed coconut (desiccated). 
Ingredients
½ cup sugar (adjust to taste)
Condensed milk (optional)
Method 
Using a grater, scrape the cassava and coconut finely (alternatively, you can use frozen cassava and desiccated coconut)
Mix the grated coconut and cassava with sugar and butter in a bowl.
Add coconut milk to form a cake-like mixture.
Grease the pan with butter.
Pour the mixture into the pan and bake for 45 minutes.
Bake until the top skin is golden brown and thin.
Insert a toothpick in the centre to see if it's cooked.
Let the cake cool down completely, then add condensed milk on top, cut it into pieces and enjoy. 


2. Vakalolo – yes, another cassava dish. Here in Fiji, almost every household plants cassava in their garden. This sticky pudding-like dessert is usually enjoyed with tea. Its preparation is very similar to Vakalavalava, but it is steamed instead of baked. The flavour of Vakalolo is enhanced with banana leaves. 
Ingredients 
Method
Using a grater, scrape the cassava and coconut.
Mix the cassava and coconut with sugar in a bowl. You can add coconut water to the mixture if it's too dry to make a smooth paste.
Take a banana leaf, spread around 2-3 tbsp. of the mixture, and fold the leaves and wrap it up like a parcel.
Steam the wrapped Vakalolo for 45 minutes.
Serve them hot.


3. Gulgula – these mini doughnuts are the crowds favourite. Gulgula is a very popular snack in Fiji because they are soft, sweet, crispy and filling. Gulgula is best enjoyed with a cup of black tea. They are so simple yet taste amazing. The Indian Fijians find that Gulgula tastes more delicious the next day. 
Ingredients 
Method 
Sift flour in a bowl.
Add baking powder, cardamom power and sugar to the flour. Mix well.
Add water to the dry ingredients in small amounts and make a pancake-like batter.
In the mixture, add sultana and keep aside for 5 minutes.
In a pan, heat enough oil to fry the Gulgula.
With wet hands, scoop small amounts of batter, and drop in the oil in a small ball shape.
Fry both sides until golden brown.
Serve hot.

4. Seviyan (Vermicelli noodles) – a sweet dessert made of vermicelli. It's common in Fiji because the Muslim family prepares it on a special occasion of Eid. This very delicious dessert is super easy to make and is enjoyed hot. 
Ingredients 
A handful of almonds and Sultana.
Method 
Heat up the ghee in a pan and fry the Vermicelli noodles.
Once the noodles turn golden in colour, add milk.
Continue stirring it, and then add sugar and cardamom powder.
While stirring, add chopped almonds (without skin) and Sultana.
Once the noodles are cooked well in milk, turn off the stove.
Serve in a bowl hot. 


5. Suji (semolina) ka halwa – A sweet and comforting Indian dessert. suji is basically semolina. Halwa is a very popular dessert in Indian household; prepared in every prayer offering and during festivals such as Diwali. The best thing about it as they are ready to be eaten in just 15 minutes. They are basically like pudding enjoyed over a cup of tea. The best season to have halwa is during winter; they melt in your mouth and satisfy all your sweet cravings.
Ingredients 
A handful of almonds and Sultana.
Vanilla essence (optional)
Method 
Heat up the ghee in a pot and fry semolina until golden brown.
Add milk, vanilla essence, sugar and cardamom powder to the semolina. Continue stirring on low heat to avoid sticking 
Add chopped almonds and Sultana, and stir well.
Once all the ingredients clump together, turn off the heat .
Serve hot.

And that's your quick fix to the popular and delicious Fijian desserts and snacks. The recipes are super easy, and with few ingredients they are ready to be made at any time of the day. For variation, you can add some ingredients to your liking to enhance their flavours. Hope these recipes satisfy your sweet cravings. Happy cooking!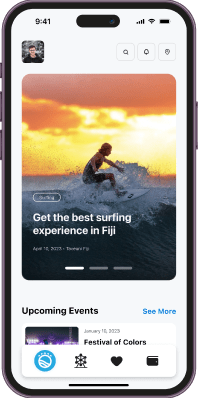 The only super app
you need in Fiji.