Pure Fiji — the authentic luxury brand in Fiji
Pure Fiji is a Fijian-owned company providing quality botanical skin care products, while passionately concerned for the local environment and development of rural women in Fiji.
Started with just 5 people wrapping handmade soaps and bottling body oil in the family kitchen back in 1996, Pure Fiji now employs over 200 people across 2 factories in Fiji's capital, Suva. Pure Fiji is a family business that produces a full skin and body care line using virgin coconut oil and exotic drift nut oil by developing a symbiotic relationship with a network of farmers and harvesters from local villages. Sugar cane, pineapple, papaya, passionflower, and green coconut are freshly harvested and processed within hours to preserve their fresh bounty of naturally occurring nutrients.
Believing in empowering the community and providing them with a sustainable income, Pure Fiji strives to continue creating luxury products while touching hearts, making a difference, enhancing people's lives and promoting wellness. Community development and giving back to the local community is a huge part of what Pure Fiji does. They believe in handmade products rather than the use of automated machines.
Run by women, for women, Pure Fiji was the brainchild of mother-daughter duo, Gaetane and Andree Austin. The research, packaging, and use of virgin coconut oil commercially made the business grow exponentially. In 2000, Pure Fiji Export Ltd. was launched as a small and medium-sized enterprise (SME) to bring these products and traditions to international markets. The success of Pure Fiji lies in their ability to gain a competitive advantage over other businesses in the overseas market due to its unique products offerings. Pure Fiji has secured their brand names not only locally but throughout various international markets such as the USA, Australia, New Zealand and the Pacific region, making them one of the most successful SMEs in Fiji.
Pure Fiji cosmetic products are used in hotels and resorts locally and internationally. It's a sought-after brand due to its high quality and commitment to sustainability. Since its inception, Pure Fiji Spa has over 50 awards and recognition under its belt.
Why is pure Fiji so popular?
Fiji has an abundance of unspoilt tropical rainforest with rich soil, and a plethora of fruits and flora. The nuts and seeds are all collected by hand.Thus, Pure Fiji products are 100% made locally and are made sustainably.
From seed to skin, all the products are made with fresh ingredients with minimal processing. Pure Fiji products are made with wild-harvested ingredients that are slowly grown for optimum quality. This reduces the requirement for energy-dependent irrigation and fertilisation methods thus limiting the carbon footprint.
Bottles used in packaging are PET which are an environmentally responsible choice as they require 24% less energy to produce and generate 40% less solid waste than glass bottles. Gift packaging is made by hand using natural fibers such as handmade paper or delightful woven baskets.
The oils used in Pure Fiji products are pure, cold-pressed oils going from seed to skin leaving all the nutrients and benefits in the products. There is no heat processing, refining or bleaching involved in the process. Just pure, nourishing oils full of essential fatty acids and vitamins.
All Pure Fiji products are formulated without sulphates, parabens, formaldehyde and mineral oils. Majority of the ingredients are cruelty-free, gluten-free, plant-based and vegan (except for the coconut milk and honey collection).
Photo credit: Pure Fiji
Occasionally, they run tours at its state-of-the-art factory at Vatuwaqa for people to learn more about its daily production processes. Even the design and construction of the factory hold the value of sustainability close to its heart. Passive solar dryers are employed and oils are cold pressed in the villages that supply them. Spa linens and staff uniforms are sun dried, eliminating the need for electricity. Pure Fiji even recycles the chaff and seed casings from the nuts into the factory gardens – a source of a variety of flowers and herbs for use in their spa and even supplies fresh vegetables for the factory staff to use in their meals.
Pure Fiji giving back to the community
Pure Fiji has set up various community projects that promote rural community development and sustainable industries and business practices. Pure Fiji has funded student scholarships to aid children in these communities, and assists local craftsmen and women with business development and small business mentoring. The aim is to foster these environmentally stable business models through village-based projects such as the production of botanical extracts, paper-making and basket weaving.
Pure Fiji is passionate about maintaining extensive measures to ensure that its products are ecologically friendly and support the environment that sustains the business. Their make every effort to minimise carbon footprint, and where appropriate, enhance Fiji's unique ecosystem.
Photo credit: Pure Fiji
Pure Fiji Spa
If you're lucky enough to visit Fiji, you should pamper yourself with a Pure Fiji Spa experience. You will feel a sense of calm and tranquility as you step through the doors of the sanctuary.
Breathe deep and be transported far away to the tropical Fiji Islands, offering spa rituals and sensual treatments that indulge the senses with lush tropical fragrances of frangipani, mango, coconut and guava.
Pure Fiji's secret is a balanced blend of exotic oils, which include virgin coconut oil, dilo oil, sikeci oil and macadamia nut oil. This time honoured blend has been used for centuries in the Pacific as a therapeutic remedy and also as a daily ritual moisturizing, nourishing and protecting skin and hair. Pure Fiji Spa is the perfect getaway from all the hustle and bustle for some relaxation. It's recommended for you to book the services in advance to avoid disappointment!
You can also purchase Pure Fiji products at the spa at wholesale price. If you are lucky, you may be able to grab those sought-after products at a low price during the sale period.
What are the luxury Pure Fiji Spa services that you can book in Fiji?
Pure Fiji massage is an individualised full body relaxation massage infused with pure coconut oil. High in Vitamin E that will nourish and protect your skin while firming and toning your body.
From the most heavenly massages and wraps, miraculous facial, and the most luxurious spa pedicures and manicures, Pure Fiji Spa is sure to rejuvenate your weary soul. Not only will your skin be glowing and body be refreshed, but it will leave you in higher spirits.
Enjoy supreme relaxation with an incredible full body massage, followed by an indulgent Fijian scalp massage. Relax in pure bliss as professionally trained massage therapists offer the ultimate relaxation therapy.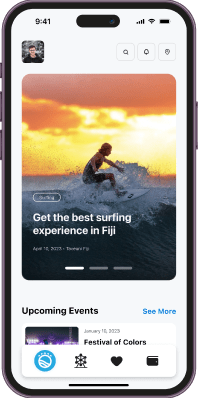 The only super app
you need in Fiji.